One of the best things about Carnival season is being able to enjoy a piece, or two, of King Cake! Yes, we know that Beignets are popular in New Orleans, but there is something about eating a dessert that can only be served for a few weeks during the year.
This sweet roll dessert is only available for purchase from Jan 6 – Fat Tuesday. And you can be sure, during that time period, you can find boxes and boxes of this iced cake everywhere!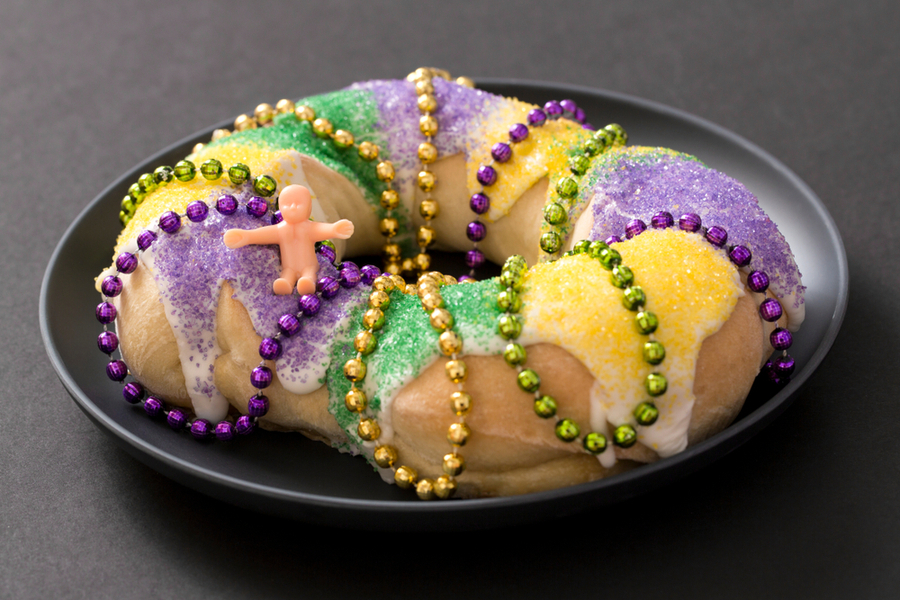 Not only are they found in grocery stores. You can find King Cake at ice cream shops, donut stores, and even road side stands.
However, this is primarily a southern tradition. If you live anywhere else, you might have to special order one.
So that is why we decided to skip all the hassle of searching for a King Cake and make one ourselves.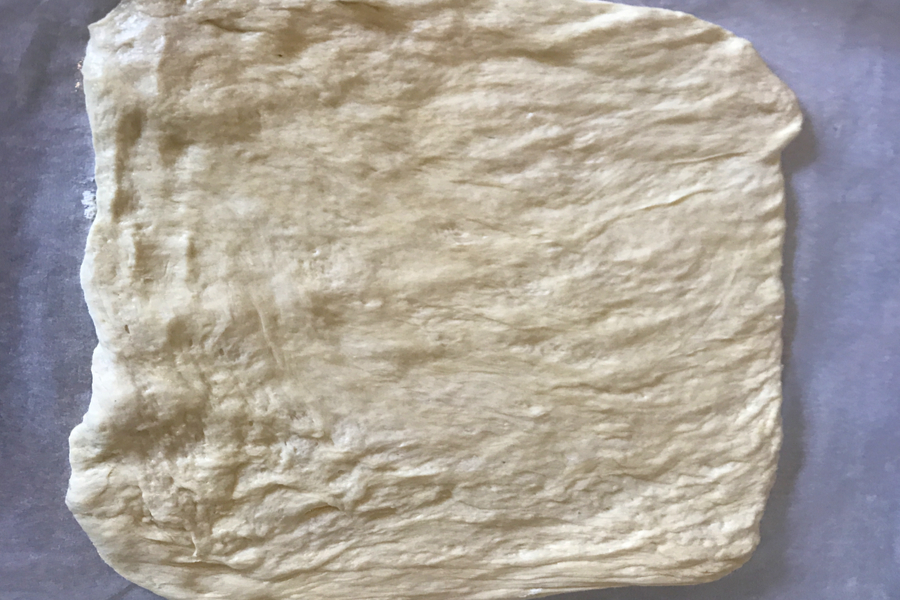 Traditional King Cake
A traditional King Cake is made with a sweet brioche or cinnamon bun style yeast dough. Depending on who makes the cake, it may or may not have a filling.
However, a traditional King Cake is always in the shape of an oval. And it is topped with white icing and colored sprinkles. Usually, the sprinkles are in the colors of purple, green and gold. Which by New Orleans lore, stands for justice, faith and power.
And yes, there is a plastic baby in each King Cake. And whoever finds the baby in their piece of cake is supposed to have good luck and prosperity.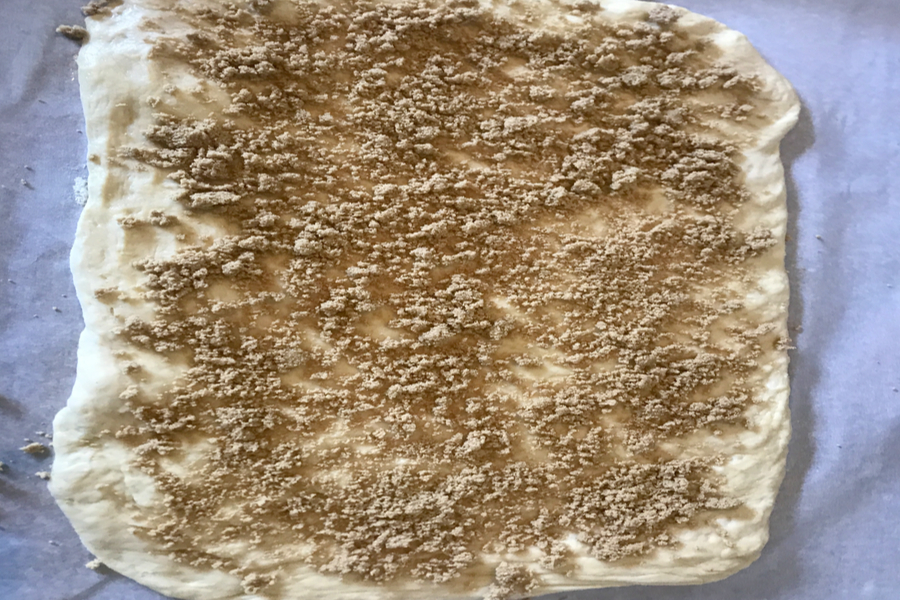 But that's not it. If you find the plastic baby, you are also responsible for hosting the next King Cake party!
Easy King Cake Recipe
Sounds like a complicated process, right? Not necessarily. In fact, when we set out to make our own King Cake, we tried to make it as easy as possible.
We started off with a box of Pillsbury Hot Roll Mix. Of course, you could make your own sweet roll dough, but we wanted to make it as easy as possible.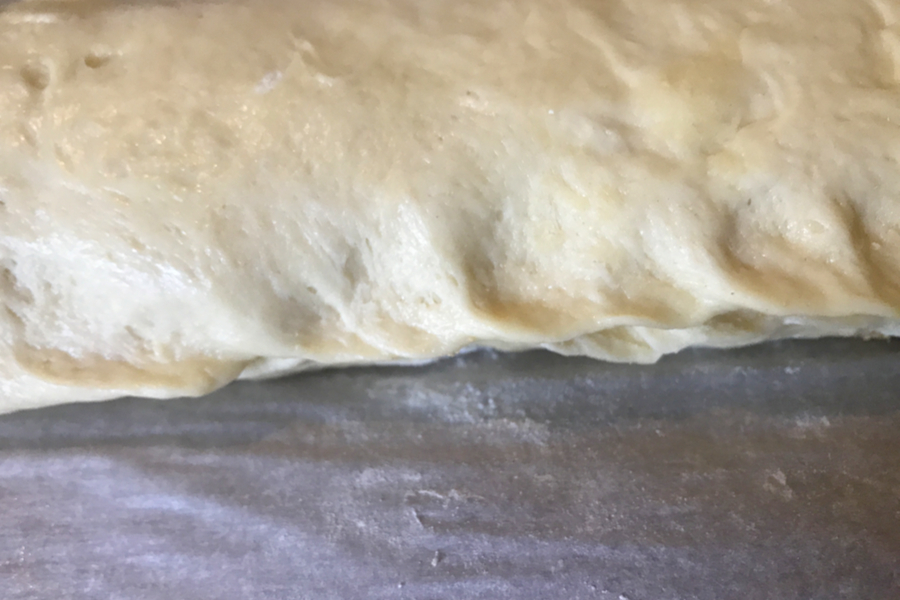 Once the dough has been mixed together and has had time to rise, roll it out in a large rectangle.
Spread your cinnamon sugar filling on the surface of the dough. However, be sure to pat it in lightly so it doesn't fall off when you roll the dough.
Starting at the long side of the rectangle, roll the dough into a log. Next, pinch the seam together and form the King Cake into an oval.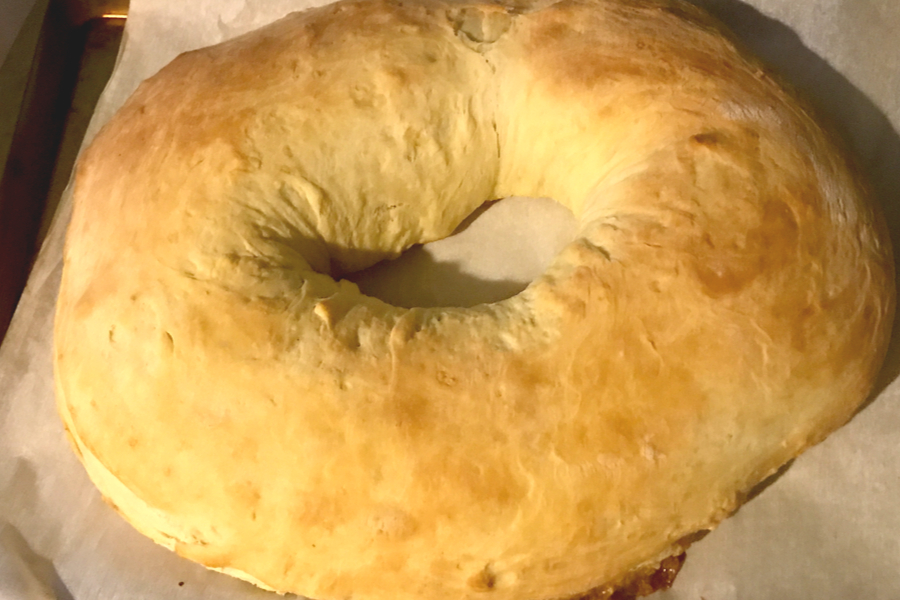 Again, pinch the ends together. Now all that is left to do is to put it in the oven!
And no, the plastic baby doesn't actually get put in the dough itself. First of all, it would melt during the baking process. Second, to prevent anyone from choking on the baby, it is most often placed under the piece of cake when serving.
Once the cake has completely cooled, spread on the icing and sprinkles.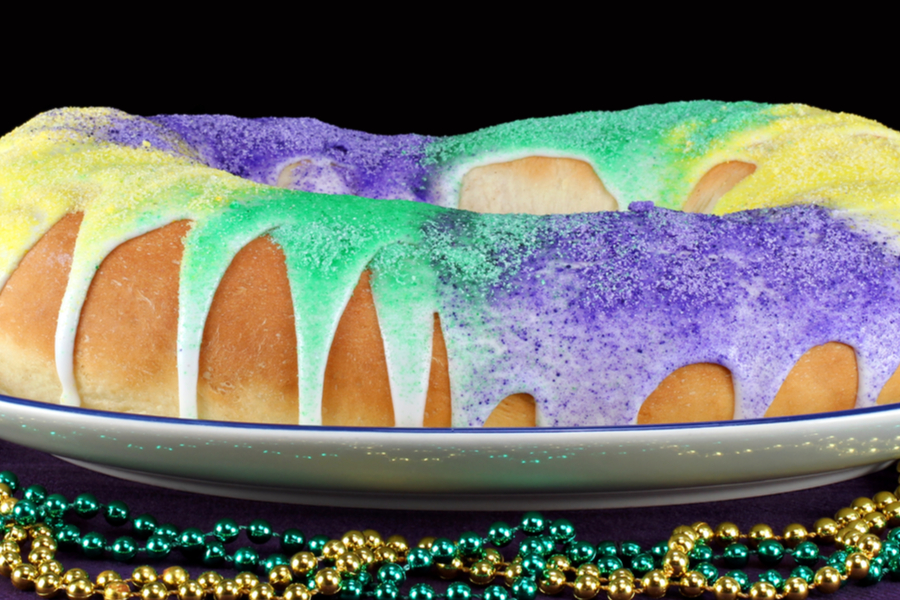 Now your King Cake is ready to be served and enjoyed by all! Happy Carnival Season!
Check out the printable recipe below and let me know what you think!
To receive our 3 Recipe Articles in your inbox each week, sign up for our free email list located on the side and bottom of each recipe. You can also follow us on Facebook and Pinterest. This article may contain affiliate links where a small commission is paid if you purchase a product at no additional cost to you.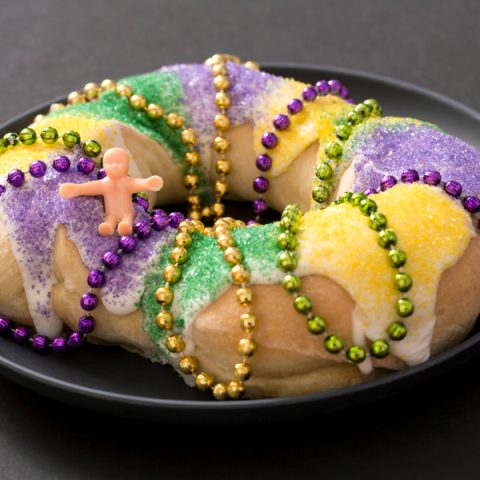 Easy King Cake Recipe
King cake is a specialty sweet roll that is served only during Carnival Season. Here is how to make your own festive cake to celebrate Mardi Gras!
Ingredients
CAKE
1 16-ounce box Pillsbury Hot Roll Mix
2 tablespoons sugar
1 cup hot water, approximately, 120 degrees F
1 large egg
2 tablespoons butter, softened
1 tablespoon cinnamon
FILLING
1 cup brown sugar packed
2 ½ TBS ground cinnamon
6 TBS butter room temperature
ICING
2 cups powdered sugar
3 tablespoons butter, melted
2 teaspoons lemon juice
1/2 teaspoon vanilla extract
2 to 3 tablespoons milk
EXTRAS
purple, green, and yellow sugar sprinkles
small plastic baby
Instructions
In a large bowl, combine the hot roll mix and yeast mix from the package, along with 2 tablespoons sugar.
Add hot water, egg, and butter and stir until the dough starts pulling away from the sides of the bowl.
Place the dough onto floured surface and form into a ball with floured hands. Knead the dough for 5 minutes turning frequently, adding more flour as needed to keep the dough from sticking.
Reshape the dough into a ball and placed into a large bowl that is sprayed with non-stick spray and cover with a towel. Let it rest for 5 minutes.
In the mean time, make your filling by combining brown sugar, cinnamon, and butter in a medium bowl. Stir until smooth.
Once the dough has rested for at least 5 minutes, but up to 30 minutes, flour a large area and roll the dough out in a large rectangle about 12″X20″ in size.
Sprinkle the filling evenly over the dough, within 1/2 inch of the edges. Pat lightly with your hands so that it sticks to the dough.
Roll the dough up in jelly-roll fashion starting from the longest side. Pinch the seams to seal.
Transfer the roll to a greased baking sheet or a baking sheet covered with parchment. Form the roll into an oval shape and pinch the ends together. Cover with plastic wrap coated with non-stick spray and a kitchen towel and let rise for 30 minutes.
Preheat the oven to 375°F.
Once the dough has risen, bake for 25 to 30 minutes or until golden brown. Remove from the oven and cool completely.
Once you are ready to ice, combine 2 cups powdered sugar, melted butter, lemon juice, vanilla, and 2 tablespoons milk. Icing should be thick, but just pourable. If needed, add more sugar to thicken or additional milk to thin.
Drizzle icing over the top of the king cake and sprinkle with the traditional Mardi Gras colored sprinkles - purple, yellow, and green.
Once you are ready to serve, slice and place a plastic baby in one piece of the cake.
Notes
Recipe provided by Make Your Meals
Nutrition Information:
Yield:

12
Serving Size:

1 grams
Amount Per Serving:
Unsaturated Fat:

0g
Easy King Cake Recipe – The Perfect Treat For Mardi Gras Season