Cucumber Cream Cheese Spread – a light and refreshing spread that is perfect to serve on crackers, baguettes, bagels or on top of vegetable slices.
Every time that I make this spread for family, friends, or for a party I never have to worry about taking home any leftovers.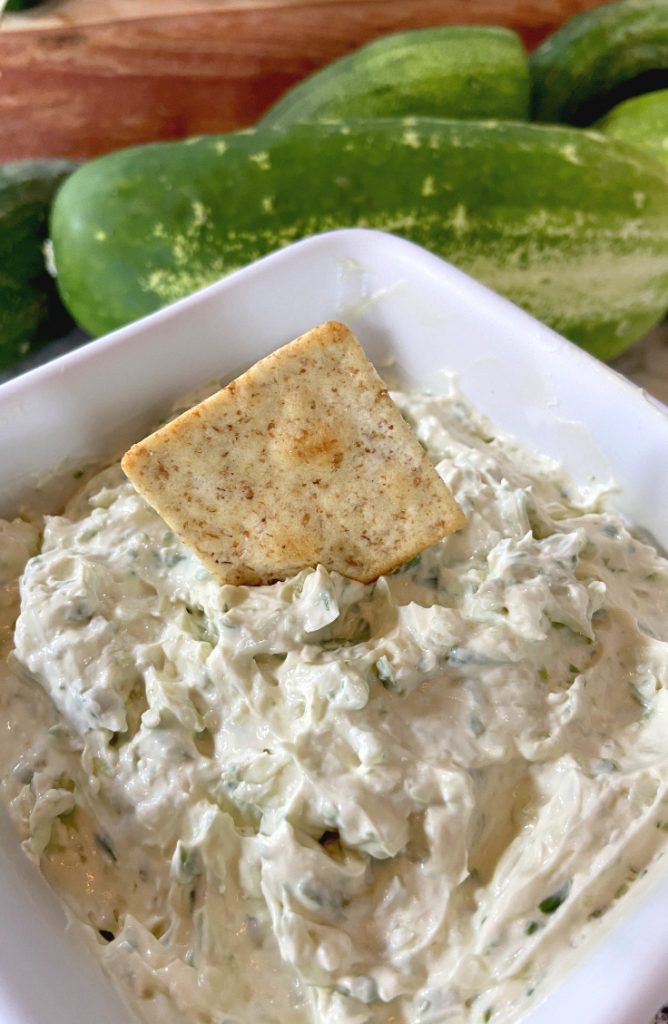 In fact, I am pretty sure that after I set it out for everyone to enjoy, it is gone within the hour. And I can't even tell you how many times that I have been asked to share the recipe.
And when I tell them how easy it is to make this Cucumber Cream Cheese Spread, they can't believe that it only has 5 ingredients. But best of all, it is prepared in minutes!
Simply throw the ingredients in a food processor and the spread is made! However there are a few key steps to follow before you can let the flavors meld in the refrigerator.
How To Make Cucumber Cream Cheese Spread
The first thing that you need to do is to peel and remove the seeds of half of a medium size cucumber.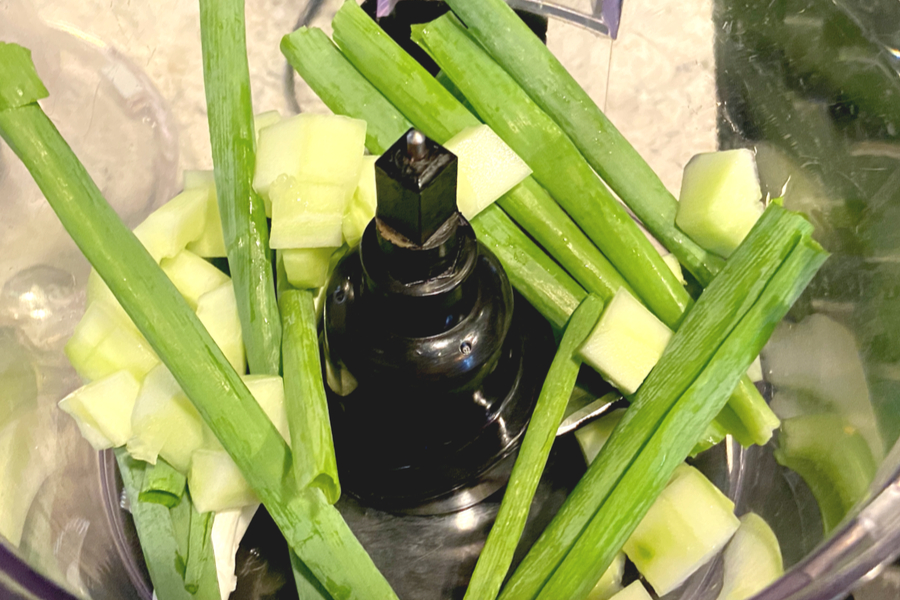 Then dice the cucumber into chunks and place into a food processor. We love our Hamilton Beach Duo Food Processor which has both a 12 cup and 4 cup capacity bowl.
This makes comes in handy when you are making smaller items, such as this cucumber cream cheese spread. But also when you are making something that requires more room, such as shredding zucchini for Zucchini Bread.
Next, clean and remove the roots of the green onions. Place them in the food processor with the cucumber. Pulse until there are small chunks of cucumbers.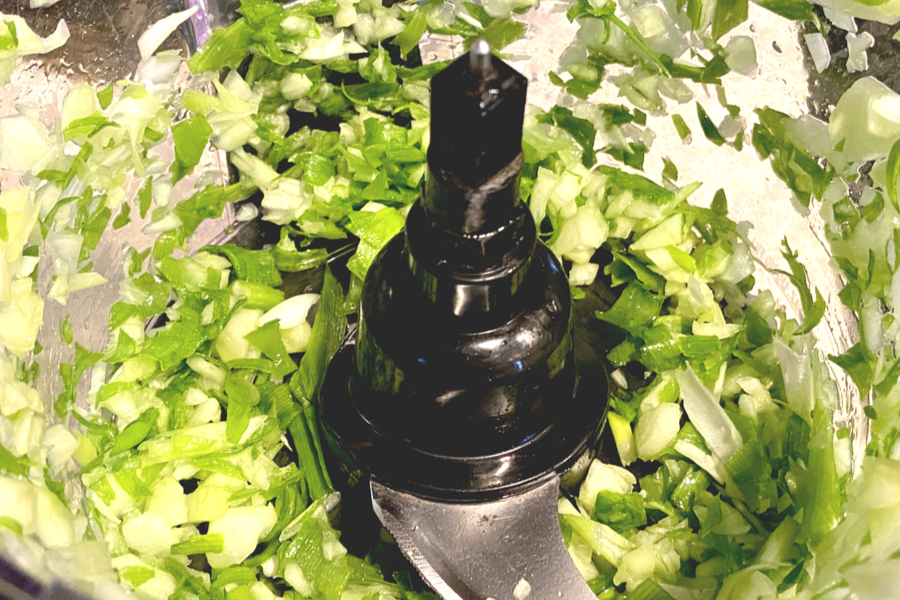 *Be sure not to over process. You want chunks, not puree!
Add the room temperature cream cheese, Worcestershire sauce and salt to the cucumber and green onion mixture.
Process until the cucumber cream cheese spread is well blended.
Then remove the contents from the food processor and place in a serving bowl.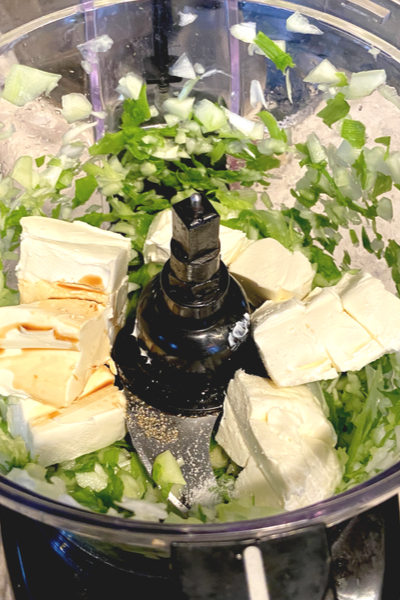 Now here is the hard part. You MUST, I repeat, you MUST wait at least 8 hours before serving.
The spread needs time for the flavors to meld as it rests in the refrigerator. Believe me, the wait is well worth it!
How to Serve
Serve the Cucumber Cream Cheese Spread as you would any other flavored cream cheese.
Spread it on toasted bagel (even our homemade 2 Ingredient Bagels), baguette slices or on crackers. Or spread it on top of vegetable slices, on bread to make tea sandwiches, or even tortillas to make a wrap.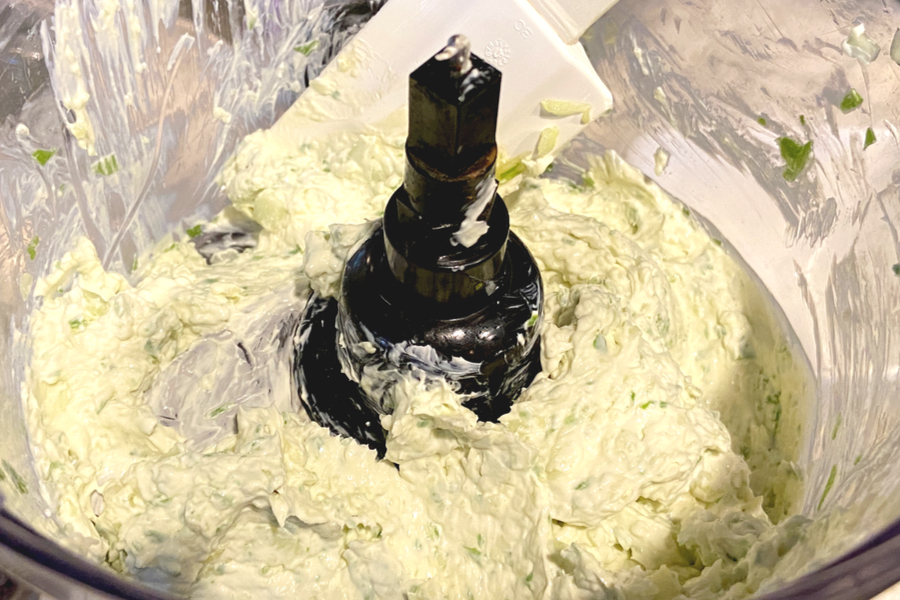 The choices are endless! And yes, I might have eaten it right off of the spoon for a late night snack. Please don't judge…we've all been there.
However you decide to enjoy your Cucumber Cream Cheese Spread, I know that you will love it as much as we do!
To receive our 3 Recipe Articles in your inbox each week, sign up for our free email list located on the side and bottom of each recipe. You can also follow us on Facebook, and Pinterest. This article may contain affiliate links where a small commission is paid if you purchase a product at no additional cost to you.
Cucumber Cream Cheese Spread – Warning, It's Addictive!