Stuffed mushrooms are a huge hit at every party. They are versatile, easy to make and a delicious finger food.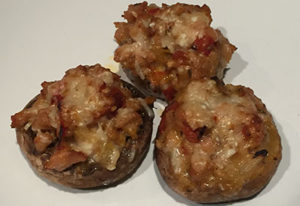 Most stuffed mushrooms are filled with a sausage and cream cheese base. Although those mushrooms are scrumptious, the amount of calories that packed in each mushroom limits your ability to eat several.
This recipe takes a different twist on the typical stuffed mushrooms. They are filled with veggies, spices and a little bit of Parmesan cheese. The cheese acts as a binder and helps keep the filling together. However, if you are dairy free or vegan, you can omit the cheese.
The Secret To Making Stuffed Mushrooms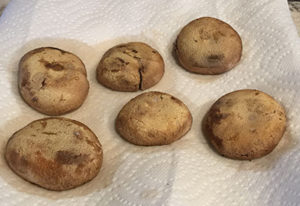 The secret to making the perfect stuffed mushroom is to bake the mushrooms first to drain off some of the liquid.
If you skip this step, you mushrooms will be too moist and the filling will have a difficult time staying inside the cap. Baking them prior to filling also allows the veggies to not become overcooked and mushy.
To receive our 3 Recipe Articles in your inbox each week, sign up for our free email list. You can also follow us on Facebook, Twitter, Pinterest, or Instagram. This article may contain affiliate links.
Stuffed Mushrooms Recipe – Filled With Delicious Veggies