I can't tell you how much that my family loves to eat Cinnamon Apple Quinoa Breakfast Bowls.
In fact, they love it so much that they not only ask me to make it for breakfast, but also for lunch and even dinner!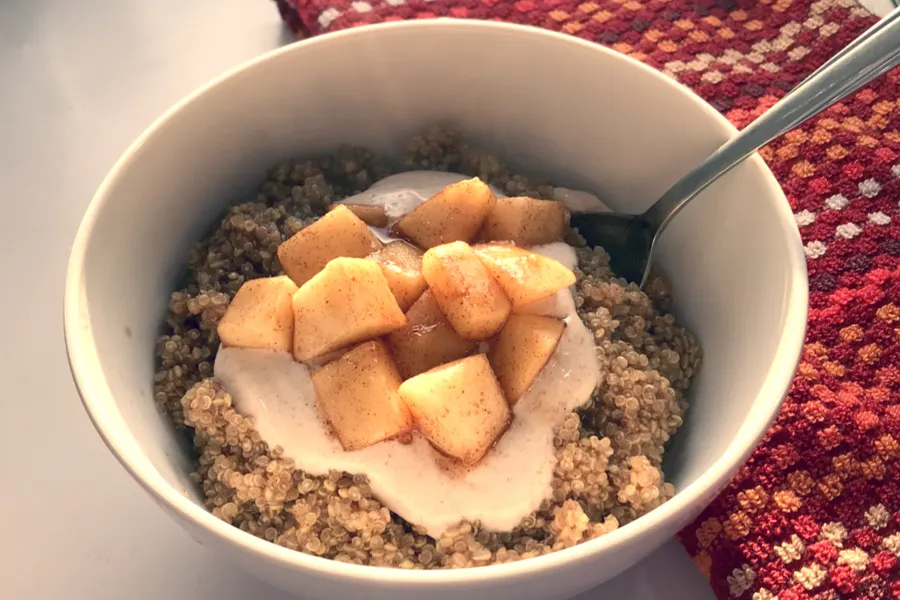 And the best part of all, they have no idea that it has Quinoa as the main ingredient!
They call it the Hot Apple Bowl! And as long as they are eating it, I am totally okay with it!
However, it took me awhile to come up with such a delicious way to eat quinoa.
In fact, my first attempt at making quinoa was as in an effort to use it as a rice substitute. And the results were less than desirable.
The grains weren't cooked all the way through, and it was very difficult to eat with a fork.
However, the next time that I made quinoa I did so using my 6 quart Instant Pot Duo, and it came out perfect!
Needless to say, I make quinoa quite often now. However, now I no longer use it only as a rice substitute.
One of our very favorite recipes to make is No Bake Quinoa Bites. They are a super healthy, yet delicious snack to get you through to the next meal.
And now I make Cinnamon Apple Quinoa Breakfast Bowls, at least 3 times per week!
How to Make Cinnamon Apple Quinoa Breakfast Bowls
So what is the secret to making a Quinoa for breakfast that everyone will love?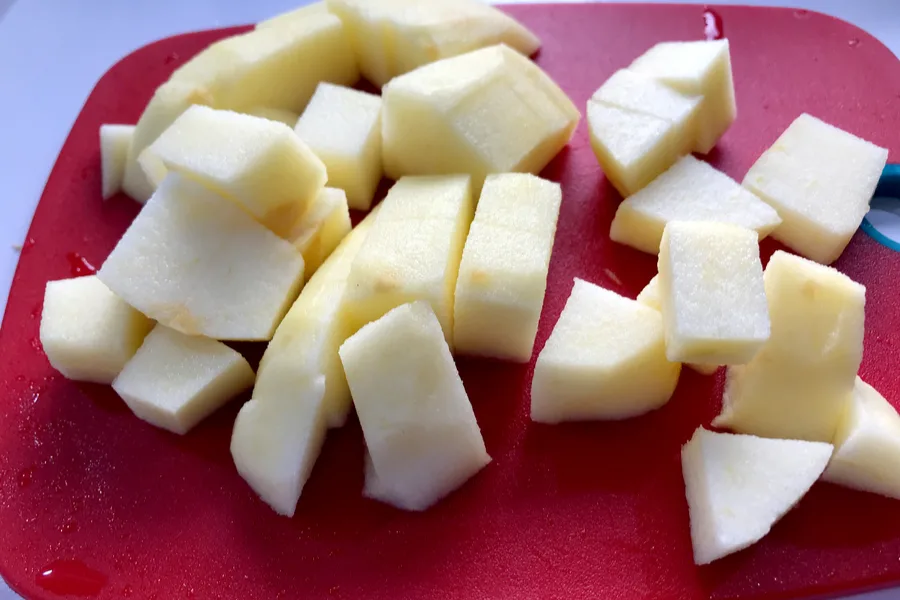 Two important ingredients – maple syrup and cinnamon. And by maple syrup, I mean natural maple syrup.
If you can both of those two ingredients on pancakes, why not in quinoa?
And to make it even better we have added flavored greek yogurt and seasoned apples to the mix as well!
But first you need to start with cooking your quinoa. Using a fine mesh strainer, rinse and drain the quinoa.
Next, in a sauce pan, cook the quinoa until the liquid has absorbed. However, if you have an Instant Pot, you can also Cook The Quinoa using the 1:1:1 method.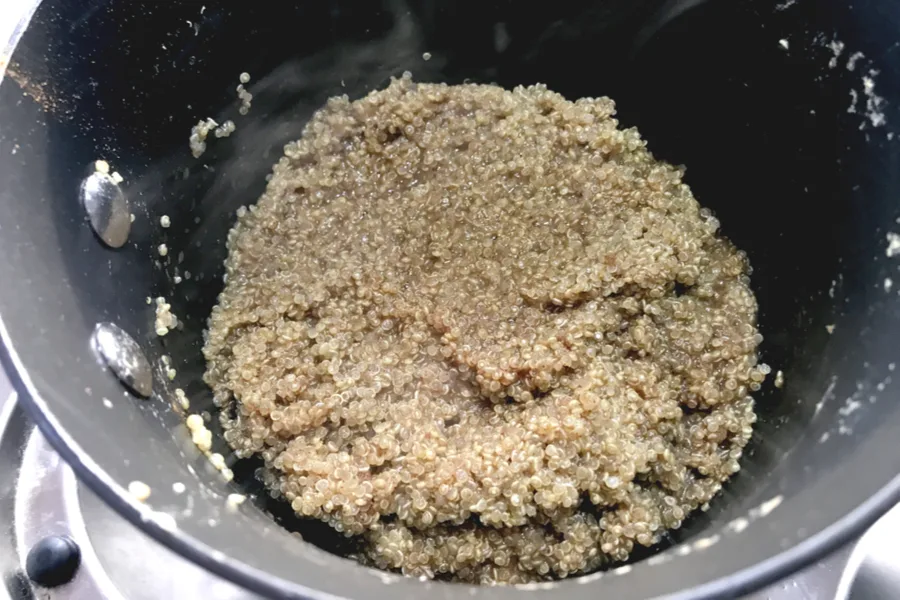 I always like to make extra and keep the cooked leftovers in the refrigerator for an easy meal throughout the week.
Once the quinoa is cooked, it is time to add some flavor and texture to the mixture. Add in the spices, maple syrup and a little bit of milk.
As the flavors sit and meld, prepare the toppings.
Flavored Greek Yogurt
Using a single serving size Greek yogurt, mix in a little maple syrup and cinnamon. Set aside until ready to use.
Cinnamon Apples
Once your quinoa has had time to sit, divide the mixture evenly into the bowls.
Then use the saucepan to cook your peeled and diced apples. Again, add in a little maple syrup and cinnamon for flavor.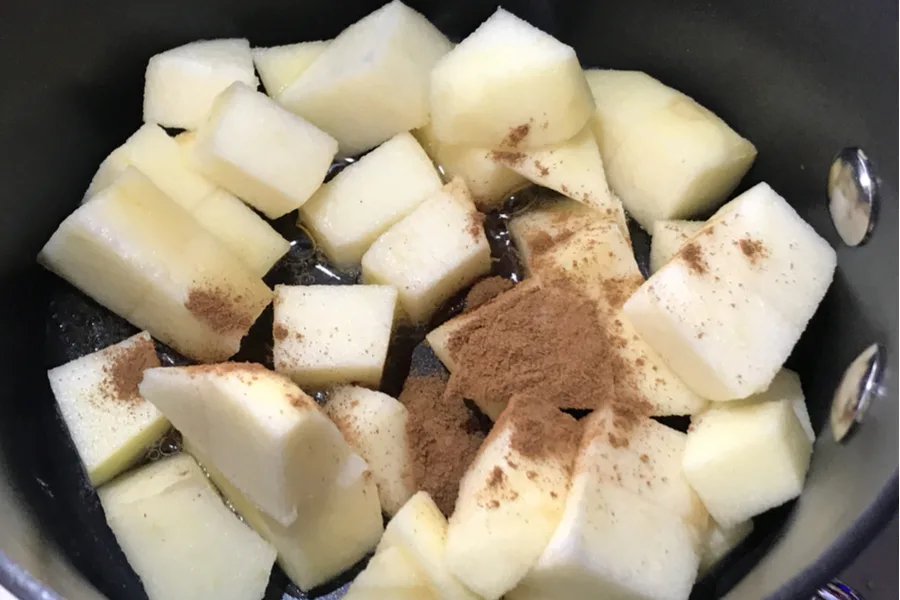 Cook for approximately 5 minutes, or until the apples are tender.
Assemble the Bowls
Before eating Quinoa Breakfast Bowls, place a dollop of the yogurt on top of the cooked quinoa.
Then divided the Cinnamon Apples and top each quinoa bowl.
Now you are ready to enjoy a healthy and delicious breakfast!

To receive our 3 Recipe Articles in your inbox each week, sign up for our free email list located in the middle of each recipe or email me at contact@makeyourmeals.com. You can also follow us on Facebook and Pinterest. This article may contain affiliate links where a small commission is paid if you purchase a product at no additional cost to you.
Yield: 2
Cinnamon Apple Quinoa Breakfast Bowl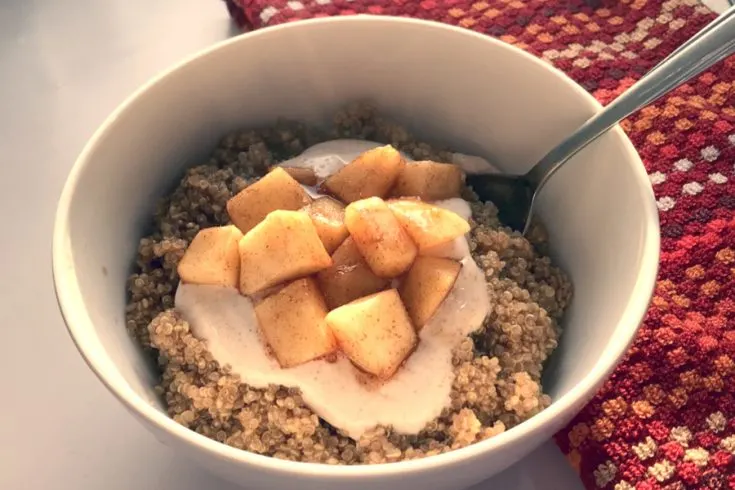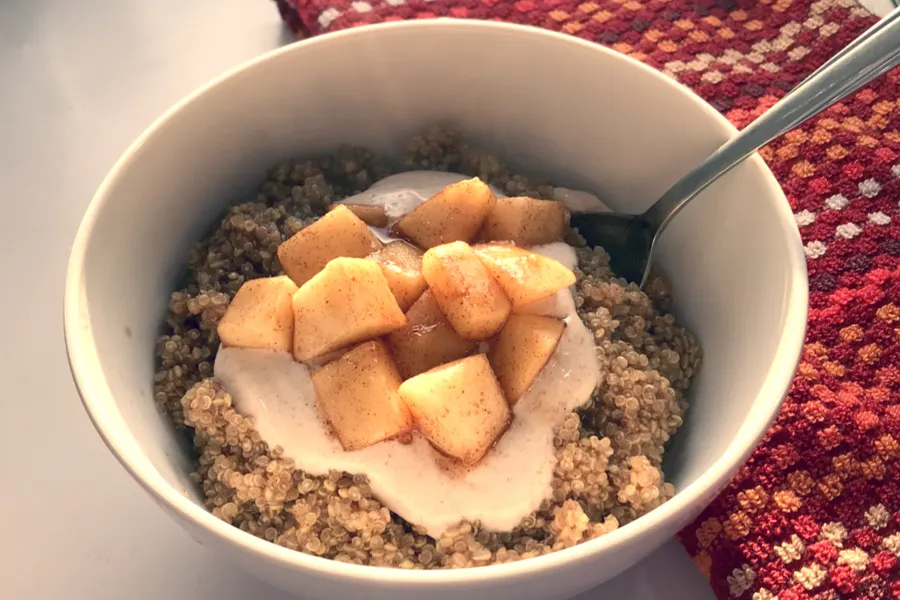 A healthy breakfast bowl made with creamy quinoa and topped with flavored Greek yogurt and seasoned apples.
Ingredients
1/2 cup uncooked quinoa, rinsed and drained
1 cup water
1 teaspoon ground cinnamon
1/4 teaspoon ground ginger
1/8 teaspoon ground nutmeg
2 tablespoons maple syrup
2 tablespoons milk/almond milk
FLAVORED YOGURT
1/2 cup plain non-fat Greek yogurt
1 teaspoon maple syrup
1/4 teaspoon ground cinnamon
SEASONED APPLES
1 red apple peeled and diced
1 teaspoon melted coconut oil
1 teaspoons maple syrup
1/4 teaspoon ground cinnamon
OPTIONAL
sliced almonds
diced pecans
Instructions
In a small saucepan, bring the quinoa and water to a boil. Once the pot begins to boil, reduce to a simmer and cover. Cook until the liquid is absorbed, approximately 10-12 minutes.
Remove the pot from the heat and stir in the cinnamon, ginger, nutmeg, maple syrup and mix well. Cover the pot and let sit for 10 minutes.
In the mean time, prepare the yogurt by mixing the yogurt, maple syrup, and ground cinnamon together in the small bowl. Set aside.
Divide the cooked quinoa into two bowls, set aside.
Add the coconut oil to the saucepan over medium-high heat. Stir in the diced apples, maple syrup and cinnamon.
Continue to cook for approximately 5 minutes, or until the apples are tender.
Top the bowls of quinoa with the Greek yogurt mixture, then the cooked apples.
Garnish with sliced almonds or diced pecans, optional.
Notes
Recipe provided by Make Your Meals
Nutrition Information:
Yield:
2
Serving Size:
1 grams
Amount Per Serving:
Unsaturated Fat:

0g