How many of us could eat a chicken burrito bowl several times a week?
I am definitely one of those people! There is just something about taking a bite into such a flavorful dish that makes you crave more.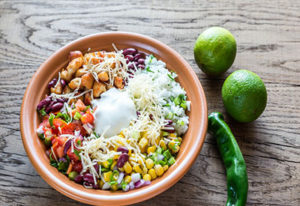 It might be the burst of flavor that is unexpected and different with each mouthful. Or it could be the combination of textures, temperatures and flavors that stimulate every taste bud.
Whatever the case, the lines to order a burrito bowl seems to get longer and longer every day.
Luckily, making a delicious burrito bowl at home isn't difficult at all. In fact, many of the ingredients can be prepared ahead of time and heated for a quick lunch or dinner.
Or you could even opt to make an Instant Pot Burrito Bowl.
Make Ahead Ideas
Make your seasoned chicken breasts on Sunday. You can not only use them in your burrito bowl, but it makes for a quick addition of protein on a salad, taco or Baja Chicken Warm Grain Bowl.
Make your black beans ahead of time. Check out our recipe to make Seasoned Black Beans from dried beans. They are absolutely delicious and will save you money by making your own!
How about making a big batch of rice for use throughout the week? Rice is so versatile and can be used not only in Mexican dishes, but is also great for a quick weeknight stir-fry or use as a filler in soups.
To receive our 3 Recipe Articles in your inbox each week, sign up for our free email list.
You can also follow us on Facebook, Twitter, Pinterest, or Instagram. This article may contain affiliate links.
Chicken Burrito Bowl Recipe – Burst of Flavor In Every Bite!