How many of us could eat a chicken burrito bowl several times a week?
I am definitely one of those people! There is just something about taking a bite into such a flavorful dish that makes you crave more.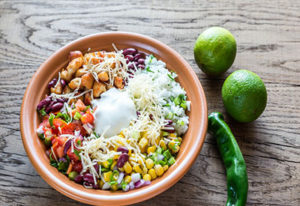 It might be the burst of flavor that is unexpected and different with each mouthful. Or it could be the combination of textures, temperatures and flavors that stimulate every taste bud.
Whatever the case, the lines to order a burrito bowl seems to get longer and longer every day.
Luckily, making a delicious burrito bowl at home isn't difficult at all. In fact, many of the ingredients can be prepared ahead of time and heated for a quick lunch or dinner.
Or you could even opt to make an Instant Pot Burrito Bowl.
Make Ahead Ideas
Make your seasoned chicken breasts on Sunday. You can not only use them in your burrito bowl, but it makes for a quick addition of protein on a salad, taco or Baja Chicken Warm Grain Bowl.
Make your black beans ahead of time. Check out our recipe to make Seasoned Black Beans from dried beans. They are absolutely delicious and will save you money by making your own!
How about making a big batch of rice for use throughout the week? Rice is so versatile and can be used not only in Mexican dishes, but is also great for a quick weeknight stir-fry or use as a filler in soups.
To receive our 3 Recipe Articles in your inbox each week, sign up for our free email list.
You can also follow us on Facebook, Twitter, Pinterest, or Instagram. This article may contain affiliate links.
Chicken Burrito Bowl Recipe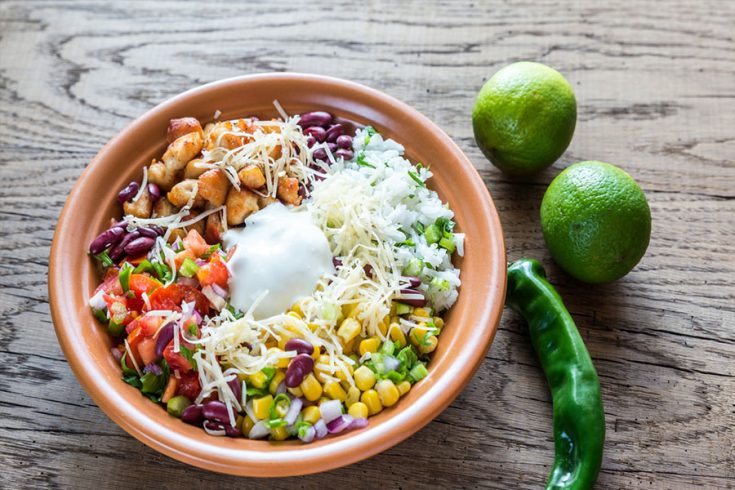 An amazingly delicious burrito bowl recipe filled with bursts of flavor. Easy to make vegetarian and vegan friendly.
Ingredients
1 pound boneless skinless chicken breasts
2 tablespoons taco seasoning
3 tablespoons flour
2 tablespoons butter
1 can corn
1 can black beans
3 cups white rice, cooked
1 large bunch fresh cilantro
1 teaspoon minced garlic
2 large hearts of Romaine lettuce
3 limes
Dressing
2 tablespoons dry ranch seasoning mix
1 tomatillo
1 jalapeno
1/2 cup mayo
1/2 cup sour cream
Suggested toppings:
Pico de gallo
Cilantro
Guacamole
sour cream
Lime wedges
Cheese
Instructions
Slice large chicken breasts in half horizontally and pound so that each breast is evenly thick. Salt and pepper the chicken pieces on both sides.
In a small bowl, stir together the taco seasoning and white flour. Dredge each chicken breast in the mixture.
Heat a large, non-stick skillet to medium-high heat and add the butter.
Once the butter is melted, add the chicken in a single layer to the skillet. Cook for 3 minutes on one side and then flip to the other side and cook for another 4-6 minutes or until chicken is cooked through. Set aside and when cool enough to handle, chop into bite size piece.
Stir in the juice of one large lime and 3 tablespoons of finely chopped cilantro to warm, cooked rice. Add additional salt and pepper to taste.
Heat black beans. Add additional seasonings per taste.
Heat a medium sized skillet over medium-high. Add 1 tablespoon of olive oil. Once heated, add corn, and cook, stirring occasionally, until slightly charred, about 5 minutes. Sprinkle with 1 1/2 teaspoons of the lime juice and a pinch of salt. Set aside.
Chop lettuce into small, thin strips.
Prepare the dressing:
Zest and juice one lime. Add the juice and zest to the blender along with the prepared ranch seasoning mix, minced garlic, chopped tomatillo, ⅓ of the bunch of cilantro, ½ of jalapeno (seeds removed for less heat), mayo and sour cream. Blend until completely smooth.
Add salt and pepper to taste.
Build the bowls:
Divide ingredients among 6-8 bowls.
Add additional toppings: pico de gallo, cilantro, guacamole, sour cream, cheese and lime wedges, Drizzle the dressing evenly over the bowls.
Notes
Recipe can easily be adapted to make Vegetarian. Recipe provided by Make Your Meals
Nutrition Information:
Serving Size:
1 grams
Amount Per Serving:
Unsaturated Fat:

0g