Because more people may be celebrating Halloween at home this year, homemade treats are much more popular than ever before. So for today's recipe, we decided to share 6 of our favorite homemade sweet treats that end up on our table every October!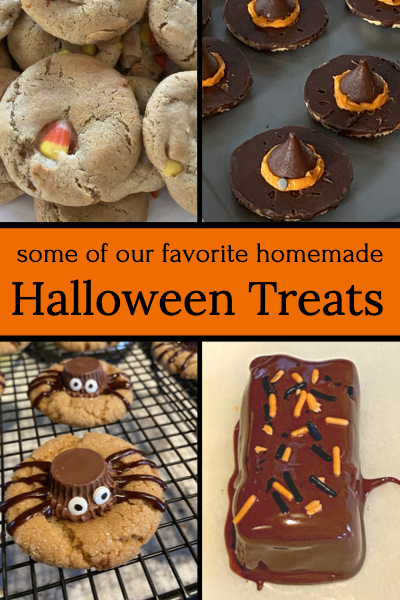 Cookie Halloween Treats
Witch's Hat Cookies
This might be the absolute easiest Halloween treat that you make! And the kids absolutely love them!
What you need:
Fudge Swirl Cookies
Hershey Chocolate Kiss
Melted Chocolate Chips
Orange Icing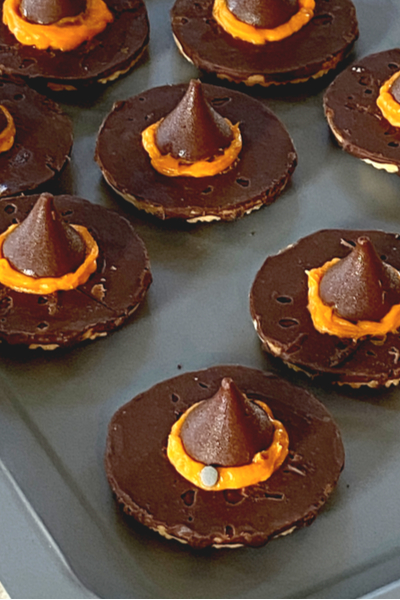 Flip a fudge swirl cookie over so that the chocolate coating side is face up. Melt chocolate chips in the microwave at 20 second increments until melted and smooth. Unwrap a Hershey Kiss and coat the bottom edge with chocolate and place in the center of the cookie.
Once the chocolate has hardened, pipe the orange icing around the seam between the cookie and the Hershey Kiss. Refrigerate until the icing is firm.
Peanut Butter Spider Cookies
This recipe is a twist on the traditional Peanut Butter Blossom cookie recipe. But instead of using a Hershey Kiss in the center of the cookie, we top this Halloween treat with a Reese's Peanut Butter Cup!
Then add a few chocolate lines and candy eyes and you have a Peanut Butter Spider Cookie!
What you need:
Granulated sugar
Mini Peanut Butter Cups, frozen
Candy Eyes
Chocolate frosting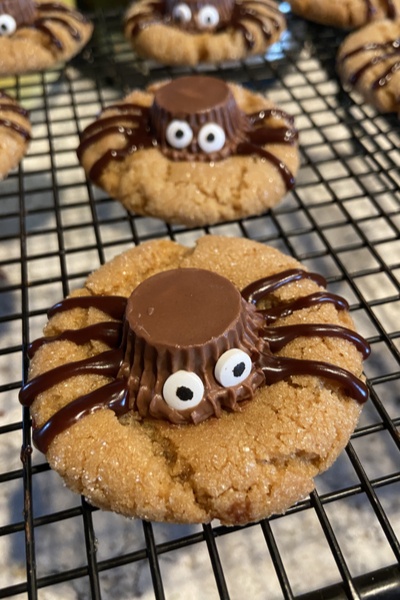 Make your peanut butter cookie dough and roll into 1 inch balls. Then roll each ball in granulated sugar. Bake at 350°F for 10-12 minutes or until golden. Immediately add the frozen mini peanut butter cup to the center of each cookie.
Then move each cookie to a wire cooling rack. Once the peanut butter cups begin to soften, add the candy eyes to each one. Refrigerate for 10 minutes.
Next, use the chocolate frosting to make 'legs' on each side of the cookie. If your icing is in large container, use a resealable ziplock bag with the end snipped off to pipe the chocolate legs. Refrigerate for at least 10 minutes.
Candy Corn Cookies
One of our favorite Halloween treats is this Candy Corn Cookies recipe. The popular Fall candy is nestled inside of a sugar cookie dough and baked until lightly golden brown.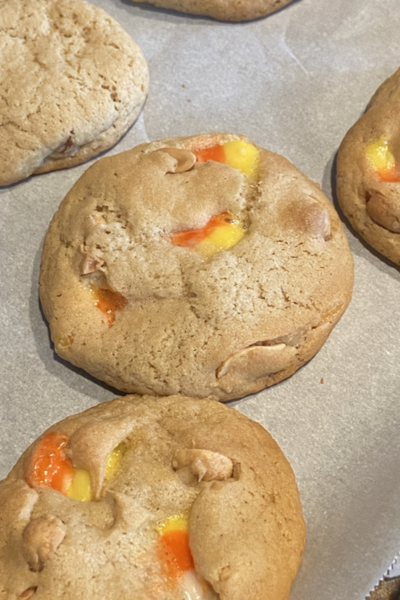 Although these cookies make a great treat for Halloween, they also are a great addition to Christmas Cookie Trays! However, just a word of caution. If you freeze them, you may find that they slowly disappear over time when a late night craving hits!
See how we make these delicious treats here: Candy Corn Cookies Recipe
Other Fun Treats
Homemade Butterfinger Bars
You wouldn't believe how easy it is to make your own Butterfinger bars with just 3 ingredients! But would you believe that candy corn is one of the main ingredients!
What You Need:
Candy Corn – 2 cups
Creamy Peanut Butter – 2 cups
Dipping Chocolate
Sprinkles (optional)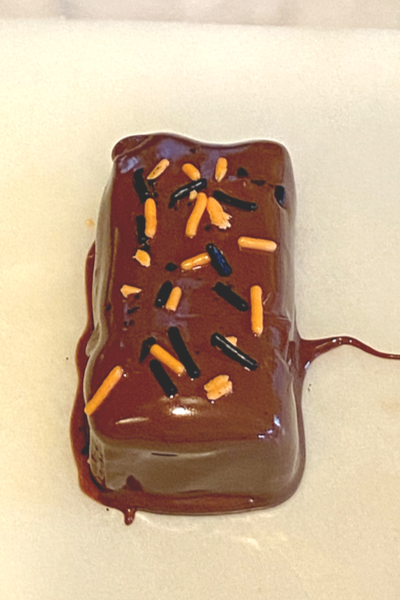 Melt the candy corn and peanut butter in a saucepan over medium heat. Continue to stir until the candy corn has completely melted. Then pour in a greased or parchment paper lined 9×11 inch baking dish.
Once the mixture begins to harden, cut it with knife. Let it completely cool and then cut it one final time into small rectangles. Now melt your chocolate and dip each piece in, coating both sides.
Return the Halloween treats onto wax paper and top with sprinkles (optional) until hardened.
Monster Mix
mini pretzels – 1 1/2 cup
Honey Nut Cheerios – 2 cups
Chex Mix – 2 cups
Candy Corn – 1 1/2 cups
Peanuts (optional) – 1 cup
Halloween M&M's – 10 ounce package
White Chocolate chips – 10 ounce package
1 1/2 Tablespoons Vegetable Oil
Halloween sprinkles (optional)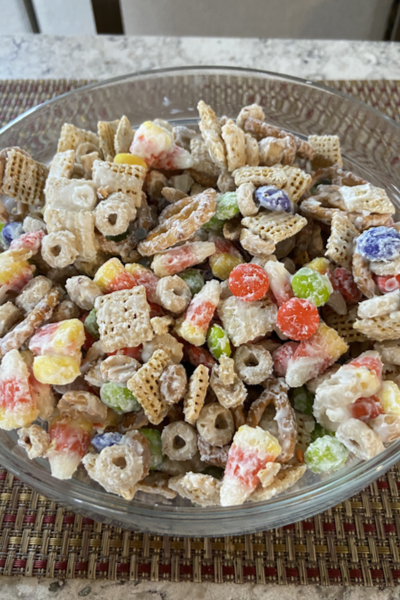 Mix the pretzels, Cheerio's, Chex Mix, Candy Corn, Peanuts (if using), and M&M's in a large bowl. Then melt the white chocolate and oil in the microwave in 30 second increments at 50% power until smooth.
Once the chocolate has melted, pour over the Halloween treat mixture and toss to coat. Then add sprinkles if desired. Let cool on a parchment paper lined baking sheet until the chocolate has hardened.
Break the mixture into smaller pieces and serve in little baggies or store in an air tight container.
Apple Dentures
However, if you are looking for a little healthier snack, maybe we should add some apples into the Halloween treat list. But not just plain apples! It is Halloween after all!!!
These fake dentures are made from a simple arrangement of sliced apples, peanut butter and mini marshmallows. And the kids just love them!
What You Need:
Apples
Creamy Peanut Butter
Mini Marshmallows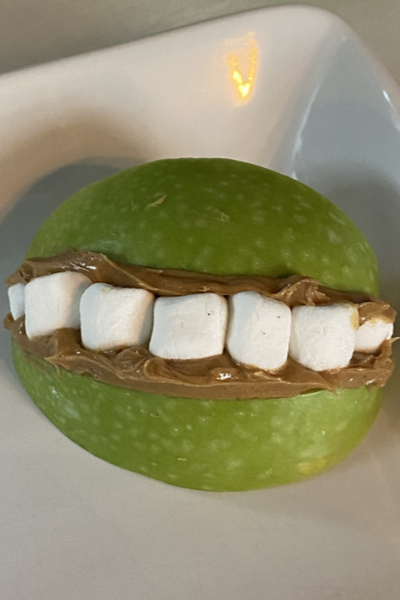 First, slice each apple into 8 wedges. Then spread creamy peanut butter on the wider edges of each apple slice. Next, take one apple wedge and arrange the mini marshmallows on the front edge of the apple slice, sitting in the peanut butter.
Then carefully place the other apple wedge on top so that the tops of the marshmallows are submerged in peanut butter.
There you have it! Our favorite Halloween treats that are easy to make! So this year, choose your favorites and share with your family and friends.
Enjoy!


To receive our 3 Recipe Articles in your inbox each week, sign up for our free email list located in the middle of each recipe or email me at contact@makeyourmeals.com. You can also follow us on Facebook and Pinterest. This article may contain affiliate links where a small commission is paid if you purchase a product at no additional cost to you.