This Sheet Pan Lemon Pepper Salmon & Asparagus recipe is one of my favorite recipes. It is a quick, easy, healthy meal and it is the perfect dinner recipe when I need a meal on Friday during the Lenten season.
For many people, every Friday between Ash Wednesday and Easter Sunday, requires a fasting period which includes no meat to be eaten on this day. This is why you will see several Fish and Chips specials at every nearly every restaurant during this time.
Although I love to make my own Air Fryer Fish and Chips, homemade cheese pizza, and grilled cheese and Homemade Tomato Soup, sometimes, a delicious salmon meal sounds light and refreshing.
As much as I love my recipes for Maple Glazed Salmon, Air Fryer Salmon, and Creamy Tuscan Salmon, this Salmon recipe is one of my favorite meals of all time. Salmon filets coated in a lemon sauce and topped with thin slices of lemon.
Then the fish is put on a sheet pan in the oven with asparagus spears for a complete and easy to make, sheet pan dinner. Best of all, this healthy meal will be on the table in just 30 minutes!
Although it is a quick and easy meal to make, it looks so elegant that everyone will think that you spent hours in the kitchen making it.
Use Quality Ingredients
Because this recipe is very simple and uses just a few ingredients, it is important that you purchase good quality ingredients. First, let's start with the salmon.
As in all my salmon recipes, I strongly encourage you to purchase wild-caught salmon instead of farm-raised. Wild caught salmon is much healthier for you as it is not raised in a farm where they are feeding the fish supplements and antibiotics.
Although most of the salmon that you will find at the grocery store will be farm raised, if you take a closer look, you will most likely find a small section of wild caught salmon as well. Unfortunately, it will be more expensive, but the taste, quality and health benefits are well worth it!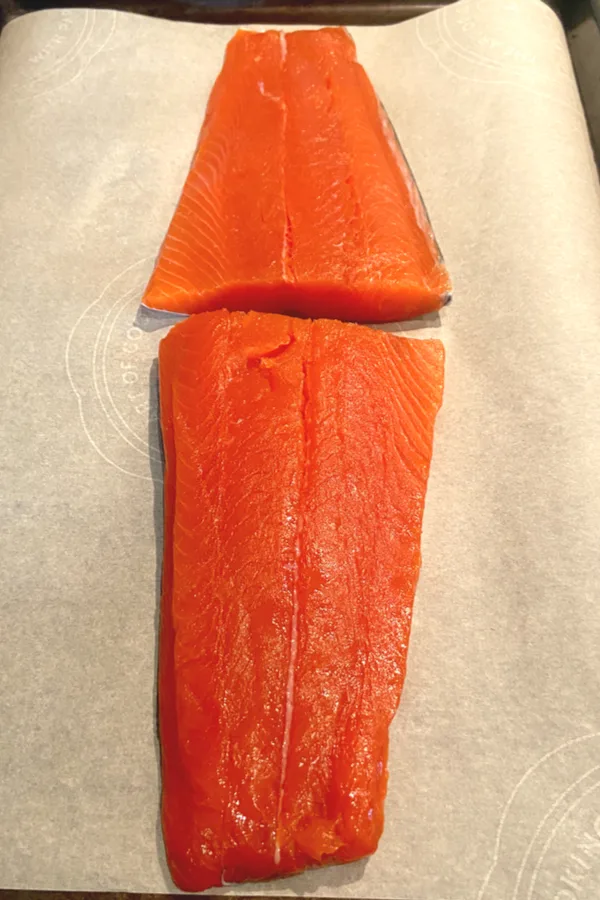 As for the asparagus, you want to purchase spears that are medium in thickness. If you have pencil size asparagus, they will cook much quicker and end up mushy by the time that the lemon pepper salmon finishes cooking.
However, if you buy very large, marker size asparagus, they may not get tender enough to eat for your preference.
With just a couple basic quality ingredients, you will have a meal that tastes like it was made in a fancy gourmet restaurant. However, the cost of the entire meal will be much less than if you spend the evening out, even with the purchase of wild caught salmon.
So let's get to the details on how to prepare this delicious dinner recipe. Grab your sheet pan and the simple ingredients listed below and I will take you through the step-by-step instructions.
Sheet Pan Lemon Pepper Salmon & Asparagus Recipe
*Specific measurements and complete recipe instructions are located in a printable recipe card at the bottom of this article. However, be sure to continue to read the tips and tricks to making this recipe below.
INGREDIENTS
Wild-caught salmon filets, skin-on
Olive oil, divided
Lemon zest
Fresh lemon juice
Garlic cloves, divided and minced
Onion powder
Dijon mustard
Parmesan cheese
Lemon slices
Medium asparagus spears
Fresh ground black pepper and salt to taste
INSTRUCTIONS
The first step to preheat your oven and line a rimmed baking sheet with a silicone baking mat or parchment paper. Set it aside.
Take a small mixing bowl and mix the lemon zest, 1 1/2 Tbsp olive oil, two garlic cloves, lemon juice, onion powder, and Dijon mustard.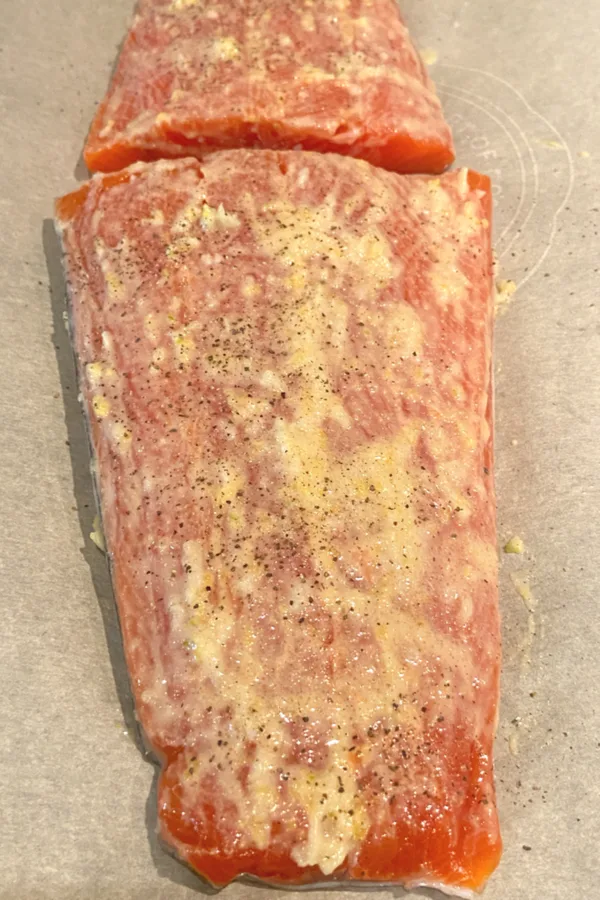 Place the salmon, skin side down, on the center of the prepared baking sheet. Use a pastry brush to spread the lemon and mustard mixture evenly on the sides and top of the salmon.
Next sprinkle salt and pepper on top of the fish filets. Then take half of the lemon and cut it into thin slices. Place the lemon slices on top of the coated salmon.
Now, remove the tough ends of the asparagus by either cutting them or snapping them off and discard. Place the asparagus spears in a large bowl and then add the remaining olive oil and minced garlic.
Next, season the asparagus with salt and pepper. Toss the asparagus spears in the oil and seasonings until they are completely coated.
Now, place the coated asparagus around the salmon on the baking sheet. Place the sheet pan in the oven and bake for 10 minutes.
Then remove the lemon pepper salmon and asparagus from the oven. Lightly toss the asparagus and sprinkle the tops with Parmesan cheese.
Place the pan back in your oven and continue to bake for five to ten minutes. The salmon is finished cooking when it is light and flaky and has turned light pink in the center.
Serve immediately.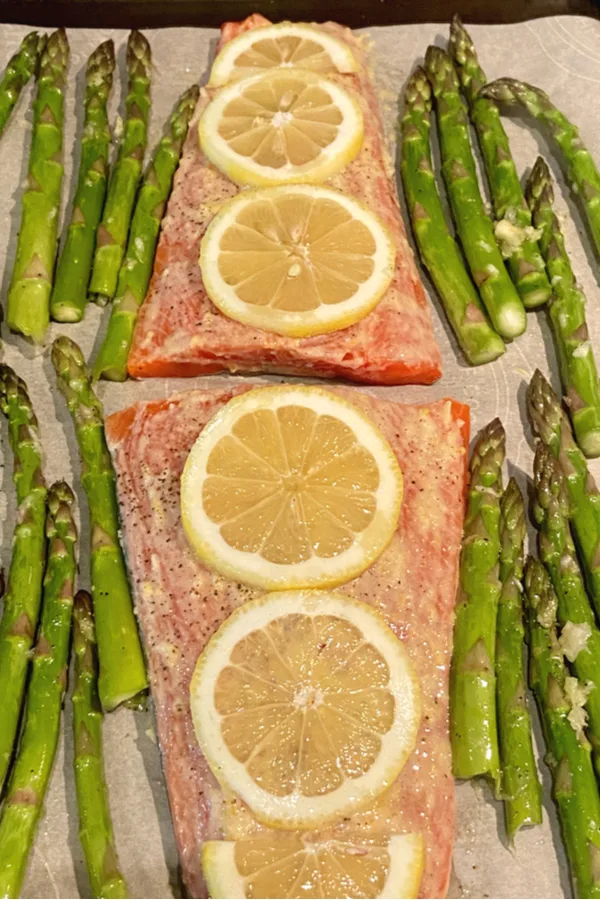 Possible Recipe Variations
Although this recipe is delicious as written you can customize it to meet the needs of your family or dietary preferences. Below I have listed some common recipe variations.
If you do not have or don't like asparagus, you can substitute broccoli florets or fresh green beans.
Use grated or shaved Parmesan cheese. Another great cheese that goes well with lemon salmon and asparagus is Pecorino Romano cheese.
Stone ground mustard, yellow mustard or spicy brown mustard can be used in place of Dijon mustard.
Tips to Choose Salmon
As mentioned above, wild-caught salmon is the fish of choice for this recipe. You can often the wild caught filets in the seafood butcher section of your grocery store.
Although they should be clearly labeled as wild-caught, look for salmon that is dark pink in color. If you can't find it in the fresh seafood section, you can often find the wild caught filets in the seafood freezer section as well.
However, be sure to completely thaw the frozen salmon before proceeding with the recipe.
How to Store & Reheat Leftovers
You can store leftovers in an air tight container in the refrigerator for up to four days. To reheat, it is best to place the lemon pepper salmon and asparagus in a skillet with 1 teaspoon of water.
Cover and cook over medium heat for 7-10 minutes or until warmed through. As a public service announcement, please do not take the leftovers to work and reheat in the microwave. The smell will linger and you may not make your coworkers too happy.
I am sure you will love this easy sheet pan salmon recipe as much as I do! In fact, I am confident that you will be making this light and refreshing meal as part of your monthly menu rotation.
Enjoy! Mary

To receive our 3 Recipe Articles in your inbox each week, sign up for our free email list located in the middle of each recipe or email me at contact@makeyourmeals.com. You can also follow us on Facebook and Pinterest. This article may contain affiliate links where a small commission is paid if you purchase a product at no additional cost to you.
Sheet Pan Lemon Pepper Salmon & Asparagus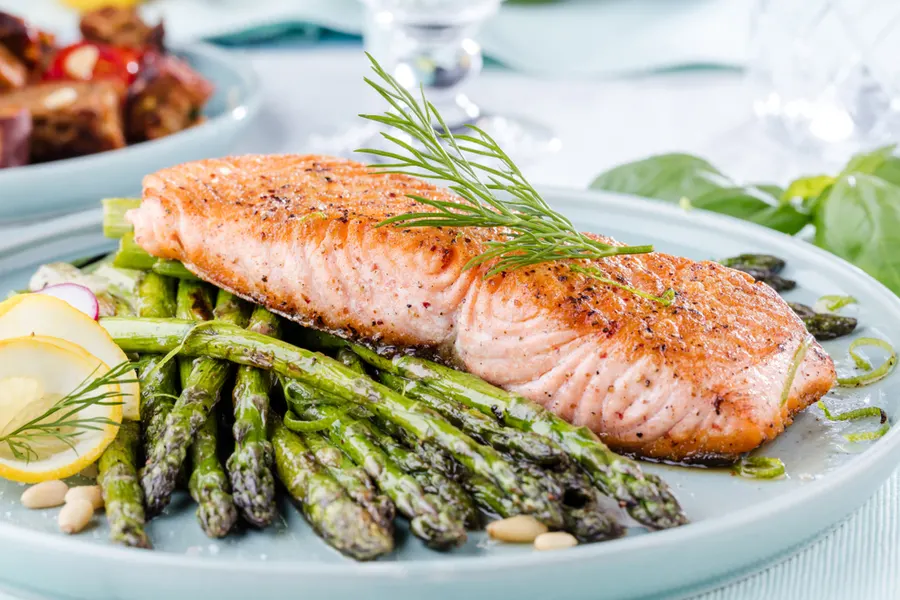 Salmon filets coated in a Lemon Pepper spread and then baked on a sheet pan with garlic Parmesan asparagus. A quick, easy, healthy meal made entirely on one sheet pan.
Ingredients
1 lb. salmon, skin on
2 Tbsp olive oil, divided
1 tsp lemon zest
1 Tbsp fresh squeezed lemon juice
4 cloves garlic, minced, divided
1/2 tsp onion powder
1 tsp Dijon mustard
Salt and fresh ground black pepper, to taste
1/2 lemon, thinly sliced
1 lb. asparagus, thin-medium spears
1/2 cup shredded Parmesan cheese
Instructions
Preheat oven to 400°F (200°C) and line a rimmed baking sheet with parchment paper or a silicone baking mat, set aside.

In a small mixing bowl whisk together 1 Tbsp olive oil, the lemon zest, lemon juice, 2 cloves garlic, dijon mustard, and onion powder. Place the salmon, skin side down in the center of the prepared baking sheet. Use a pastry brush to evenly spread the lemon/mustard mixture on the top and sides of the salmon. Sprinkle salt and pepper on top.

Slice half of a lemon into thin slices. Place the lemon slices on top of the salmon.

Remove the tough ends of the asparagus spears and discard. Add the asparagus to a large bowl and drizzle with the remaining 1 TBSP of olive oil. Add the minced garlic and season with additional salt and pepper to taste. Toss so that the asparagus spears are well coated. Place the seasoned asparagus on the baking sheet, around the salmon.

Bake in preheated oven for 10 minutes. Remove the baking sheet from the oven, and toss the asparagus spears. Sprinkle the asparagus with Parmesan cheese. Return the pan to the oven and bake for 5-10 minutes, or until the salmon is cooked through and is light and flaky.

Serve warm.
Notes
*Wild-caught salmon is preferred. Whole or salmon cut in filets can be used.
Recipe provided by Make Your Meals
Nutrition Information:
Yield:
4
Amount Per Serving:
Calories:

372
Total Fat:

24g
Saturated Fat:

5g
Trans Fat:

0g
Unsaturated Fat:

17g
Cholesterol:

79mg
Sodium:

435mg
Carbohydrates:

8g
Fiber:

3g
Sugar:

2g
Protein:

32g
Nutritional Information is to be used as a general guideline only . Nutritional calculations will vary from the types and brands of the products used.