Sheet Pan Chicken and Vegetables recipes have been popular for many years, especially for those who want a simple dinner recipe to feed a family without a lot of work involved.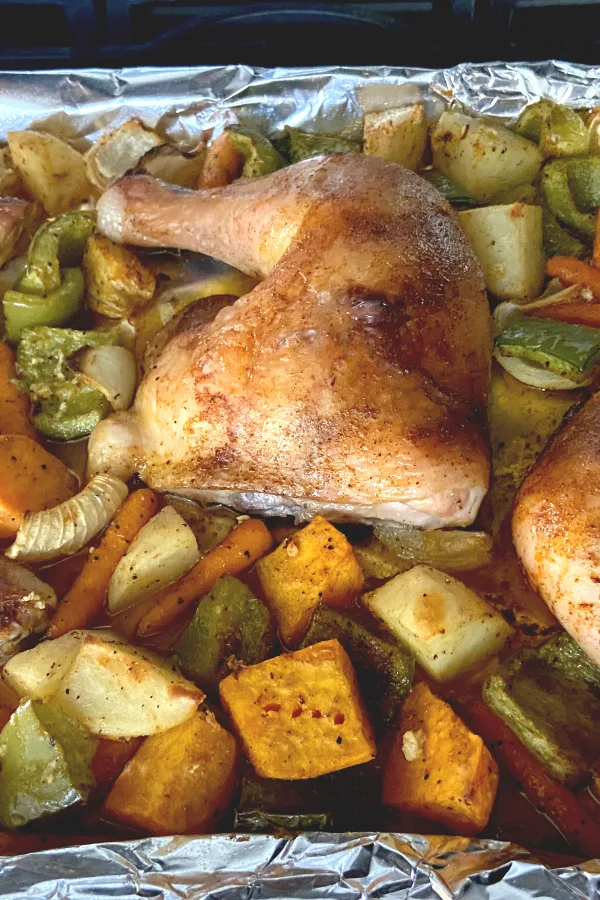 And this time of the year, I receive many emails asking for recipes that included real, whole foods without a lot of additional ingredients. And I am not talking about just those who are following a Whole 30 diet program. Although, this is a great recipe to make when you are on that specific diet.
However, there are many of us who are simply trying to commit to eating a healthier diet without following a specific program. And this recipe can certainly do that.
In fact, if you switch up the vegetables included in this recipe, you could even make this a low-carb sheet pan chicken and vegetables recipe!
Sheet Pan Chicken and Vegetables
Ingredients
Chicken Leg Quarters*
Potatoes
Bell Peppers
Baby Carrots
Onion
Garlic
Salt
Pepper
Thyme
Garlic Powder
Onion Powder
Paprika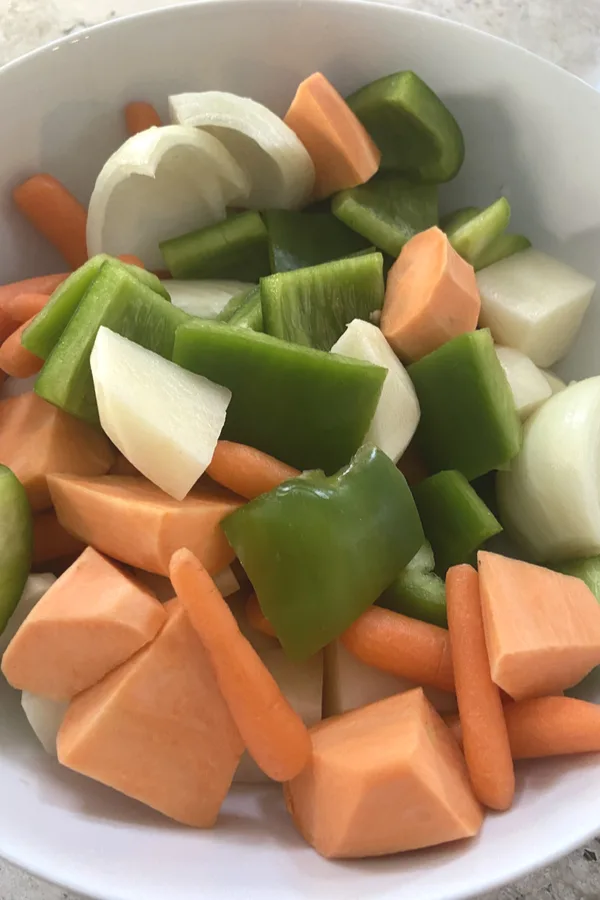 Chicken leg quarters consist of the chicken leg and thigh that are still attached. They are full of flavor and become super tender when cooked right. In fact, we make them at least once a week, including this Instant Pot Chicken Leg Quarters recipe.
However, if you don't have leg quarters, you can use individual chicken legs or thighs for this recipe as well.
If you prefer to use chicken breasts, I would recommend this Sheet Pan Chicken Breast and Vegetables Recipe.
Instructions
The first step in making Sheet Pan Chicken and Vegetables is to line a large, rimmed baking sheet with aluminum foil. Although you could skip this process I would highly recommend using the foil for easy clean up later.
Next, peel and cut the potatoes into large, bite size chunks. Then cut the bell peppers and onions into large chunks as well. Place the vegetables in a large bowl and add the baby carrots.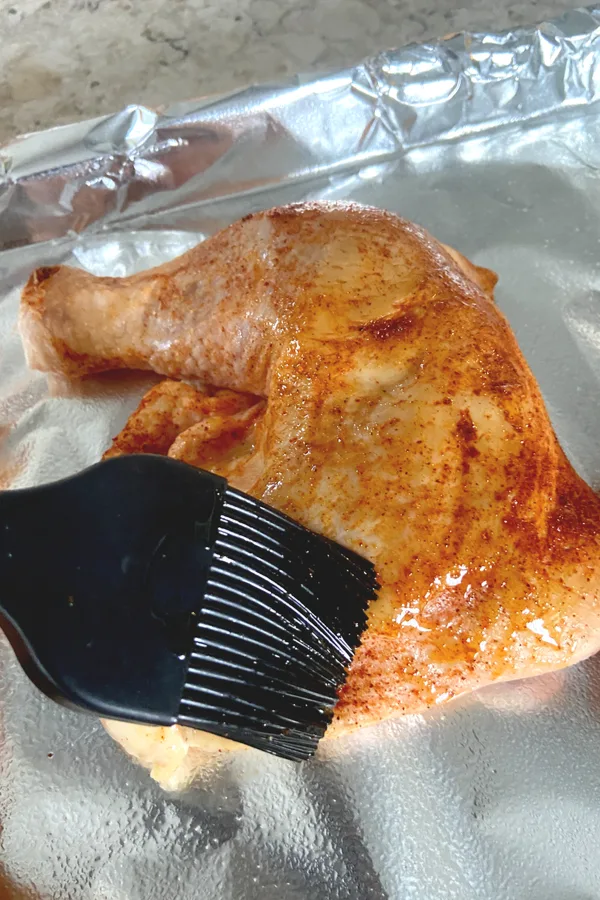 If you have the long, standard size carrots you can definitely use those instead of the small baby carrots. However, instead of leaving them whole, peel and cut them into large, bite size chunks before adding them to the bowl with the other vegetables.
Now set the vegetables aside and prepare the marinade for the chicken. Add the olive oil, garlic, salt, pepper, garlic powder, onion powder and paprika in a small bowl and whisk to combine.
Use a pastry brush to spread the marinade on both sides of the chicken pieces, reserving at least 1-2 tablespoons of the marinade for later use. Then place each chicken leg quarter on the foil lined sheet pan.
Now drizzle the remaining marinade over the vegetables and toss to coat. Spread the vegetables on the sheet pan, in between the chicken pieces.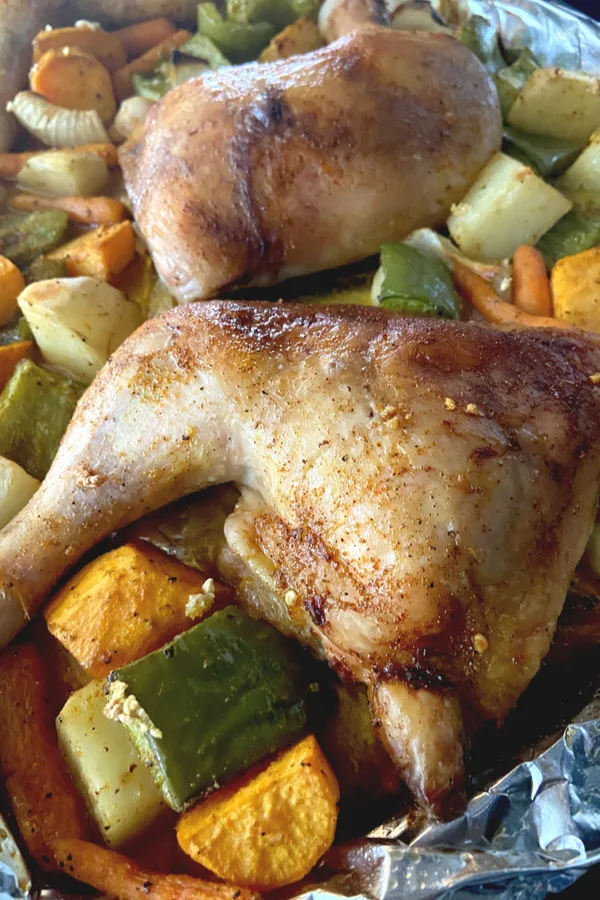 If your sheet pan is small, it is okay to place the chicken on top of the vegetables rather than in a single layer. Place the pan in a preheated oven and bake until the chicken is golden brown and has reached an internal temperature of 180°F.
I know that the safe consumption temperature is technically 165°F for chicken. However, because chicken leg quarters have a higher fat content they can be cooked longer without losing any flavor.
The additional cooking time will allow the chicken to become fall off the bone tender. When the preferred temperature has been reached, remove the sheet pan from the oven and allow the chicken to rest for 10 minutes before serving.
Enjoy!

To receive our 3 Recipe Articles in your inbox each week, sign up for our free email list located in the middle of each recipe or email me at contact@makeyourmeals.com. You can also follow us on Facebook and Pinterest. This article may contain affiliate links where a small commission is paid if you purchase a product at no additional cost to you.
Yield: 4
Sheet Pan Chicken and Vegetables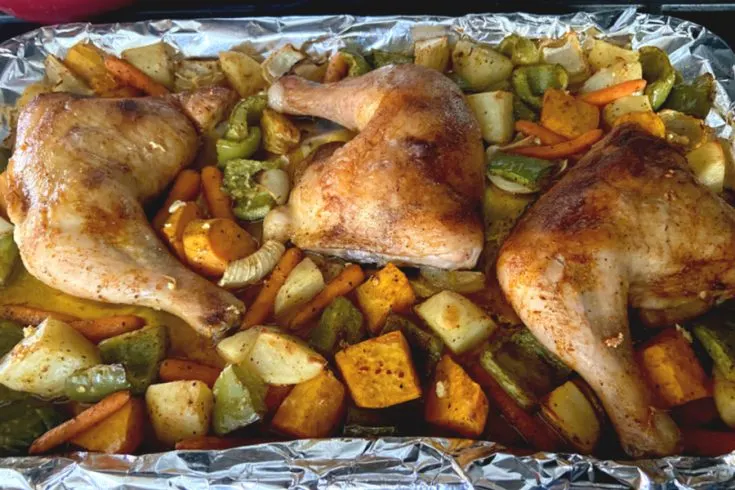 Perfectly roasted chicken leg quarters, potatoes, onions, peppers and carrots that is cooked on a single baking sheet for a delicious, easy to clean up, dinner recipe.
Total Time
1 hour
10 minutes
Ingredients
2 pounds potatoes, peeled and cut into bite-sized cubes
2 bell peppers, cut into cubes
1 medium yellow onion, quartered
1 cup baby carrots
2 garlic cloves, minced
4 Tbsp olive oil
1 tsp salt
1/2 tsp ground black pepper
1 tsp dried thyme
1/2 tsp garlic powder
1/2 tsp onion powder
1 tsp paprika
4 chicken leg quarters
Instructions
Preheat oven to 390°F (200°C) and line a large baking sheet with aluminum foil.
In a large bowl combine potatoes, peppers, onions and carrots. Set aside.
In a small bowl combine garlic, olive oil, black pepper, dried thyme, garlic powder, onion powder, paprika, and salt. Using a pastry brush, brush the marinade on the chicken leg quarters, then add the remaining marinade to the bowl with the potatoes and vegetables and mix until everything is evenly coated.
Place the chicken on the sheet pan and add the vegetables in the remaining open areas. If necessary you can place the chicken on top of the vegetables if you have a smaller baking sheet.
Bake for 45-55 minutes until the chicken is golden brown and crispy and has an internal temperature of 180°F in the thickest part of the thigh. Remove from the oven and let sit for 5-10 minutes.
Serve immediately.
Notes
Recipe provided by Make Your Meals
Nutrition Information:
Yield:
6
Serving Size:
1
Amount Per Serving:
Calories:

563
Total Fat:

25g
Saturated Fat:

6g
Trans Fat:

0g
Unsaturated Fat:

17g
Cholesterol:

218mg
Sodium:

574mg
Carbohydrates:

38g
Fiber:

5g
Sugar:

4g
Protein:

46g
Nutritional Information is to be used as a general guideline only . Nutritional calculations will vary from the types and brands of the products used.