Instant Pot Chicken Teriyaki and Rice – Pot-in-Pot Method
So what is the best thing about using the Instant Pot for dinner? Dinner is ready in minutes!
This week our Instant Pot Friday recipe uses a method called Pot In Pot (PIP). For those who have not yet tried this, you will find it life changing.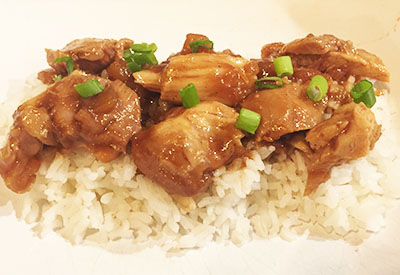 Many Instant Pot recipes calls for the main course to be served over or with rice. Unfortunately, that requires that the rice be cooked on the stovetop or in a rice cooker.
One of the main selling points of this extremely popular kitchen appliance is that has multi-functional use. So when a recipe calls for rice to be served with it, isn't it a terrific idea to have them all cook at the same time, and in the same pot?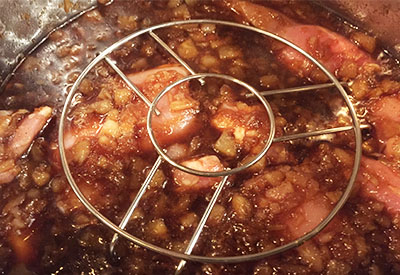 That is why the Instant Pot Chicken Teriyaki and Rice recipe uses the pot in pot method.
While your chicken is cooking in the bottom of your pot, your rice is placed in an oven safe container and cooks right above it.
I have found that this taller and sturdier trivet acts as the perfect shelf to allow the PIP method to work. It allows enough room at the bottom of the pot for the main course, and also leaves enough room to cook the rice.
The Secret To Perfect Rice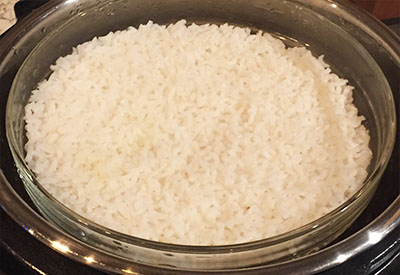 It is important to use long grain white, Jasmine, or Basmati rice with this recipe. The cooking time is perfect for the rice to come out nice and fluffy.
Brown rice takes longer to cook and isn't a good substitute in this Instant Pot Chicken Teriyaki recipe.
It is also important to rinse and drain your rice in a colander before adding it to your oven safe dish.
This releases the starches so that your rice doesn't stick together. Add a little extra virgin olive oil and a pinch of salt and you are ready to go!
Check out all of our other published Instant Pot Recipes
We also make a traditional Teriyaki Chicken Stir Fry recipe for those who don't own an Instant Pot.
Check out the recipe below and let me know what you think!
To receive our 3 Recipe Articles in your inbox each week, sign up for our free email list.
You can also follow us on Facebook, Twitter, Pinterest, and Instagram. This article may contain affiliate links.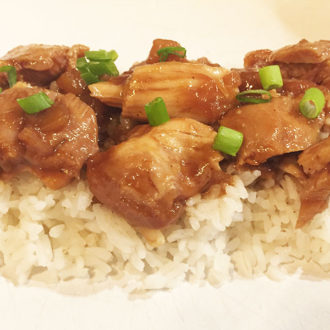 Instant Pot Chicken Teriyaki with Rice (Pot-In-Pot Method)
Your complete Chicken Teriyaki and rice meal made completely in the Instant Pot. No need for take out any longer!
Ingredients
3/4

cup

packed brown sugar

3/4

cup

low sodium soy sauce

1/4

cup

apple cider vinegar

2

Tbsp

ground ginger

2

Tbsp

garlic powder

1

tsp

ground black pepper

1/4

tsp

red pepper flakes

1

can

crushed pineapple

in pineapple juice, 20 oz

1

cup

low sodium chicken stock

3

lb

boneless skinless chicken thighs

cut into bite size cubes

2

Tbsp

cornstarch

2

Tbsp

cold water

2

cups

long grain white rice

dry

2

cups

cold water

1

Pinch of salt

1/8

tsp

of extra virgin olive oil

Green onions for garnish

optional
Instructions
Combine brown sugar, soy sauce, vinegar, ginger, garlic powder, black pepper, crushed red pepper crushed pineapple with the juice, and chicken stock in a medium size bowl and stir until the brown sugar is dissolved.

Place chicken thighs in the Instant Pot and pour in the sauce. Stir gently to coat.

Add tall trivet.

Rinse dry rice in a colander until water runs clear.

Add rice, water, salt and extra virgin olive oil to an oven safe bowl small enough to place completely inside the Instant Pot when sitting on the trivet. Stir to combine.

Place the bowl on the trivet.

Cover, lock the lid, and set vent to seal. Pressure Cook/Manual High Pressure for 10 minutes.

In a small bowl add cornstarch and cold water. Mix to combine and set aside.

Once cooking time is complete natural pressure release for 5 minutes then quick release the remaining pressure.

Transfer the chicken to a serving dish and cover, leaving the sauce inside the pot.

On the sauté mode, whisk cornstarch mixture into the sauce. Bring up to a boil, stirring frequently, until the sauce has thickened, about 3 minutes.

Place chicken back into instant pot and coat.

Serve with rice and top with sliced green onions (optional)
Notes
If you don't have a trivet serve chicken teriyaki over cooked rice.
Recipe courtesy of Make Your Meals
Instant Pot Chicken Teriyaki and Rice – Pot-in-Pot Recipe