I had never heard of Pineapple Cherry Dump Cake until my son came home from visiting a friend.
He was telling me of this absolutely delicious dessert that took almost no time and very little ingredients to prepare.
Being skeptical at the idea that a dessert could be that easy, I insisted that he call his friend's mother and have her explain the recipe to me.
So he picked up the phone and called her. She immediately laughed and explained that my son was correct.
Only 4 simple ingredients and the only preparation that was needed was to slice a stick of butter into several small dots.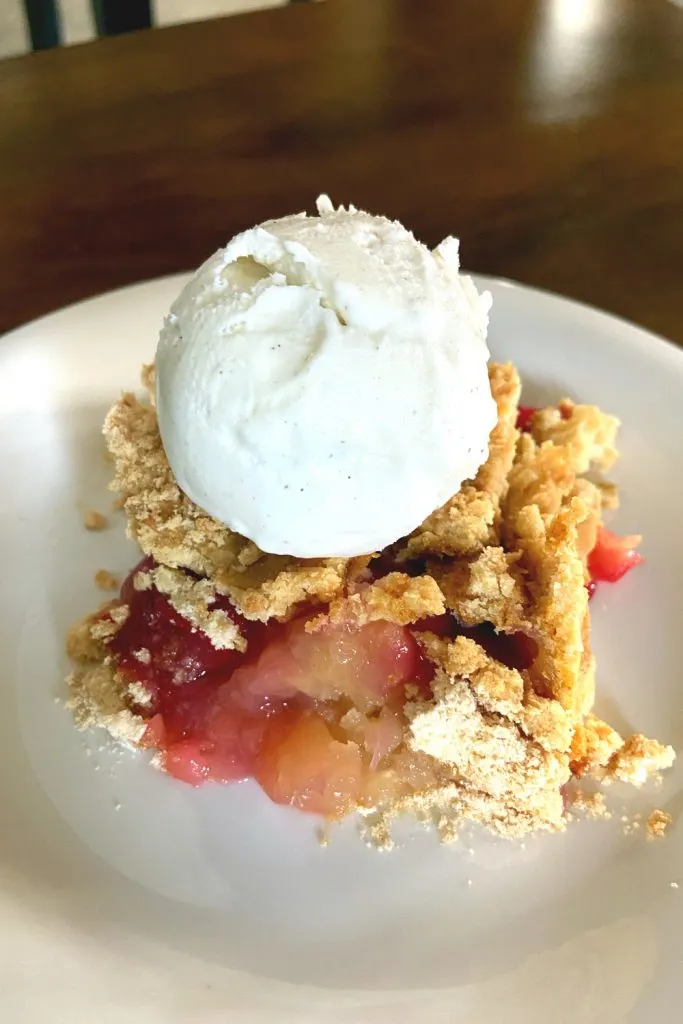 I could hardly believe my ears.
No pulling out the mixer to incorporate the ingredients. No need to pull out 2 separate bowls to keep the wet and dry ingredients separate.
Heck, even our simple 3 Ingredient Strawberry Yogurt Popsicle recipe requires you to use a blender.
This literally sounded too good to be true.
So I asked her for the specific ingredients and directions. And I was truly stunned.
Dump Cake Ingredients
Seriously, just 4 common grocery store ingredients are all that is required to make this delicious dump cake.
Crushed pineapple, cherry pie filling, yellow box cake mix, and a stick of butter.
Even I can remember that grocery list without having to write it down!
And she told me that if I wasn't a fan of pineapple that I could use two cans of cherry pie filling instead of using the can of crushed pineapple.
She also explained that the brand name of the ingredients did NOT matter in the quality of the dessert.
So she encouraged me to run down to the Dollar Store, gather the ingredients and make it for dessert that night.
Dump and Go
The absolute best part of this recipe is that it is truly a Dump and Go recipe.
As we explained in our Slow Cooker White Chicken Chili and our Instant Pot Low Country Boil recipes, a dump and go recipe refers to the kind where you dump all your ingredients in and walk away.
However, for this Pineapple Cherry Dump Cake, the order in which you dump in your ingredients is important.
First open a can of crushed pineapple and spread it all over the bottom of a greased 9 x 13 baking dish, juice and all.
Then spread the cherry pie filling on top of the pineapples.
Sprinkle the dry cake mix over top, and the last thing to do is to add the butter.
Now it is important to cut your butter in at least 16 pieces. If you can cut or crumble each piece even smaller, that is ideal.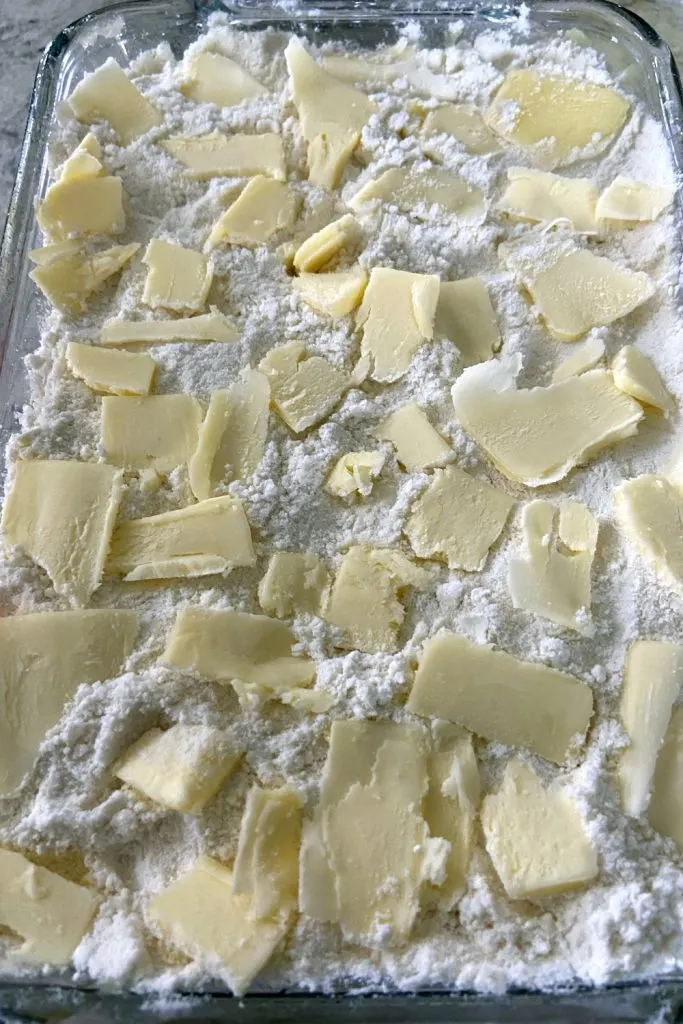 You really want to dot the top of your cake mix with well dispersed tiny sections of butter.
Now all that is left to do is place it in the oven! Even those that swear that they can't bake or cook can handle this recipe!
How to Serve Pineapple Cherry Dump Cake
The beauty of this recipe is that you can serve it hot, right out of the oven.
Or you can serve it at room temperature. This makes it ideal to take to a pot luck dinner or party when you are asked to bring a dessert.
However, the best way to serve this Pineapple Cherry Dump Cake is with a scoop of vanilla ice cream on top!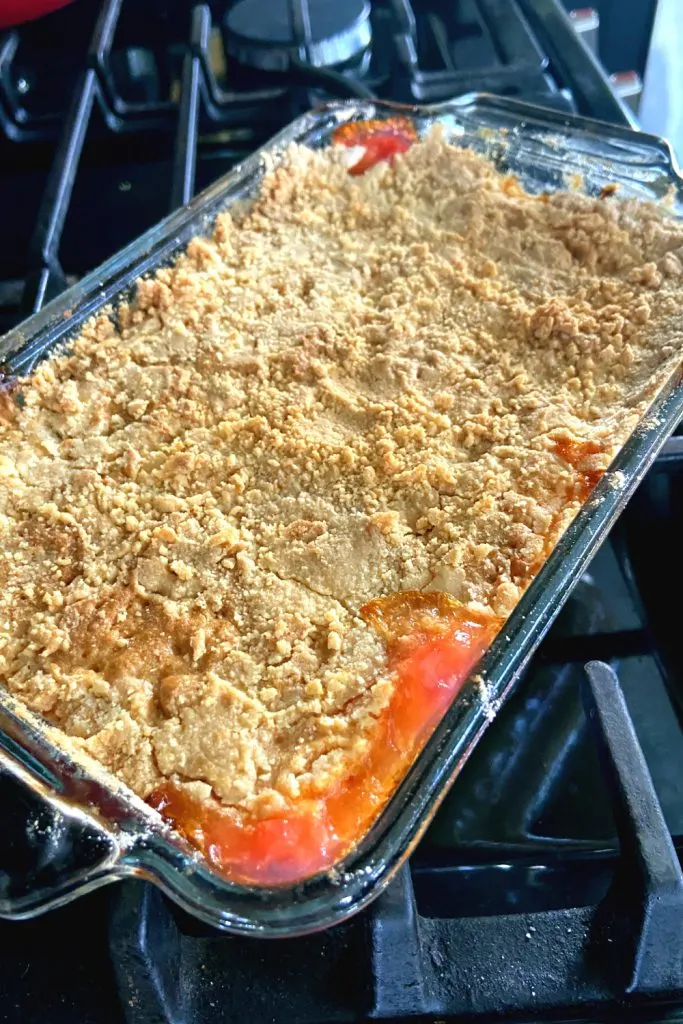 The fruit flavors blend perfectly with the ice cream and the slight crunch of the cake crust makes you feel like you are eating tiny bits of an ice cream cone.
Although, in all honesty, this dump cake is a family favorite even without the ice cream!

To receive our 3 Recipe Articles in your inbox each week, sign up for our free email list located in the middle of each recipe or email me at contact@makeyourmeals.com. You can also follow us on Facebook and Pinterest. This article may contain affiliate links where a small commission is paid if you purchase a product at no additional cost to you.
Yield: 14 people
Pineapple Cherry Dump Cake Recipe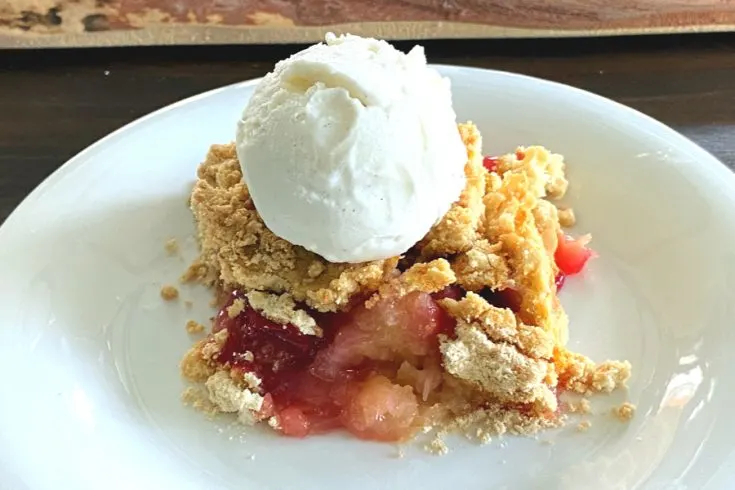 A delicious and easy to make dessert that only requires 4 ingredients and no mixing. Serve warm or at room temperature which makes it ideal for pot lucks!
Ingredients
1 20 oz. can crushed pineapple with juice, undrained
1 21 oz. can Cherry Pie Filling
1 box Classic Yellow Cake Mix
1 stick (1/2 cup) butter, cut in 16 sections
Instructions
Preheat oven to 350°F
Grease a 13"x 9" pan
Dump pineapple with juice into pan and spread evenly.
Dump in the cherry pie filling and spread evenly.
Sprinkle cake mix evenly over cherry layer.
Scatter butter sections on top of the cake mix.
Bake 50 minutes or until top is lightly browned.
Serve warm or at room temperature.
Notes
Top with a scoop of vanilla ice cream.
Recipe provided by Make Your Meals
Nutrition Information:
Yield:
14
Serving Size:
1 grams
Amount Per Serving:
Unsaturated Fat:

0g