If you have ever been to a Japanese steakhouse in the United States, I am sure that you are familiar with Hibachi Chicken and Vegetables, Hibachi Steak, and Hibachi Shrimp. For those who aren't familiar with this popular dish, let me explain.
First, it is more than just a menu item. Instead, it is a culinary event that most people experience to celebrate a special occasion. It starts with you and your party being seated at a communal counter around a flat iron griddle.
Then after you order your food a chef arrives with a cart full of chicken, steak, shrimp and rice along with special cooking utensils. Then the grill gets heated up and the chef will prepare the food right in front of everyone.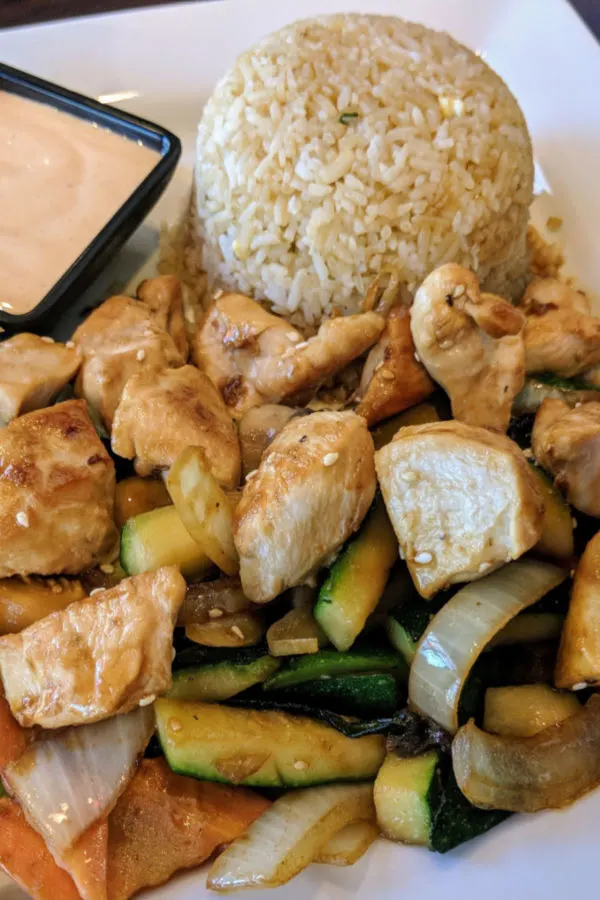 However, it's not just a chef cooking your made to order meal. It is an entertaining show where there is knife twirling, food flipping, and onion volcanoes being lit.
Then once the food is cooked to perfection, it is served to each individual how they ordered it. And I have to admit, I love the flavor of the chicken and vegetables that is served over rice.
And of course, the yum-yum sauce that comes as a condiment is a must have! Pour it on top of the entire dish or dip your meat in the sauce and your mouth will be exploding with flavor.
Making Hibachi At Home
Although I could eat this dish once a week, I don't always want to spend the time or money sitting at a community griddle watching the chef prepare the meal. Instead, I would rather enjoy the meal in the comfort of my own home.
I know you can order Hibachi chicken in the typical restaurant side of a Japanese steakhouse. However, there are times when it makes more sense making it in your own kitchen or backyard.
And with the increase in the availability of backyard griddles, such as the Blackstone, the popularity of this restaurant dish being made at home is ever growing.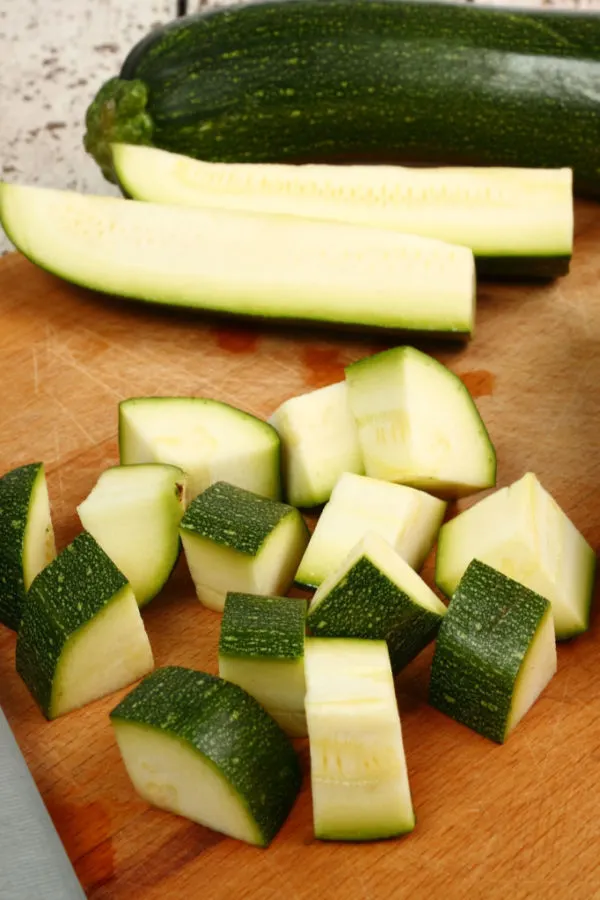 Hibachi Chicken and Vegetables Recipe
*Specific measurements and complete recipe instructions are located in a printable recipe card at the bottom of this article. However, be sure to continue to read the tips and tricks to making this recipe below.
Hibachi Chicken Ingredients
Skinless, boneless, thin sliced chicken breasts
Onion
Zucchini
Sliced mushrooms
Broccoli
Olive oil
Less sodium soy sauce
Butter
Salt & Pepper
Lemon juice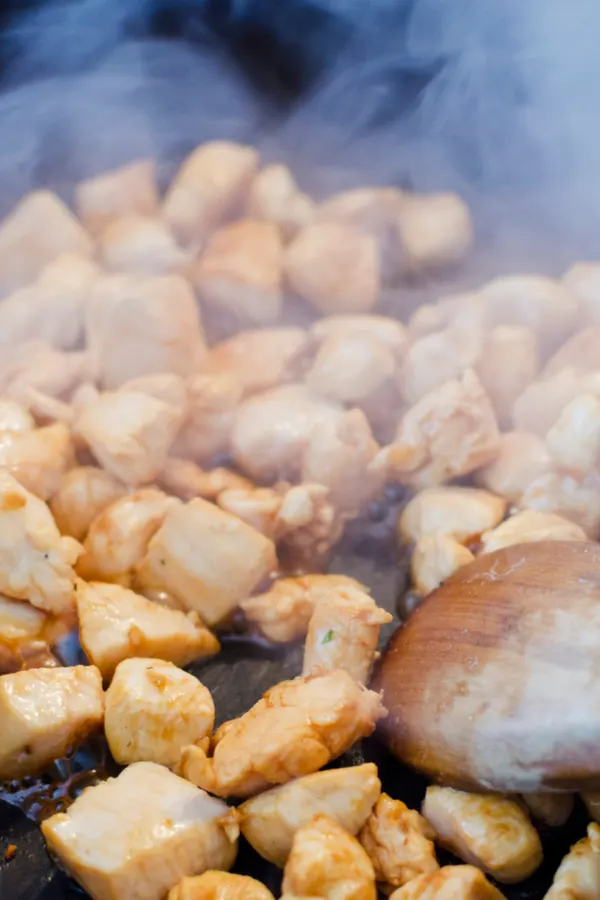 Instructions
The key to making perfectly cooked Hibachi Chicken is to slice your meat thinly or in small chunks so that it cooks quickly without drying out. Start by placing a large skillet or griddle over medium high heat.
Once the cooking surface is hot, add the olive oil, butter and soy sauce. Next add the chicken and salt and pepper to taste and sauté, flipping the meat often.
When the meat is no no longer pink on any of the sides, remove it from the cooking surface or away from the heat source and cover. The meat does not have to be all the way cooked at this time, as it will finish cooking later in the process.
Cook The Veggies
Then in the same skillet or on the same griddle surface used to cook the chicken, add more butter and soy sauce. Once the butter has melted add the onions, zucchini, broccoli and salt and pepper to taste.
Continue to saute the vegetables until they are just are fork tender. This will take about 7 to 8 minutes, depending on the size of the vegetables.
Then add the mushrooms and chicken back into the skillet or on the griddle with the vegetables.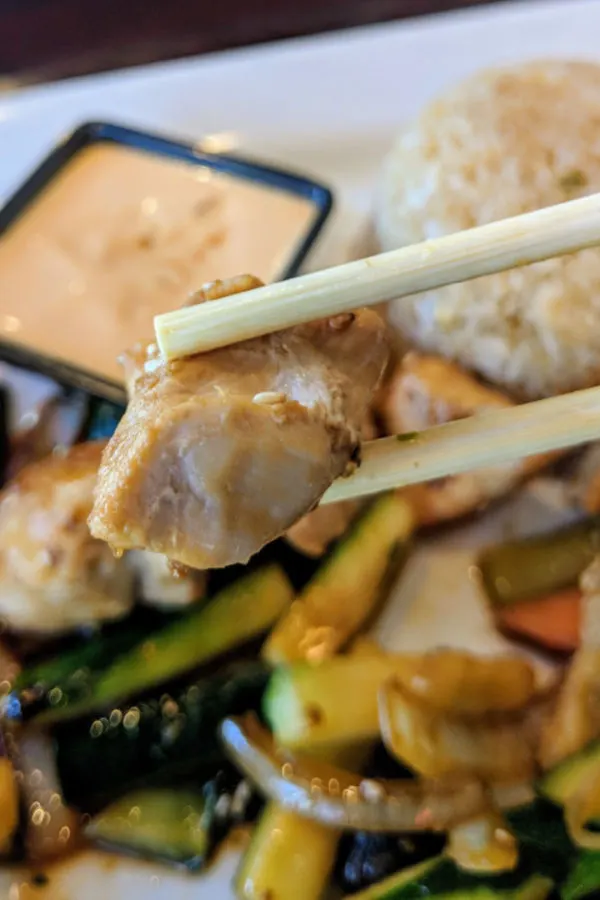 Add a little more butter and soy sauce to the pan and cook until the mushrooms are tender and chicken is cooked at an internal temperature of 165°F (74°C) when checked with an instant read digital thermometer.
Right before serving your Hibachi Chicken, add salt and pepper to taste. Then toss the chicken and vegetables with lemon juice and serve.
Serve with a bed of fried or steamed rice. And don't forget the Yum-Yum sauce! And if you prefer to make your own, here is our own Yum Yum sauce recipe.
Frequently Asked Questions
1. How do I make Hibachi Steak?
You can follow the same exact instructions to make Hibachi steak as you do to make Hibachi chicken. And in place of the chicken use a top sirloin or New York strip steak.
Be sure to slice it thinly, rather than in cubes, for best results.
2. Can you make Fried Rice at the same time?
At the restaurant, the fried rice is prepared at the same time as the chicken and vegetables. For best results, prepare your white rice a day before you plan to make this recipe.
Then let the rice dry out a bit by letting it sit uncovered in the refrigerator overnight. When you go to prepare the fried rice, add a little oil to the griddle and saute the carrots and peas for a few minutes so they thaw and get warm.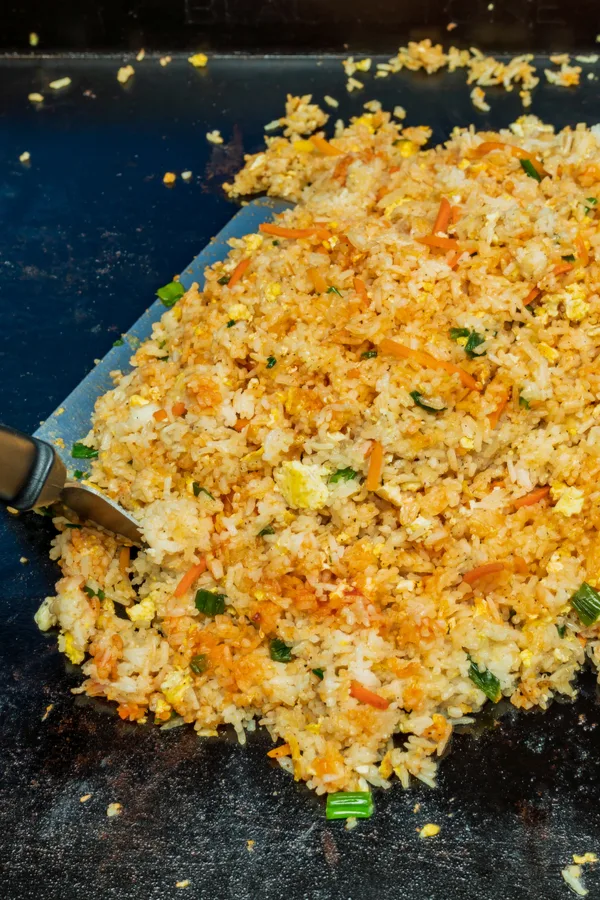 Then push the veggies aside while you scramble a beaten egg on the cooking surface. Finally, add the dried out white rice and add sesame oil, soy sauce, and salt & pepper.
Mix everything together and serve when warm.
3. Can I make this ahead of time?
Although this Hibachi Chicken and Vegetables, along with Orange Chicken & Rice and General Tso's Chicken are best eaten right after they are made, this recipe can easily be made ahead of time.
Prepare the dish exactly as instructed and then let it cool and store in an air tight container for up to 5 days. To reheat, place everything on a hot griddle with a little soy sauce to keep the ingredients moist.
Serve when everything is heated through.
Enjoy! Mary

To receive our 3 Recipe Articles in your inbox each week, sign up for our free email list located in the middle of each recipe or email me at contact@makeyourmeals.com. You can also follow us on Facebook and Pinterest. This article may contain affiliate links where a small commission is paid if you purchase a product at no additional cost to you.
Hibachi Chicken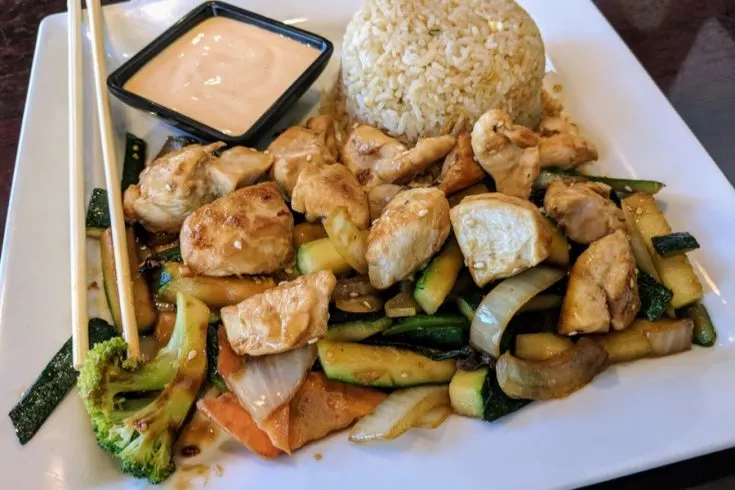 Japanese steakhouse style hibachi chicken and vegetables recipe made right in your own kitchen.
Ingredients
4 chicken breasts, small, thinly sliced or cut in small cubes
1 white onion, medium
1 zucchini, large
8 ounces sliced mushrooms
1 head of broccoli, small
2 tablespoons olive oil
4 tablespoons soy sauce, low sodium
2 tablespoons butter
salt, to taste
Fresh ground black pepper, to taste
1/2 teaspoon lemon juice
Instructions
Slice the meat and vegetables into bite size pieces.
In a large skillet over medium high heat add 1 Tbsp olive oil.
Melt 1 Tbsp butter and add 1 Tbsp soy sauce to the skillet and the chicken and salt and pepper to taste and sauté stirring often. When cooked through, set aside and cover.
In the same skillet add 1 Tbsp. butter, 2 Tbsp. soy sauce, onions, zucchini, broccoli and salt and pepper to taste. Cook until fork tender, about 7 to 8 minutes.
Add in the mushrooms and chicken back into the skillet with the vegetables.
Add an additional Tbsp butter and 1 Tbsp soy sauce and cook until the mushrooms are tender and chicken is heated through.
Add salt and pepper to taste and toss with lemon juice before serving.
Notes
Serve with steamed or fried rice and Yum-Yum sauce.
Recipe provided by Make Your Meals
Nutrition Information:
Yield:
4
Amount Per Serving:
Calories:

368
Total Fat:

18g
Saturated Fat:

6g
Trans Fat:

0g
Unsaturated Fat:

10g
Cholesterol:

117mg
Sodium:

822mg
Carbohydrates:

11g
Fiber:

4g
Sugar:

4g
Protein:

42g
Nutritional Information is to be used as a general guideline only . Nutritional calculations will vary from the types and brands of the products used.