No need for a campfire when you have this Easy S'mores Bars Recipe!
Let's admit it. One of the best parts about attending a backyard bonfire is making S'mores! I am not saying that we don't look forward to cooking hot dogs over the fire and then topping them with Homemade Coney Sauce and drinking a cold beverage or two.
However, one the biggest attractions to sitting around a fire pit, for both adults and children, is to take a bite into that sticky, messy, yet delicious dessert.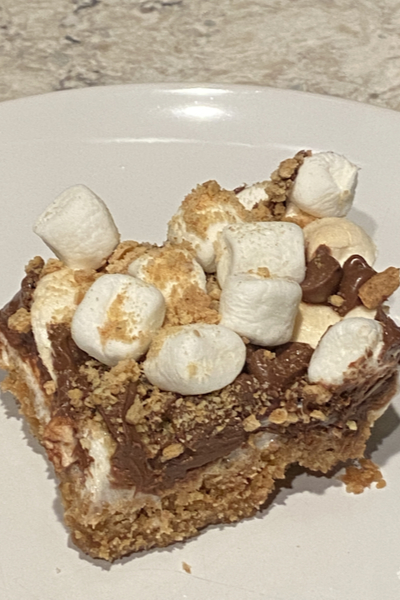 And regardless of who is attending the get together, I can almost guarantee you that everyone will place an opinion on how a marshmallow should be roasted.
For me, light golden brown on all sides is what I prefer. However, I know many people that will shove the stick that holds the marshmallow on the end directly in the fire.
Then when it is glowing with red flames, they will blow it out. The result, a charred marshmallow with a melted center. Perfect to some, frightful to others.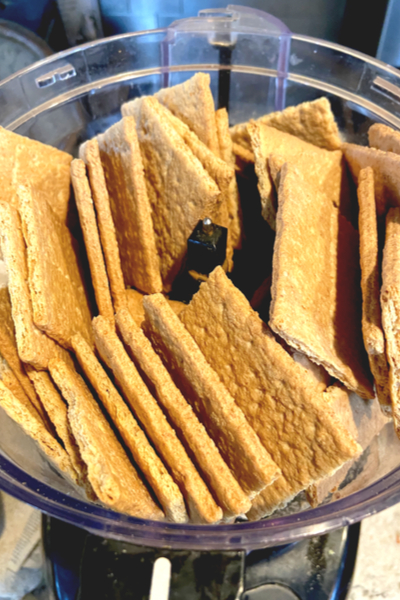 However, when you place that marshmallow between two graham crackers and a piece of chocolate, all is forgotten. With just one bite every childhood campfire memory comes to mind.
But there are times that you crave a S'more, but aren't close to a campfire. Or, you want to bring a fantastic, but easy to make dessert to work or a family function.
That is when this Easy S'mores Bar Recipe comes in handy! It is quick and easy to make, and it is the perfect hand-held dessert. All the flavors of classic S'mores without all the hassle!
How To Make Easy S'mores Bars
The base to every s'mores recipe has to be graham crackers. It is what allows you to hold this iconic dessert in an effort not to get sticky from the melted marshmallows and chocolate.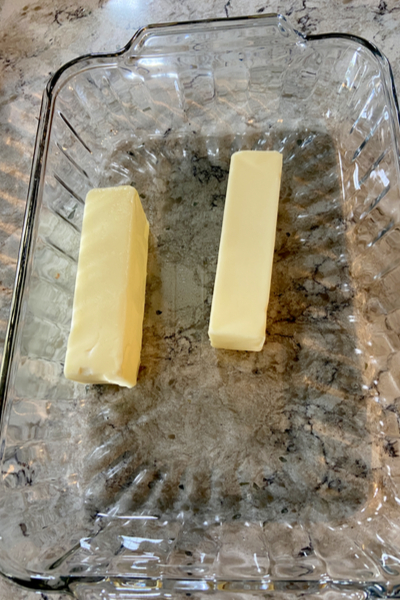 First remove 30 full-size graham crackers from their packages. Then place them in a large food processor like our 12 cup Hamilton Beach Duo. Press pulse until you have crumbs. If you don't have a food processor, you can place them inside a resealable plastic bag. Then crush them with your hands or a rolling pin.
Next, melt the butter in a 9 x 13 glass pan. We do this in the microwave and heat at 30 second intervals until the butter has completely turned to liquid. However, if you are using a metal pan, it is best to melt the microwave in a separate bowl or in a saucepan on the stove. Then add the butter to the 9 x 13 baking dish.
Now add the graham cracker crumbs and salt in the pan with the butter and mix. When the crumbs absorb the moisture press the crust tightly into the bottom of the pan.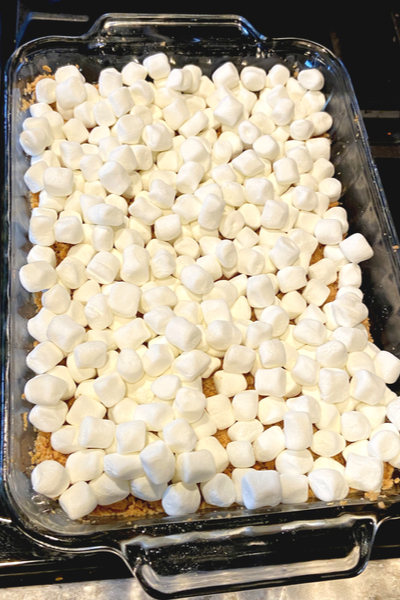 Now it is time to add 4 cups of mini marshmallow on top of the S'mores Bars crust. Scatter out the marshmallows so there is an even layer that covers the crust.
Oven Roasted Marshmallows
Then place the dish in a preheated oven for 10 minutes or until the tops of the marshmallows become lightly golden brown. No, you can't char the marshmallows until they are black here. This dessert makes 24 individual bars so you want the marshmallow taste to be pleasing to the majority.
However, I suppose if everyone that you are going to be serving this to loves charred marshmallows, you could do so with a creme brûlée torch.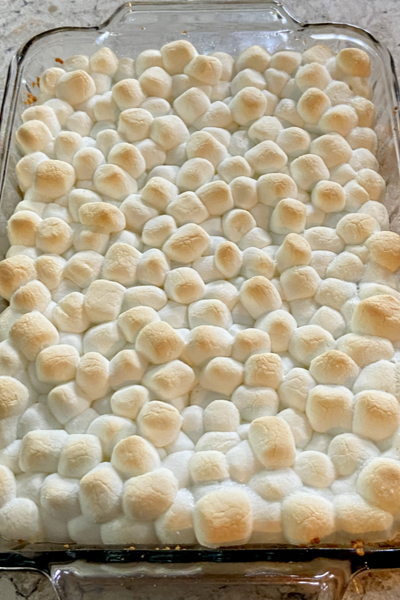 Once the marshmallows are melted and a light golden brown in color, remove the pan from the oven and set aside. Let the S'mores Bars rest until the marshmallows deflate. This usually requires about 5 minutes.
However, don't wait too long. You need the marshmallow layer to be warm when you add the remaining ingredients so that they can adhere to the surface.
To complete the top layer, sprinkle on the entire bag of milk chocolate chips. Sprinkle them evenly across the top, or as close to it as possible. Then add the remaining mini marshmallows and the reserved graham cracker crumbs.
This extra layer of crumbs on top gives you the crunch that you are familiar when eating a classic S'mores dessert.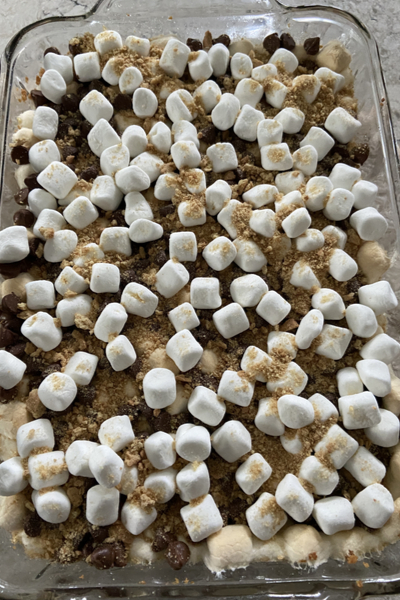 Enjoy!


To receive our 3 Recipe Articles in your inbox each week, sign up for our free email list located in the middle of each recipe or email me at contact@makeyourmeals.com. You can also follow us on Facebook and Pinterest. This article may contain affiliate links where a small commission is paid if you purchase a product at no additional cost to you.
Yield: 24 bars
Easy S'mores Bars Recipe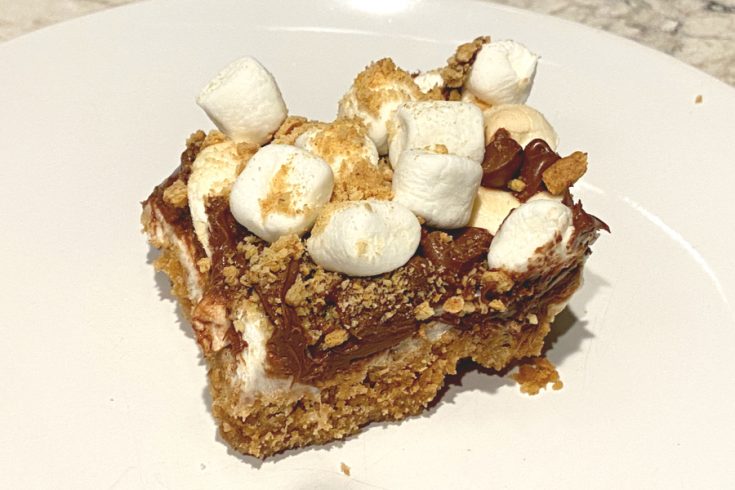 All the flavors of a classic s'more but in an easy to eat dessert that everyone will enjoy!
Ingredients
30 graham crackers, full-size
1 cup unsalted butter, melted
1/4 teaspoon salt
16 ounces mini marshmallows, divided
12 ounces milk chocolate chips
Instructions
Preheat oven to 350 degrees F.
Crush graham crackers into crumbs by putting them in a food processor or crushing them in a large resealable plastic bag. Scoop out 1/4 cup of the crumbs and set aside.
Mix the remaining graham cracker crumbs with the melted butter and salt.
Press mixture into a greased 9x13 pan and bake in the preheated oven for 10 minutes.
Remove the dish from the oven and top with 4 cups of the mini marshmallows and bake for an additional 10 minutes.
Remove the pan when the marshmallow tops become light golden brown and let cool for 5 minutes to allow the marshmallows to deflate.
Sprinkle the entire bag of milk chocolate chips on top, in an even layer.
Top with remaining marshmallows and reserved graham cracker crumbs and let cool completely before serving.
Notes
Recipe provided by Make Your Meals
Nutrition Information:
Yield:
24
Serving Size:
1 bar
Amount Per Serving:
Calories:

202
Total Fat:

9g
Saturated Fat:

5g
Unsaturated Fat:

0g
Cholesterol:

20mg
Sodium:

156mg
Carbohydrates:

29g
Fiber:

1g
Sugar:

15g
Protein:

2g