These Keto Egg Muffins have been a life changer for my family! Not only are they low-carb, they are absolutely delicious and easy to make.
In fact, we make a batch every Sunday and refrigerate the leftovers so that we have a make ahead breakfast (or low-carb snack) anytime we need one. And just like our Breakfast Bombs recipe, you can customize them based on your eating preferences or what you have in the refrigerator.
For instance, below we have included one of our standard Keto Breakfast Muffins recipe that uses ground sausage, diced onions and peppers and Cheddar Cheese.
However, if you prefer bacon, by all means, use that! And if you have some extra chicken from last night's dinner, you can make a Buffalo Chicken Breakfast Muffin as well.
Here are some of our other favorite Keto Egg Muffin combinations:
mushrooms, onions, spinach
chicken, buffalo sauce, green onions
bacon, onions, peppers, salsa, cheese
sun-dried tomatoes, spinach, Parmesan cheese
ham, cheese
jalapeno, chicken, pepper Jack cheese
bacon, sausage, ham, cheese
As you can see, there are many possibilities to make this recipe your own. However, the cooking process will remain the same no matter ingredients that you choose.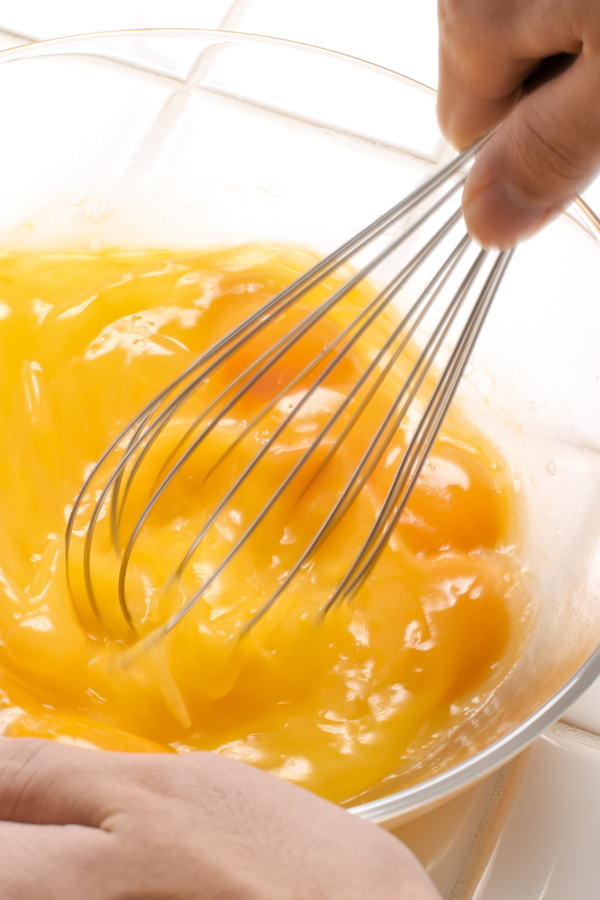 How To Make Keto Breakfast Muffins
In the recipe card below, we have included the ingredients to make our standard Sausage Keto Egg Muffins.
Ingredients
Eggs
Salt & Pepper
Cooked Ground Sausage
Diced Onions
Diced Bell Peppers
Cheddar Cheese
Instructions
You will need to use a standard muffin tin for this recipe. And I find it very helpful to use silicone muffin liners instead of spray the pan with non-stick baking spray.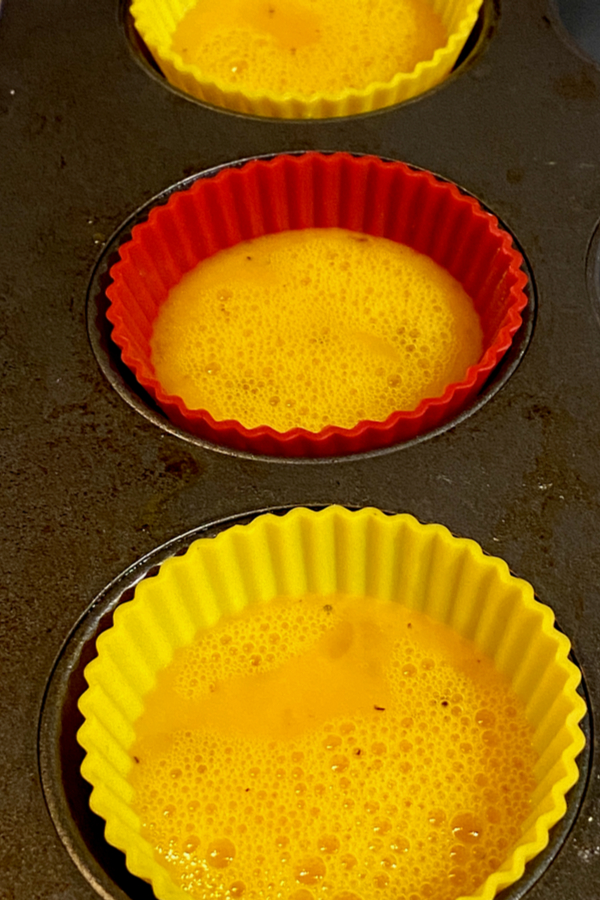 Not only do the Keto egg muffins come out of the liners easier, the clean up is much quicker as well!
Once you have your muffin tin ready, preheat the oven to 400°F. Then in a large mixing bowl, whisk 10 large eggs with salt and pepper until the eggs are nice and fluffy.
Then pour the egg mixture into the muffin tin until each cup is half full. Now it is time to add the toppings. Evenly divided the toppings among each cup.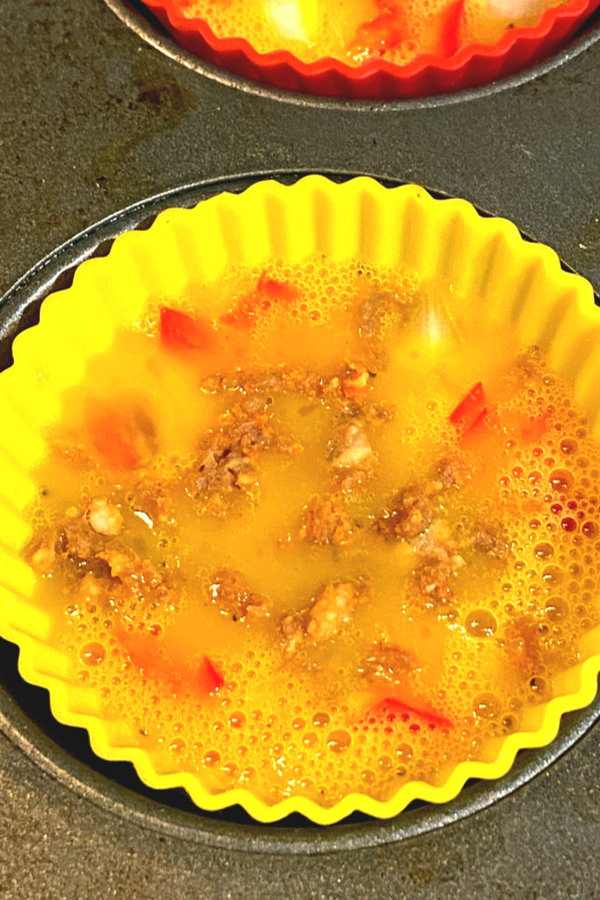 Be sure not to overfill the muffin cups. After you add the toppings, the Keto Egg Muffin cups should be no more than 3/4 full. Place in the oven and bake for 12-15 minutes or until the eggs are cooked through and set.
When you remove the pan from the oven, let the eggs sit for a minute or two. They will deflate some, and just like with any frittata or breakfast casserole recipe this is normal.
Remove the muffin liners or run a knife around the inside edge of each cup to loosen the breakfast muffins away from the pan if you used non-stick spray.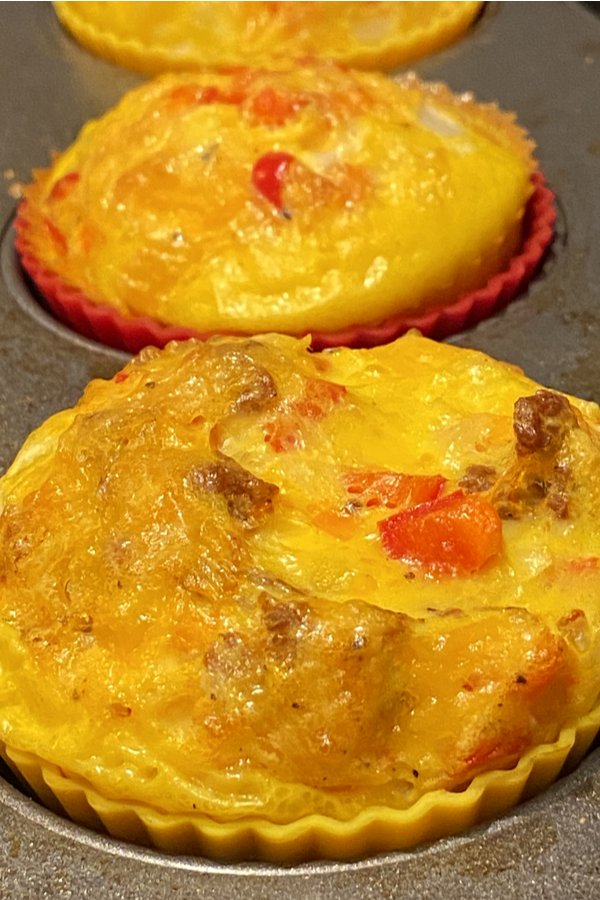 Eat immediately or let cool and place in the refrigerator or freezer for an easy make ahead breakfast meal.
Reheating Instructions
To reheat the Keto Egg Muffins simply place them in a microwave and heat for 30-40 seconds. It can't get any easier than that!
And remember, these not only make a great low-carb breakfast. You can eat them for a snack or appetizer as well!
Enjoy!

To receive our 3 Recipe Articles in your inbox each week, sign up for our free email list located in the middle of each recipe or email me at contact@makeyourmeals.com. You can also follow us on Facebook and Pinterest. This article may contain affiliate links where a small commission is paid if you purchase a product at no additional cost to you.
Yield: 12
Keto Breakfast Muffins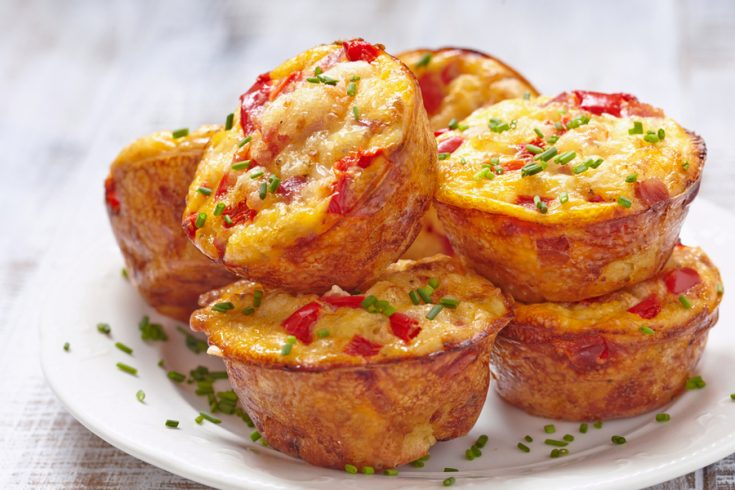 Mini omelets filled with protein and baked in a muffin tin for an easy to eat breakfast recipe. Make them ahead of time so you have a to-go breakfast that will help keep you on your low-carb diet.
Ingredients
10 large eggs
1 teaspoon salt
1/2 teaspoon black pepper
3/4 cup ground sausage, cooked
1/4 cup diced onions
1/4 cup diced green peppers
3/4 cup shredded Cheddar cheese
Instructions
Spray a standard muffin tin with non-stick spray or use silicone muffin liners. Set aside. Preheat oven to 400°F.
In a large mixing bowl add the eggs, salt and pepper and whisk until the eggs are light and fluffy.
Fill the muffin tins 1/2 full with the eggs.
Evenly divide the ground sausage, diced onions and diced green peppers between the muffin tins and place inside the egg mixture.
Add the shredded Cheddar cheese on top of each muffin cup.
Bake for 12-15 minutes or until the eggs are cooked through.
Remove from the muffin pan, using a knife around the edges if you didn't use silicone liners. Eat immediately or let cool completely and store in the refrigerator or freezer in an air tight container.
Notes
Replace fillings as desired. Suggested fillings: ham, bacon, chicken, mushrooms, spinach, sun-dried tomatoes, etc. To reheat, microwave for 30-40 seconds. Recipe provided by Make Your Meals
Nutrition Information:
Yield:
12
Serving Size:
1 grams
Amount Per Serving:
Calories:

133
Total Fat:

10g
Saturated Fat:

4g
Unsaturated Fat:

0g
Cholesterol:

173mg
Sodium:

398mg
Carbohydrates:

1g
Fiber:

1g
Sugar:

1g
Protein:

9g