Light and fluffy, Easy Fruit Dip that requires just 2 ingredients and less than 10 minutes to make! The perfect addition to any fruit tray.
Whenever I procrastinate a little too long and need to bring something to a backyard barbecue, party, or potluck, I almost always bring a fruit or vegetable tray.
However, instead of buying a store bought, pre-made tray, I prefer to to make my own. That way I don't get stuck taking home with the odd produce that no one likes to eat.
And to make it even better, I always make my own homemade dip. As much as I love to make my original vegetable dip, this dip is even easier!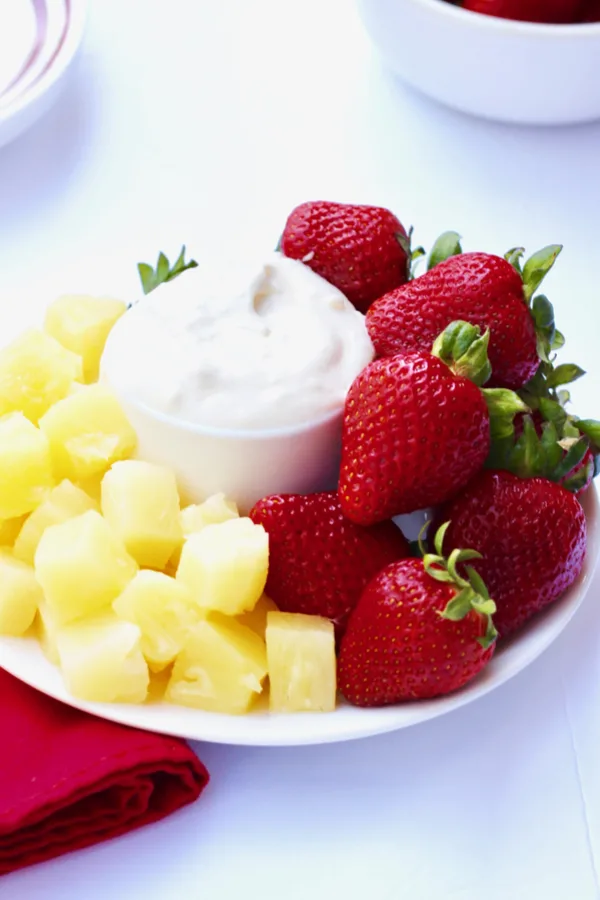 Seriously, it only requires 2 ingredients. It doesn't get much easier than that!
So next time that you are struggling about what to bring to your next gathering, be sure to make this recipe that everyone will love!
Easy Fruit Dip Recipe
INGREDIENTS
1. Cream cheese – For this recipe you can use full fat or reduced fat cream cheese. The important thing to remember is that the cream cheese needs to be at room temperature.
Because cream cheese lasts so long in the refrigerator, I always have some on hand. However, because it needs to be softened before I mix it, I will place it on the counter while I go and get ready for the event.
It takes a block of cream cheese about 30-60 minutes to come to room temperature, depending on the indoor temperature of your house.
However, there are things that you can do to help the cream cheese come to room temperature quicker.
Open the package and cut the cream cheese into cubes and place on a plate for about 20 minutes.
Remove the cream cheese from the cardboard packaging. However, leave the cream cheese in the foil and set in a safe, warm spot outdoors (if it is warm out).
Remove the cream cheese from the cardboard packaging but leave it sealed in the foil. Submerge the cream cheese in lukewarm water for 10 minutes. Then add it to the mixing bowl and make this easy fruit dip recipe.
Take the cream cheese block out of all packaging and place on a plate. Microwave for 10 seconds, flip and microwave for another 10 seconds. Repeat this process 1 more time. However, be sure that the cream cheese does not begin to melt. Otherwise it will not fluff up when mixed.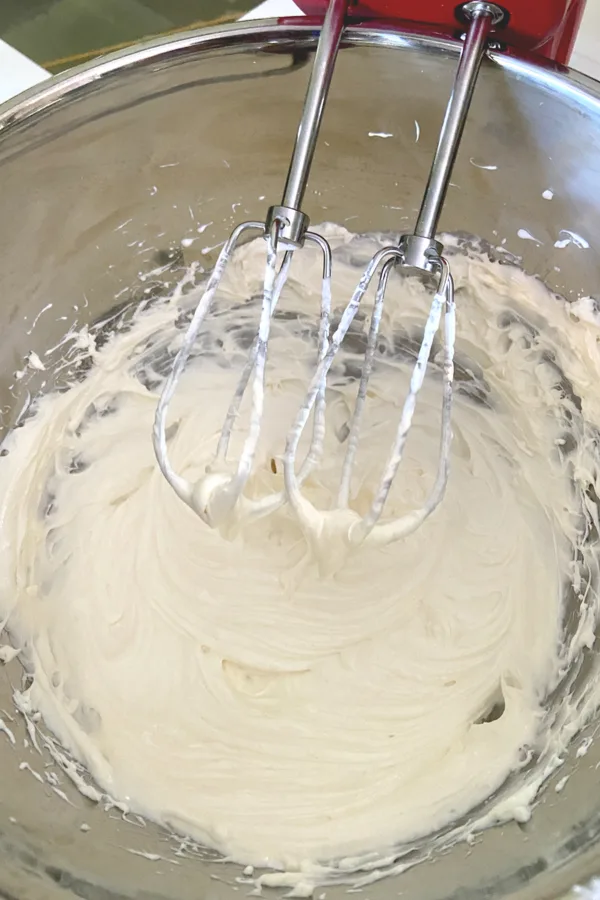 2. Marshmallow Fluff – You can most often find a jar of marshmallow fluff with the other ice cream toppings at the grocery store. However, sometimes they are stocked alongside the marshmallows as well.
Just be aware that when you go to scoop the fluff out of the jar, you will get sticky! It is best to use a long silicone, skinny spatula, so that it does not end up on the back of your hand.
And no need to purchase the name brand version. The generic or store brand version will work just as well.
Other Optional Ingredients
Although this recipe only requires the two ingredients listed above, you can also make your Easy Fruit Dip take on a few unique and delicious flavors as well.
Vanilla Extract – A little splash of pure vanilla extract adds a nice refreshing flavor to this dip. However, be sure to use pure vanilla extract and not imitation vanilla.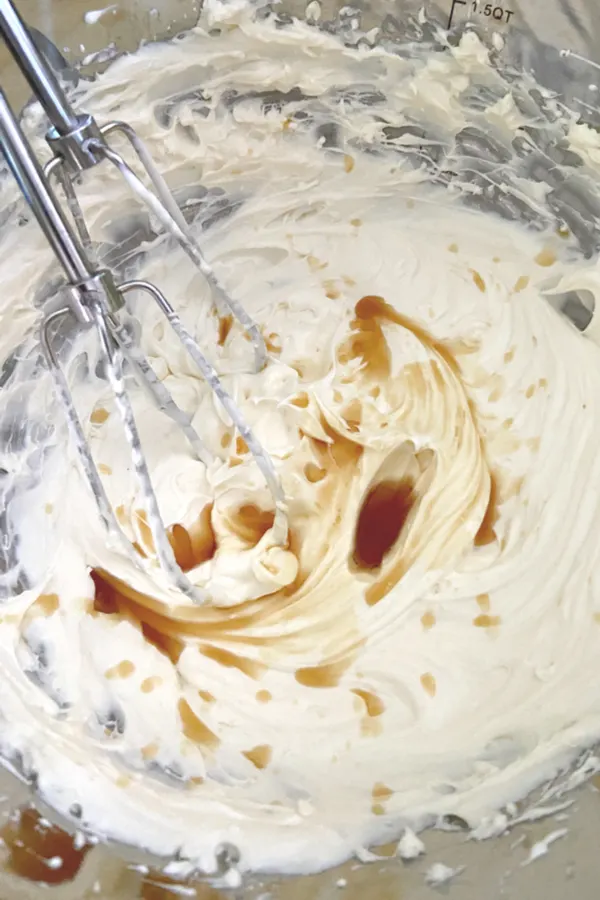 Lemon or Orange Zest – Brighten up your dip with a little citrus zest. You can use either lemon or orange zest to lighten up the flavor. Although I would suggest dicing the zest very fine so that there are not big strands throughout the dip.
Brown Sugar – If you want to add a little more sweetness to your dip, consider adding a little brown sugar to the mixture. Simply add it in when you fluff the cream cheese so that it becomes well incorporated.
INSTRUCTIONS
Now that I have shared the two main ingredients and the optional ingredients, it is time to make this Easy Fruit Dip Recipe!
First, place the room temperature cream cheese in a large bowl. Then use a hand mixer on medium speed and beat until the cream cheese becomes light and fluffy.
It is extremely important that the cream cheese is at room temperature before you start to mix it. Otherwise it will have lumps throughout the dip. And nobody wants to take a bite into a chunk of cream cheese.
Also, be sure that you give the cream cheese enough time with the mixer so that it becomes light and fluffy. This should take approximately 2-3 minutes.
Add any optional ingredients at this time as well. And be sure to scrape down the bowl so that the full block of cream cheese gets mixed well.
Then use a long, silicone spatula to add the marshmallow fluff to the bowl.
Using that same spatula, fold the marshmallow fluff in with the mixed cream cheese. Continue to fold until the Easy Fruit Dip is well incorporated.
Place the mixture in a serving bowl and refrigerate for at least 30 minutes before serving as part of a fruit tray.
Frequently Asked Questions
Can I Make The Fruit Dip Ahead Of Time?
This easy fruit dip recipe can be made up to 2-3 days ahead of when you want to serve it. In fact, it only gets better the longer that it sits in the refrigerator.
Can I Freeze Leftovers?
Unfortunately, this dip doesn't freeze well as the cream cheese tends to separate as it freezes.
What Else Can I Serve With Fruit Dip?
Besides being the star of a fruit tray, this dip can be served with other items as well. It also makes a great after school snack or appetizer when served with graham cracker sticks. Or place the spread between two chocolate cookies to make a stuffed cookie sandwich. The possibilities are endless!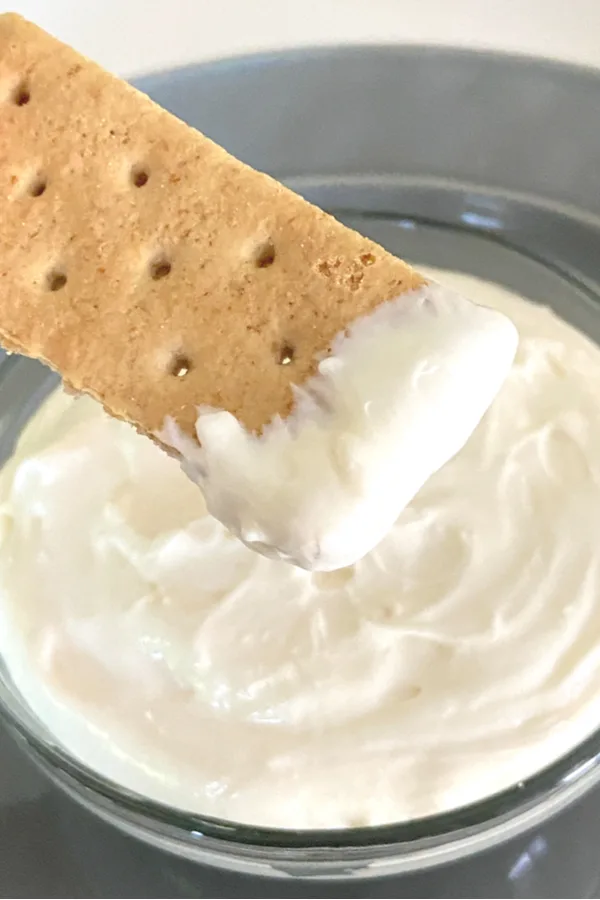 Enjoy! Mary

To receive our 3 Recipe Articles in your inbox each week, sign up for our free email list located in the middle of each recipe or email me at contact@makeyourmeals.com. You can also follow us on Facebook and Pinterest. This article may contain affiliate links where a small commission is paid if you purchase a product at no additional cost to you.
Yield: 12
Easy Fruit Dip Recipe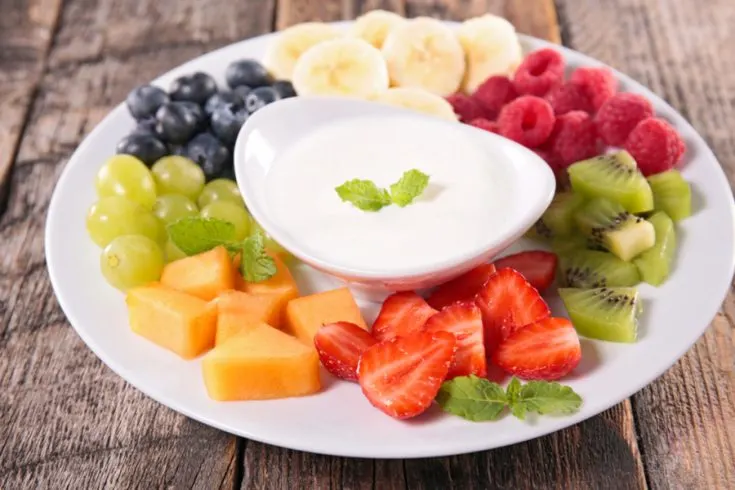 Light and fluffy fruit dip that requires just 2 ingredients and 10 minutes to make! The perfect addition to any fruit tray.
Ingredients
8 ounces cream cheese
7 ounces marshmallow fluff
Optional Ingredients:
1 teaspoon vanilla
lemon or orange zest
1 tablespoon brown sugar
Instructions
Place room temperature cream cheese in a large bowl. Use a hand mixer on medium speed and beat until light and fluffy, approximately 2-3 minutes.
Use a silicone spatula to add the marshmallow fluff to the bowl and fold to combine until well incorporated.
Refrigerate for at least 30 minutes before serving.
Notes
Serve with fruit or graham cracker sticks.
Recipe provided by Make Your Meals
Nutrition Information:
Yield:
12
Serving Size:
1
Amount Per Serving:
Calories:

119
Total Fat:

7g
Saturated Fat:

4g
Trans Fat:

0g
Unsaturated Fat:

2g
Cholesterol:

19mg
Sodium:

73mg
Carbohydrates:

14g
Fiber:

0g
Sugar:

10g
Protein:

1g
Nutritional Information is to be used as a general guideline only . Nutritional calculations will vary from the types and brands of the products used.