If your New Year's Resolution includes eating healthy and updating your diet to include low-carb meals you should add this Easy Cobb salad recipe to your weekly menu rotation.
A deliciously made salad with a simple, yet perfect homemade vinaigrette is one of the best Keto recipes to help you stay on track. The combination of proteins and essential nutrients keeps your body healthy and active.
But what exactly is a Cobb Salad? This famous concoction was created by Robert Cobb in the 1930s when he was preparing for a late-night meal.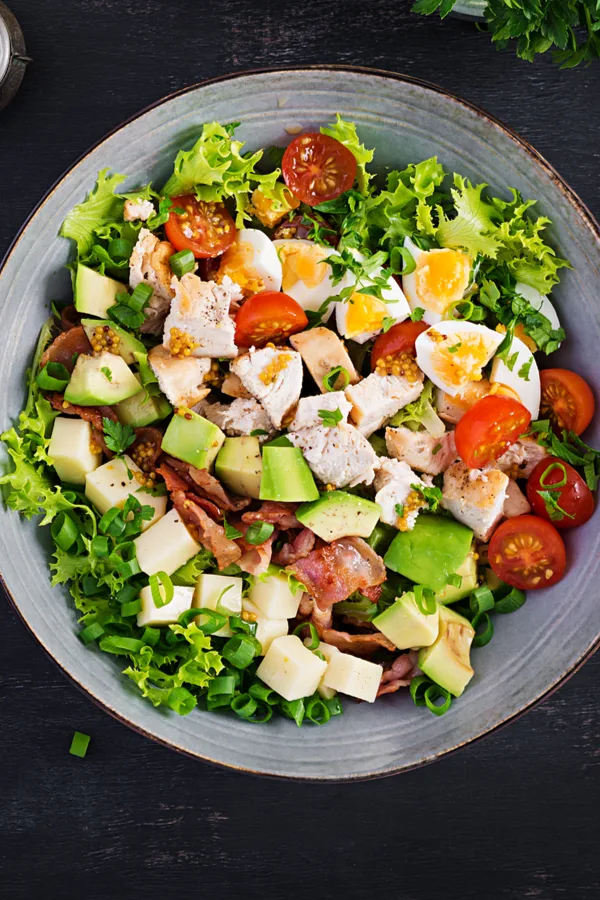 Using the leftovers in his restaurant in California, the salad was born and became hugely popular. And it has evolved over time to become a famous salad all over the world.
He transitioned the typical garden salad into one that included more proteins by adding hard boiled eggs and sliced chicken breast. Then, he finishes it off by topping it with blue cheese, crispy bacon, and slices of avocado on the side.
And then, to finally make it into a masterpiece, he made a homemade vinegar dressing that was drizzled on top.
LOW-CARB COBB SALAD INGREDIENTS
One of the reasons why cobb salad is an excellent meal to include in your keto diet is because of its low-carb ingredients.
Moreover, it's perfect to make use of the leftover ingredients you have after your year-end parties, like leftover rotisserie chicken and more. Below are the ingredients you need to make this delicious low-carb salad.
INGREDIENTS
1. ROTISSERIE CHICKEN OR SLICED CHICKEN BREAST
One of the main ingredients of a Cobb salad is cooked chicken. You can choose to add your leftover rotisserie chicken or cook boneless, skinless chicken breasts for your salad.
And to make it even easier, use our Air Fryer Grilled Chicken recipe!
2. BACON
Adding bacon not only gives you more protein, it also adds a little saltiness to your salad. I prefer to make bacon every Sunday and save the leftovers to use throughout the week. It is a huge time saver!
3. HARD-BOILED EGGS
Hard-boiled eggs are another classic ingredient when it comes to making Cobb salad. You could boil or make Instant Pot Hard Boiled Eggs for this recipe.
Just be sure that the both the egg whites and yolks are nice and firm when cooked.
4. LETTUCE
Traditionally, cobb salads use a combination of fresh lettuces such as Romaine, watercress, and iceberg. But to make things simple, we're going to use just Romaine lettuce for this salad.
However, feel free to add other fresh greens if you prefer.
5. TOMATOES
For this Easy Cobb Salad, you also need a few ripe cherry or grape tomatoes to add juiciness to your meal. However, because tomatoes are little higher in carbs, just add a few.
6. AVOCADO
Adding nutritious fruit such as avocado to your low-carb salad is a must. However, be sure to add them right before serving the salad so the flesh does not turn brown.
Optional Ingredient: You can add cubed cheese to the salad if you desire. Simply layer next to the other ingredients, and yes, it is still low-carb!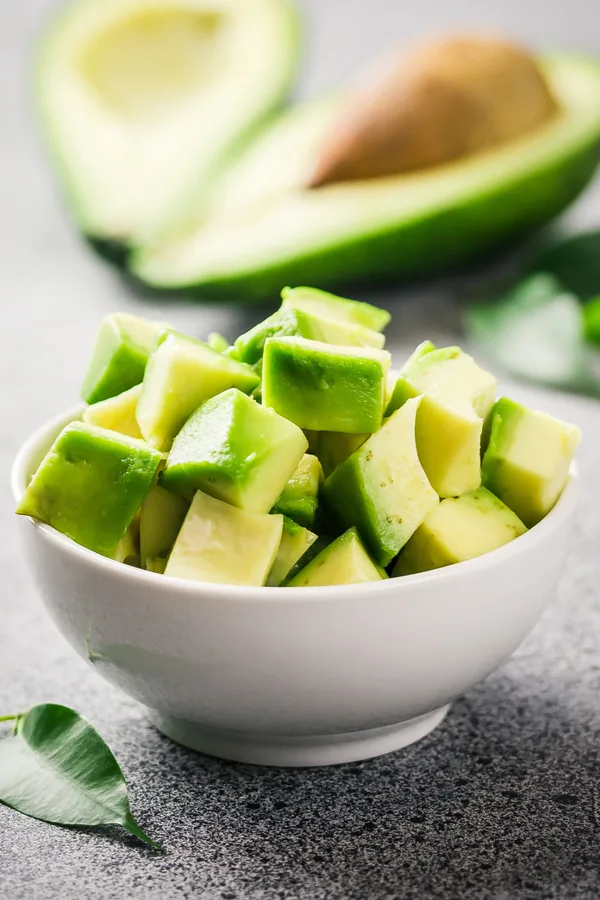 HOMEMADE DRESSING INGREDIENTS
1. EXTRA VIRGIN OLIVE OIL
Because we are making a homemade dressing, you will need a little extra virgin olive oil as the base.
2. MINCED GARLIC
You will also need to chop and mince cloves of garlic to add a bit of flavor on your salad dressing. As always I recommend using fresh cloves or garlic, but in a pinch you can use jarred minced garlic instead.
3. DIJON MUSTARD
The mustard is a key ingredient when making your salad dressing, as it acts as an emulsifier.
4. SWEETENER
Since this is a low-carb recipe, choosing the correct sweetener is crucial. I have used both Swerve and Monk Fruit to make the dressing.
5. VINEGAR
This is the main ingredient to make your homemade low-carb Cobb salad dressing. I suggest using red wine or apple cider vinegar.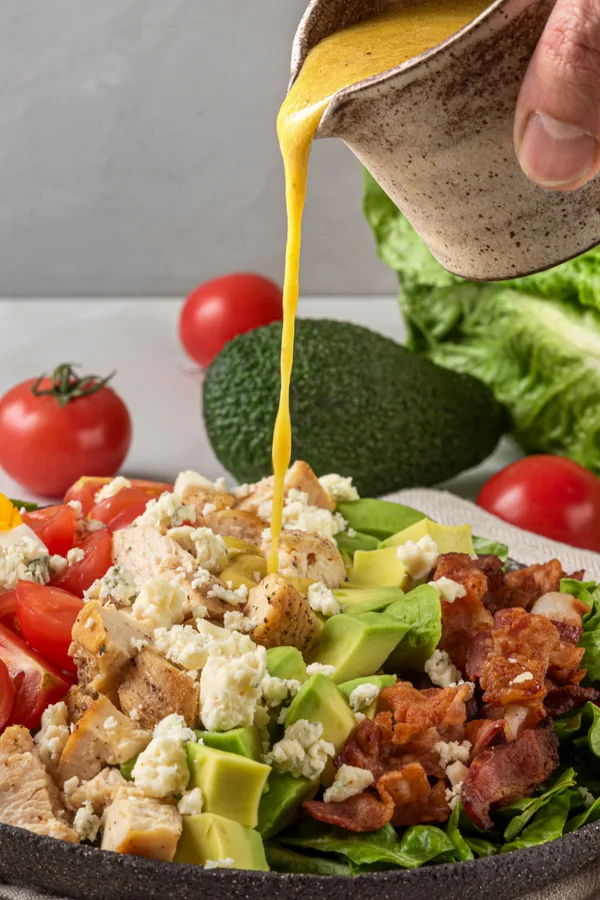 TOPPING INGREDIENTS
1. BLUE CHEESE
Traditionally this salad is topped with crumbled blue cheese. It adds a unique and delicious taste to your meal. Although, if you don't like blue cheese, you could substitute Feta cheese instead.
INSTRUCTIONS ON HOW TO MAKE THIS EASY COBB SALAD
Making this salad is simple once you have all the ingredients ready. You can prepare them in advance, to make the process a lot easier.
PREPARE INGREDIENTS
In preparing the ingredients for your cobb salad, there is no particular order to follow. You can either boil the eggs first, followed by cooking the chicken breasts and bacon, then make the dressing or vise versa.
It's really up to you. You can even prepare the dressing a week before serving the salad.
MAKE THE DRESSING
Cobb salad is literally perfect for various kinds of salad dressing, including French, Keto Ranch, Greek, or Red Wine Vinaigrette dressing. As for this recipe, we decided to use an easy, homemade dressing that uses apple cider vinegar and dijon mustard as the star ingredients.
Start making the dressing by pouring the apple vinegar in a small blender like the Magic Bullet. Or you can also choose to mix the dressing manually, in a mason jar.
Then, add the olive oil, along with the minced garlic plus the dijon and sweetener. Finally, sprinkle with a little salt and pepper to taste, before mixing. Then mix until it thickens and the dressing becomes smooth.
CHOP VEGGIES AND OTHER INGREDIENTS
After preparing the dressing and cooking the chicken or bacon if needed, the next step is to chop the Romaine lettuce. The suggested thickness of each piece is 3/4 inch to make it just large enough for a bite.
If you choose to mix your Cobb salad with other types of lettuce, you should also cut them in similar sizes. Then, chop the tomatoes, avocados, chicken, and bacon into slices based on your preference.
I prefer to make my chicken in smaller, bite size pieces so I don't have to constantly cut my salad as I eat. However, the choice is up to you.
ARRANGE OR MIX INGREDIENTS
There are two ways to prepare your Easy Cobb Salad. If you want it to look like it's from a fancy restaurant, arrange all the prepared ingredients creatively on the plate before drizzling the top with some homemade dressing.
Then, garnish with the top with blue cheese.
However, if you are making this for yourself as a quick, low-carb meal, or if you don't have enough time to make it look fancy, you can toss all the ingredients in a bowl. Then serve with the dressing on the side.
WHY COBB SALAD IS PERFECT FOR KETO DIET
The Keto diet focuses more on eating low-carbs and healthy fat meals. This Cobb salad recipe is a great keto diet meal because of its flavorful ingredients that will keep you full for hours.
It also has green leafy veggies and fruits low in carbohydrates but rich in healthy fats. Furthermore, if you use swerve or Monk fruit as an alternative for sugar in making the dressing, it's even better.
Although, as mentioned above, be sure to lessen the tomatoes to make your easy Cobb salad a keto-friendly meal. The suggested number of ripe cherry tomatoes to add is three to four to keep the carb count low.
CONCLUSION
Cobb salad is an all-in-one meal for people who are striving to eat a healthy, low-carb diet. Its deliciously perfect combination of nutritious ingredients supplies your body with the right amount of protein, fiber, and healthy fats required when following a Keto diet.
However, for best results, make sure to use fresh ingredients to get the most flavor out of your Cobb salad. In addition, be sure to adjust the ingredients to suit your dietary needs.
Enjoy! Mary

To receive our 3 Recipe Articles in your inbox each week, sign up for our free email list located in the middle of each recipe or email me at contact@makeyourmeals.com. You can also follow us on Facebook and Pinterest. This article may contain affiliate links where a small commission is paid if you purchase a product at no additional cost to you.
Yield: 6 servings
Classic Cobb Salad Recipe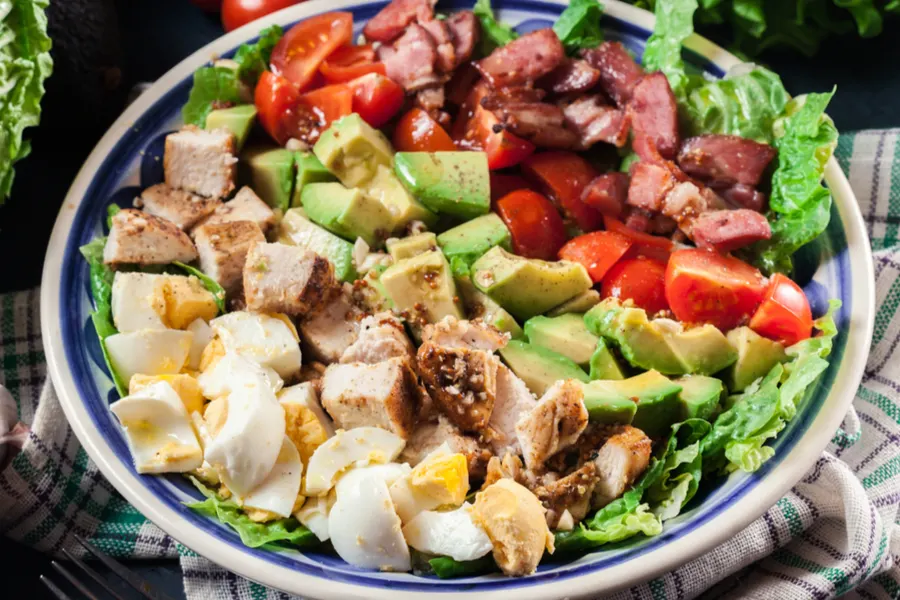 Easy Cobb salad recipe that uses leftover rotisserie chicken and an easy to make homemade dressing. The perfect low-carb, Keto friendly meal.
Ingredients
2 heads romaine lettuce, cut into pieces
3 1/2 cups cubed or shredded Rotisserie chicken, cooked
1/2 cup cooked bacon, cooked and chopped
4 large eggs, hard boiled
2 avocados
4 cherry or grape tomatoes, chopped
Topping Ingredient
4 ounces blue cheese, crumbled
Dressing Ingredients
1/4 cup apple cider vinegar
1-2 garlic cloves, minced
1 tablespoon dijon mustard
1/4 cup extra-virgin olive oil
Salt & fresh ground pepper, to taste
Instructions
Place the chopped lettuce on a large platter. Then arrange the chopped chicken and bacon across one side of the lettuce.
Peel and cut each hard boiled egg into 4 wedges. Arrange on the platter next to the bacon. Set aside.
Make The Dressing: Place the dressing ingredients in an immersion blender, mason jar, or a bowl. The add salt and pepper to taste and mix until emulsified.
Halve, pit and dice the avocados. Season the tomatoes with salt to taste. Arrange each ingredient on top of the lettuce in a row.
Drizzle the top of the salad with the homemade dressing. Then top with the crumbled blue cheese.
Serve immediately.
Notes
Recipe provided by Make Your Meals
Nutrition Information:
Yield:
6
Amount Per Serving:
Calories:

451
Total Fat:

34g
Saturated Fat:

9g
Trans Fat:

0g
Unsaturated Fat:

22g
Cholesterol:

181mg
Sodium:

688mg
Carbohydrates:

15g
Fiber:

9g
Sugar:

4g
Protein:

25g
Nutritional Information is to be used as a general guideline only . Nutritional calculations will vary from the types and brands of the products used.