Low-carb ketogenic Air Fryer Mozzarella Sticks are a tasty and healthy way to satisfy your craving for a fried appetizer. Nothing beats eating a snack with a crispy, flavorful coating on the outside, with packed gooey, melting cheese on the inside.
It is a keto snack or appetizer that everyone in the family can enjoy. And best of all, they are cooked in the air fryer. Not only is it quick and easy, there is no worry about the extra calories that are added when they are deep fried.
Simply pop your sticks in the basket and the heated air will immediately cook your frozen mozzarella cheese sticks to perfection. The end result, crunchy, crispy Keto friendly breading non the outside and melty cheese on the inside.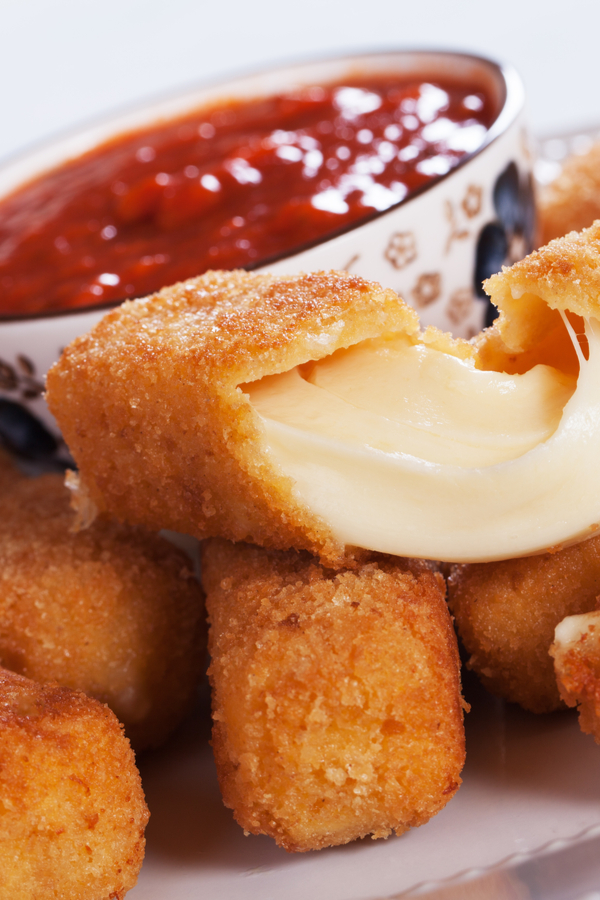 Because many people now have an air fryer and many want to try a healthier diet that may include a low-carb or Keto diet, this recipe is perfect! Even your family and friends who aren't on a diet will enjoy these mozzarella sticks!
Let's dive in on a tried and true Keto Mozzarella Cheese Sticks recipe using an Air Fryer!
A Recipe for Keto Air Fryer Mozzarella Cheese Sticks
These low-carb cheese sticks are simple to make, requiring only a few ingredients that you can find easily.
INGREDIENTS
Mozzarella cheese sticks, frozen
Almond flour
Eggs
Paprika
Sea salt
Italian seasoning
Onion powder
Garlic powder
Finely crushed pork rinds
INSTRUCTIONS
The first step in making Air Fryer Mozzarella sticks is to open and remove the mozzarella sticks from the individual packages. Cut each mozzarella stick in half, to make 2 shorter cheese sticks. Then place the sticks on a wax paper lined baking sheet.
It is important to cut them in half because many air fryer baskets aren't wide enough to hold standard size Mozzarella sticks. Set aside.
Prepare the air fryer basket by inserting a piece of parchment paper in the bottom. Then spray the paper with olive oil, avocado oil or grapeseed oil.
It is best to use Air Fryer Parchment paper rather than standard, baking sheet parchment paper. The paper that is designed for use with an air fryer have holes scattered throughout the paper, allowing the hot air the ability to circulate while cooking.
Next prepare the other ingredients. Start by placing the almond flour in a flat, shallow bowl or dish. Set aside.
Then in another flat, shallow bowl, whisk an egg until well incorporated. Depending on how many Mozzarella sticks that you are putting in the air fryer, you may need only one egg.
Therefore, I start with one egg, and if needed, I whisk the other egg to make the remaining sticks. This will help prevent unnecessary waste if you decide to make a smaller batch. Set the whisked egg aside.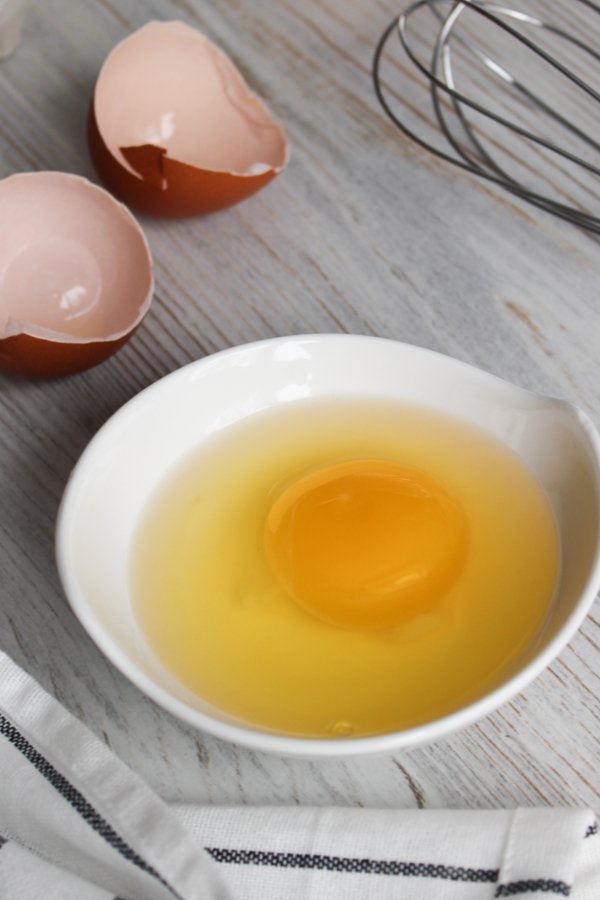 Prepare The Keto Breading
Now it is time to prepare the breading mixture that will coat the outer surface of the cheese sticks. Add the paprika, sea salt, Italian seasoning, onion powder, garlic powder, and crushed pork rinds in a medium size bowl that is wide enough to coat the cheese sticks easily.
Mix the breading ingredients until evenly incorporated. Set up your dredging station in a lined up order.
First will be the bowl of almond flour. Then the second bowl will contain the whisked egg. Finally, place the bowl with the breading in the third position.
Working one at a time, place a mozzarella stick in the almond flour and coat all sides. The flour will help the egg wash to adhere to the rubbery surface of the cheese stick.
Then dip the almond flour coated stick in the egg. Let the excess egg drain off and then roll the stick in the breading mixture.
Be sure to pat the coating lightly to help the breading stick to the surface. Place the coated cheese stick on the lined baking sheet and repeat until each one is coated.
*If you want a thicker breading, double dip the cheese stick in the almond flour and then the egg mixture before coating it in the breading.
The Most Important Step!!!
Once all of the Mozzarella sticks are coated, place the pan in the freezer for at least 2 hours. DO NOT SKIP THIS STEP!!!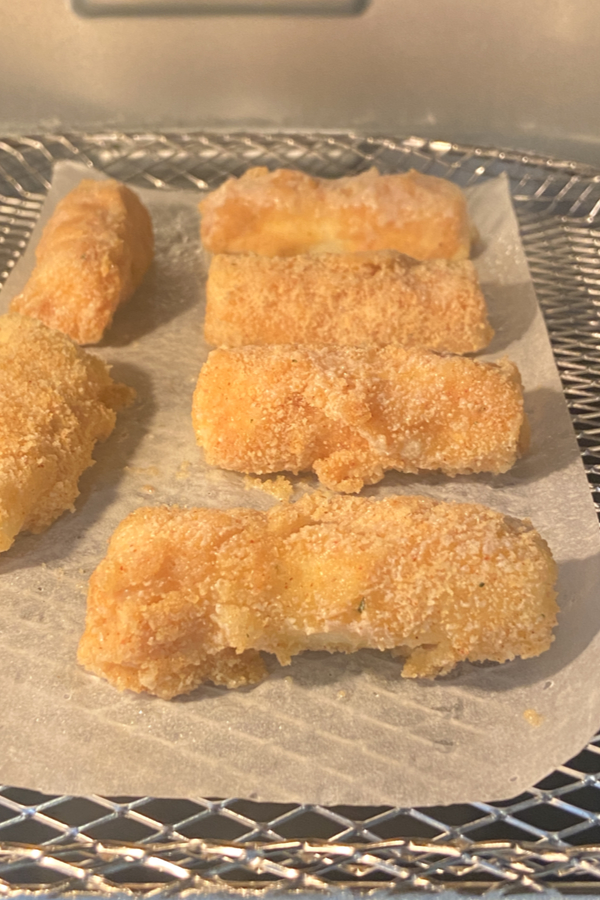 Freezing the breaded cheese sticks a crucial step in the success of this recipe. Otherwise, the room temperature cheese would melt while cooking, making it impossible to keep the low-carb cheese sticks intact.
When you are ready to place the Keto Mozzarella sticks in the air fryer, coat the exterior surface liberally with olive oil spray. Be sure that after you spray on one side, flip your sticks over and spray on the other side as well.
Now it is time to cook your cheese sticks! Working in batches if needed, place the breaded and frozen Mozzarella sticks inside the basket of the air fryer.
However, be sure to leave room between each one so that the hot air flow can cook them evenly and properly.
Cook for 6 to 8 minutes at or until the breading is golden brown. Because all air fryers cook at different rates, be sure to check for doneness at the 6 minute mark.
Just like when you get served Mozzarella sticks at your favorite restaurant, some slight oozing of the cheese is to be expected. However, if they were completely frozen before being added to the air fryer, they should hold up nicely once cooked.
Use a spatula to carefully remove each stick to a serving platter. I have tried using tongs, but have found much more success when using a spatula.
Serve the Air Fryer Mozzarella Sticks with your favorite low-carb dipping sauce and enjoy! I love to serve this Keto snack with warm marinara sauce or no-sugar added ranch dressing.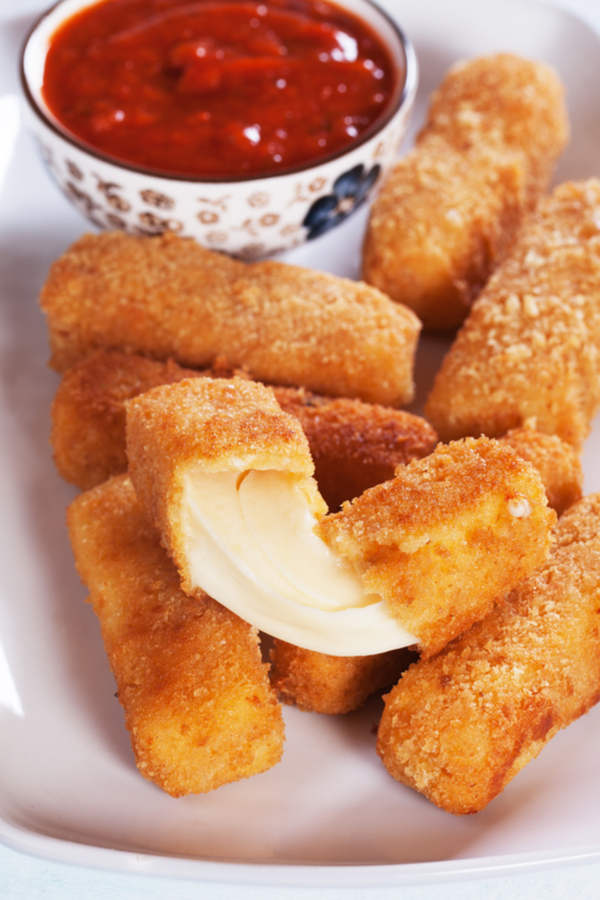 Storing & Reheating Instructions
If you happen to have any leftovers, be sure to store them in a closed container in the refrigerator.
Although you could reheat them in the microwave, it is best to use the air fryer for reheating so that they remain nice and crisp. Place the cold mozzarella sticks in the air fryer set to 375°F until nice and warm throughout.
This reheating process will take about 5 minutes, but again, all air fryers cook at different rates. Therefore, check them frequently for doneness.
Other Helpful Tips
Be sure to liberally grease the parchment paper before adding the breaded cheese sticks. It will prevent your low-carb mozzarella sticks from sticking to the surface when cooking.
It is extremely important to use only part-skim, mozzarella string cheese with low moisture content. If you fail to follow this guideline, you will end up with a gooey mess.
Before cooking, you should place the already breaded mozzarella cheese sticks in the freezer for at least 1 hour, but preferably 2 hours. Then, don't defrost the cheese sticks at all. Once they come straight out of the freezer, place them directly in the air fryer. This will help them cook with a nice, crispy coating and the cheese will become soft, but not melt completely.
Use one hand, to coat in the almond flour and breading mixture. Then use the other hand to dip the sticks in the egg wash. It will help keep the breading dry, which in turn will allow the breading to stick better to the surface of the cheese stick.
Before air frying be sure to place the sticks with a little space between each other. And avoid stacking your cheese sticks on top of each other. If necessary, cook them in batches.
Once you remove the cheese sticks from the air fryer, serve them right away. The mozzarella, just like all other cheeses, will stiffen as it starts to cool.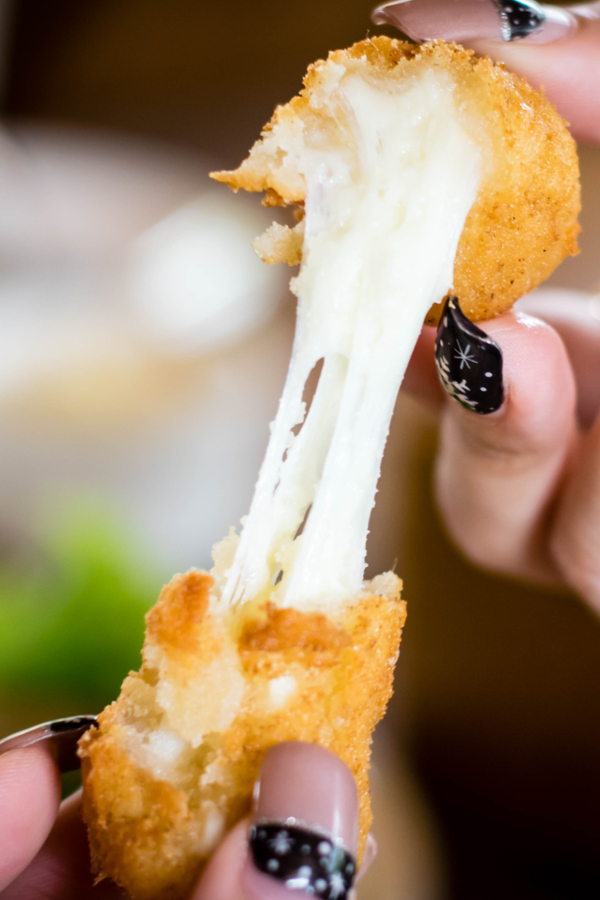 Frequently Asked Questions
Are all mozzarella sticks low carb?
No, most cheese sticks have a breading that contains carbs. However, don't worry, you can still eat cheese sticks while on a low-carb diet. Instead, try the above keto-friendly mozzarella stick recipe!
Can I make vegetarian Keto Air Fryer Mozzarella Sticks?
Yes, you certainly can. Skip the pork rinds and replace it with additional almond flour. It will make them slightly less crunchy, but they will still be delicious. You could also replace the pork rinds with Keto friendly bread crumbs if you prefer.
I have a tree nut allergy and can't use almond flour. Are there any substitutions?
Yes, you certainly can. Instead of using almond flour, use coconut flour instead.
Enjoy! Mary
Be sure to visit my Air Fryer Recipes page for more inspiration on what you can make in your air fryer!


To receive our 3 Recipe Articles in your inbox each week, sign up for our free email list located in the middle of each recipe or email me at contact@makeyourmeals.com. You can also follow us on Facebook and Pinterest. This article may contain affiliate links where a small commission is paid if you purchase a product at no additional cost to you.
Air Fryer Keto Mozzarella Sticks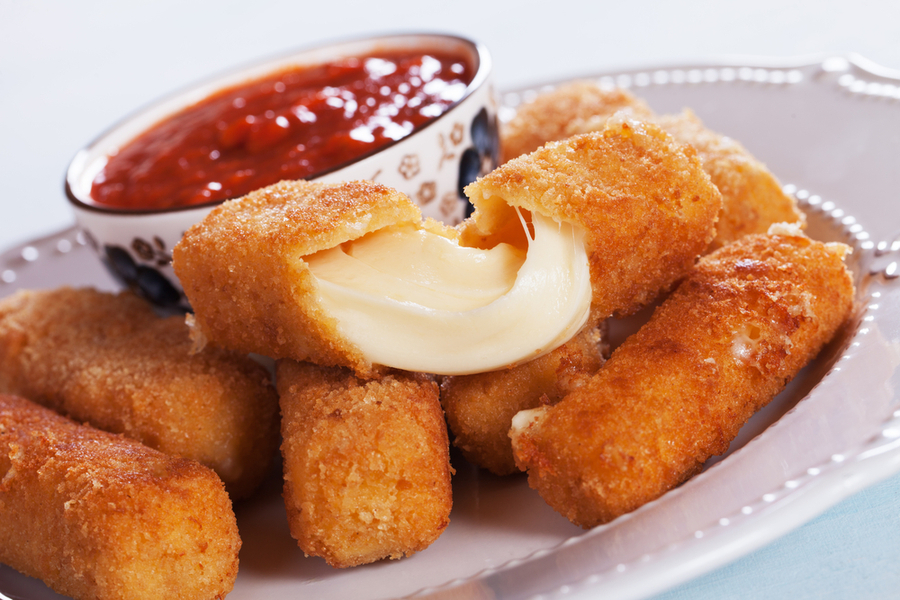 Total Time
2 hours
23 minutes
Ingredients
6 Mozzarella cheese sticks, low-moisture, part-skim
1/3 cup Almond flour
1-2 Large Eggs
1/4 tsp. Paprika
1/4 tsp. Sea salt
1 tsp. Italian seasoning
1/2 tsp. Onion powder
1/2 tsp. Garlic powder
1/2 cup Finely crushed pork rinds
Instructions
Place parchment paper in the bottom of the air fryer basket. Spray generously with olive oil spray. Then prepare a small platter or baking sheet with parchment paper, set aside.
Place the almond flour, into a shallow bowl, set aside.
Add one egg to a bowl and beat until well mixed. Start with one egg, but you may need to whisk another egg when you go to bread the remaining mozzarella sticks.
In another shallow bowl, add the remaining seasonings and crushed pork rinds. Mix until well incorporated. Set aside.
Cut the mozzarella string cheese sticks in half across the middle forming a total of 16 shorter cheese sticks.
Coat the cheese sticks in the almond flour, then dip into the egg and then coat all sides in the pork rind seasoning crumbs. Set on the parchment paper lined platter or baking sheet.
Place the breaded mozzarella sticks in the freezer for at least 2 hours and up to overnight.
Heat the air fryer to 375°F (191°C). Then place the frozen cheese sticks into the air fryer, in a single layer and with space between each one and cook for 6-8 minutes until browned and the cheese is softened but not completely melted.
Notes
Recipe provided by Make Your Meals
Nutrition Information:
Yield:
16
Amount Per Serving:
Calories:

66
Total Fat:

4g
Saturated Fat:

2g
Trans Fat:

0g
Unsaturated Fat:

2g
Cholesterol:

33mg
Sodium:

137mg
Carbohydrates:

2g
Fiber:

0g
Sugar:

1g
Protein:

5g
Nutritional Information is to be used as a general guideline only . Nutritional calculations will vary from the types and brands of the products used.