One of my favorite things to make in the summer is this Easy Caprese Salad made with our own cherry tomatoes.
It is light, refreshing and can made in minutes. It is the perfect side dish or salad recipe to take to all those summer picnics and barbecues.
Not only is the flavor outstanding, it is a great way to use an abundance of cherry tomatoes fresh out of the garden.
And who can resist the combination of fresh picked tomatoes, mozzarella balls, and shreds of basil that is tossed in mixture of flavored extra virgin olive oil and balsamic vinegar?
Add a little drizzle of balsamic reduction glaze on top and people will be begging for more!
Easy Caprese Salad Recipe With Cherry Tomatoes
Ingredients
Cherry tomatoes – You can use any type of cherry or grape tomatoes. In the middle of summer it is easy to find them at your local Farmer's market or grocery store in a variety of colors.
Extra virgin olive oil – If you ever heard of using a good quality extra virgin olive oil, now is the time to put it to use. Because the oil is part of the dressing, purchasing a good bottle is crucial here.
So how do you know if you are purchasing a good bottle of extra virgin olive oil? Although the stores are filled with shelves upon shelves, knowing which one to buy can be daunting.
Therefore here are a few quick tips to look for when your are purchasing good extra virgin olive oil…
Look for oil that has been grown, pressed and packaged in a single country. If you see a label "product of…." it only means that it was packaged in that country. Read the labels carefully.
Only purchase cold-pressed extra virgin olive oil. This means that the olives have not been heat treated and that you are only getting the finest oil extraction.
Look for a pressed-on or sell-buy date that is less than a year old. Extra virgin olive oil will go bad. Therefore it is best to purchase good extra virgin olive oil in smaller quantities.
Balsamic vinegar – Just like the oil, it is best to use a high quality balsamic vinegar when making this Caprese salad. However, using a high quality vinegar that has been aging for years can get quite expensive and difficult to find.
Therefore, your best bet is to look for the initials IGP on the label of balsamic vinegar at your local grocery store. The quality is still good and it is way more affordable than the higher end vinegars.
Salt – Use a coarse salt whenever possible. Not only does it provide the tomatoes with more flavor, the added texture is important as well. Our favorite salt for this recipe – Pink Himalayan salt.
Fresh course ground black pepper – Again, the added texture of course ground black pepper will really give this salad a boost.
The Surprise Ingredient:
Dried oregano – Not a typical ingredient in Caprese salad, however it adds another layer of flavor that is unexpected, yet delicious!
Basil – Only fresh basil will work for this recipe. If you don't grow your own you can easily purchase a bunch of fresh basil from either Farmer's markets or grocery stores.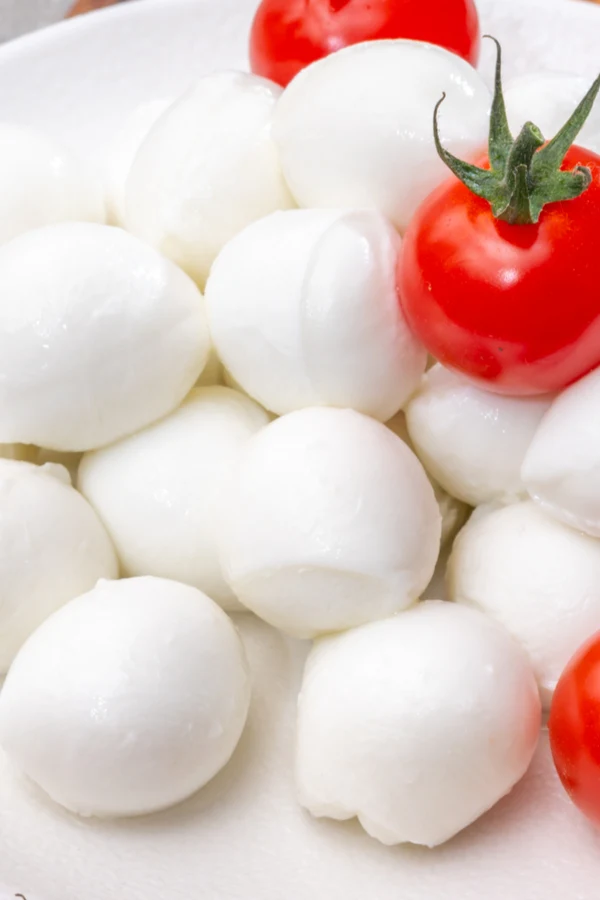 Small mozzarella balls – Look for fresh Mozzarella balls in the speciality cheese section at your grocery store. You will typically find them in a plastic container filled with liquid.
Balsamic reduction glaze – You can purchase balsamic reduction glaze or you can make your own. Because I don't use it often, I will make my own as I am preparing the other ingredients. I have included the recipe below.
Recipe Instructions
The first step in making this Caprese salad is to prepare the cherry tomatoes. Start by washing and removing the stem from the tomatoes.
Then just like when we make BLT Potato Salad, slice each one in half lengthwise. If your cherry tomatoes are extra large or if you are using grape tomatoes, consider cutting them in quarters instead of in half.
The important thing here is to expose enough surface area so that the tomatoes can absorb the flavors.
Add the sliced tomatoes to a large bowl. Then add the drained mozzarella balls and freshly chopped basil.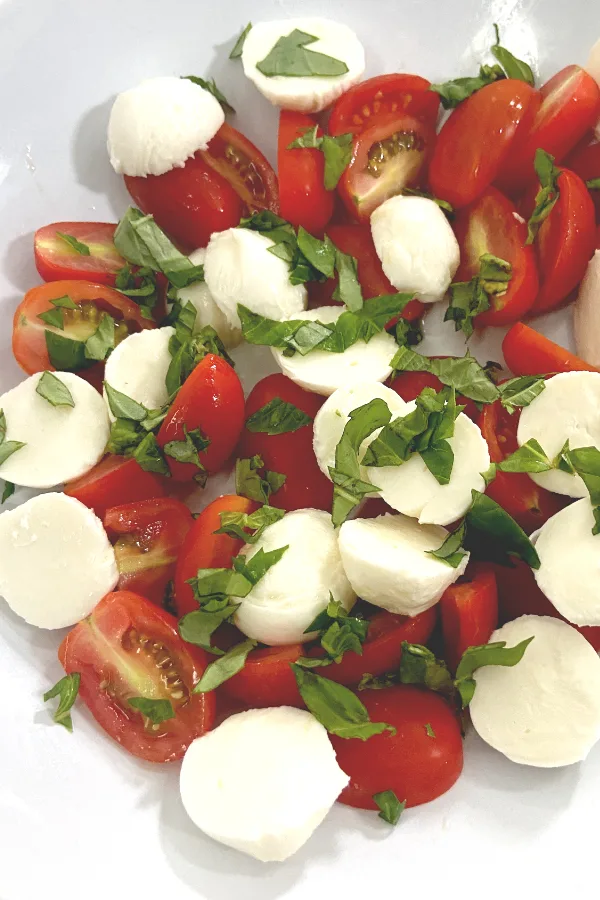 Although some people prefer to julienne the basil, I prefer the basil to be cut into smaller sections. You will still get all of the flavor of the basil without the worry of the strips getting stuck in your teeth.
Next, in a small bowl, prepare the dressing by whisking together the olive oil, balsamic vinegar, salt, pepper and dried oregano until well incorporated.
Then pour the Caprese dressing over the cherry tomatoes, Mozzarella, and basil mixture and toss to combine.
Now place the salad in the refrigerate for 15 minutes to allow the flavors to meld together. Add additional salt and pepper to taste.
Before serving drizzle with the balsamic reduction glaze.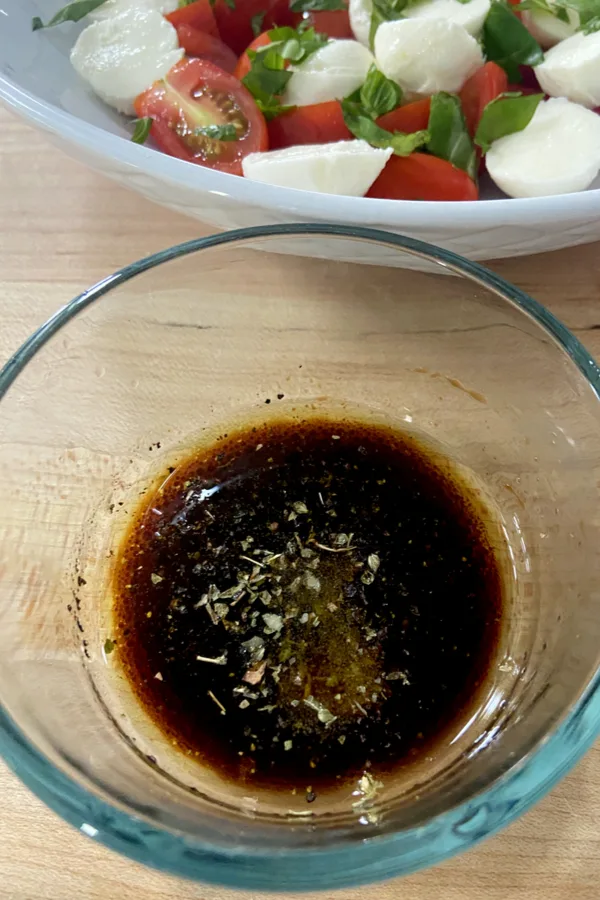 Homemade Balsamic Reduction Glaze Recipe:
Add 1/2 cup Balsamic vinegar and 3 Tablespoons honey to a small sauce pan and stir.
Place over medium-heat until the mixture begins to bubble. Reduce the heat to medium-low and continue to simmer until the mixture is reduce by half.
Let the Balsamic reduction glaze cool before drizzling over the Caprese salad so that it doesn't scald the cherry tomatoes or basil.
Enjoy! Mary

To receive our 3 Recipe Articles in your inbox each week, sign up for our free email list located in the middle of each recipe or email me at contact@makeyourmeals.com. You can also follow us on Facebook and Pinterest. This article may contain affiliate links where a small commission is paid if you purchase a product at no additional cost to you.
Yield: 6
Easy Caprese Salad With Cherry Tomatoes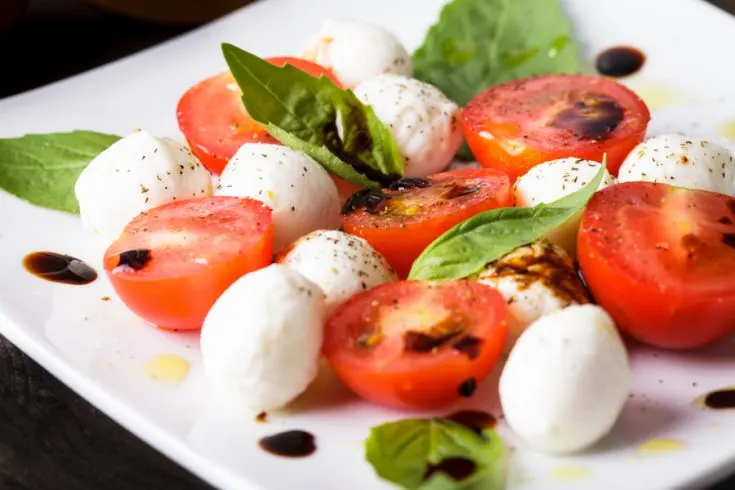 With just 10 minutes of preparation this easy Caprese Salad will be ready to eat in no time! A classic salad filled with fresh cherry tomatoes, mozzarella, basil and topped with a balsamic reduction.
Additional Time
15 minutes
Ingredients
1 pint cherry tomatoes, cut in half
2 Tablespoons extra virgin olive oil
2 Tablespoons balsamic vinegar
1/2 teaspoon salt
1/4 teaspoon ground black pepper
1/4 teaspoon dried oregano
1/4 cup basil, chopped
1 cup small mozzarella balls
For Serving
Instructions
In a large bowl add the sliced cherry tomatoes, mozzarella balls and freshly chopped basil.
In a small bowl, make the dressing by whisking together the olive oil, balsamic vinegar, salt, pepper and dried oregano until well incorporated.
Pour the dressing over the tomato and Mozzarella and toss to combine. Refrigerate the salad for 15 minutes.
Add additional salt and pepper to taste.
Drizzle with balsamic reduction.
Notes
To make Balsamic Reduction:
Add 1/2 cup Balsamic vinegar and 3 Tablespoons honey to a small sauce pan. Heat on medium heat until it begins to bubble. Reduce heat to medium-low and continue to simmer until the mixture is reduce by half. Let the mixture cool and then drizzle over the Caprese salad.