This crock pot sausage and potato casserole is a great dinner recipe that the entire family will love! Cheesy potatoes and sausage cooked to perfection in a slow cooker and ready to eat when you walk in the door!
It is one of those meals that takes only minutes to prepare and comes in handy when your time is needed elsewhere. That is because you simply dump the ingredients in the slow cooker and walk away.
That means no standing over a hot stove waiting for the potatoes to boil. And no standing over a hot skillet with grease spattering at you while you brown the sausage.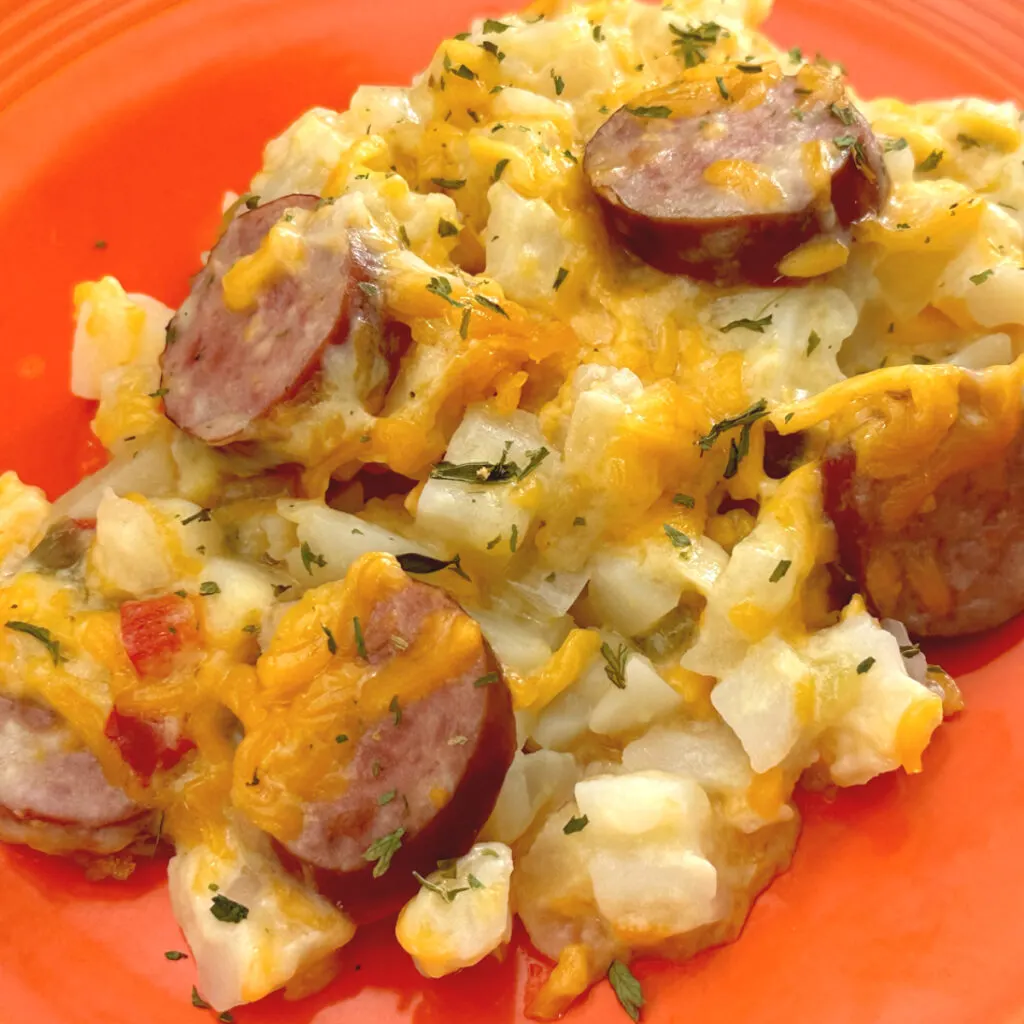 Simply throw everything in the slow cooker, and dinner is ready whenever you are! And best of all, this recipe calls for only 7 common ingredients.
And that means no crazy trips to the grocery store to pick up that one spice or one ingredient that you hope you can find at the local market.
This recipe has been such a huge hit in our house that we have made it several times for dinner. It also makes a great addition to any potluck, holiday gathering, or a gifted meal to a family member or friend in need.
7 Ingredients For Crock Pot Sausage and Potato Casserole
1. Hash Browns
For this crock pot sausage and potato casserole you will need a 32 ounce bag of frozen, cubed hash browns. You can choose between plain cubed potatoes or potatoes O'Brien that also included diced peppers and onions.
Although it is important to note that if you choose the more flavorful potatoes O'Brien, that you will not find a 32 ounce bag at the grocery store. For some reason they are only packaged in a 28 ounce bag.
However, instead of purchasing two bags just so you can get up to 32 ounces, it is okay to use one 28 ounce bag. Yes you will have a few less potatoes, but unless you use the potatoes often, it isn't worth purchasing two bags just for this recipe.
2. Kielbasa
You will need some sort of sausage to cook with your potatoes. Most often I use Kielbasa, which is pork sausage that has been smoked.
It is known for it's mild flavor and it tends to be a sausage that most people like. However, you can substitute other varieties of sausage in this crock pot sausage and potato casserole if you prefer.
Andouille sausage is a popular choice for those who like a little extra flavor and spice. And for those who can't eat pork, all beef, turkey or chicken sausages are all great alternatives.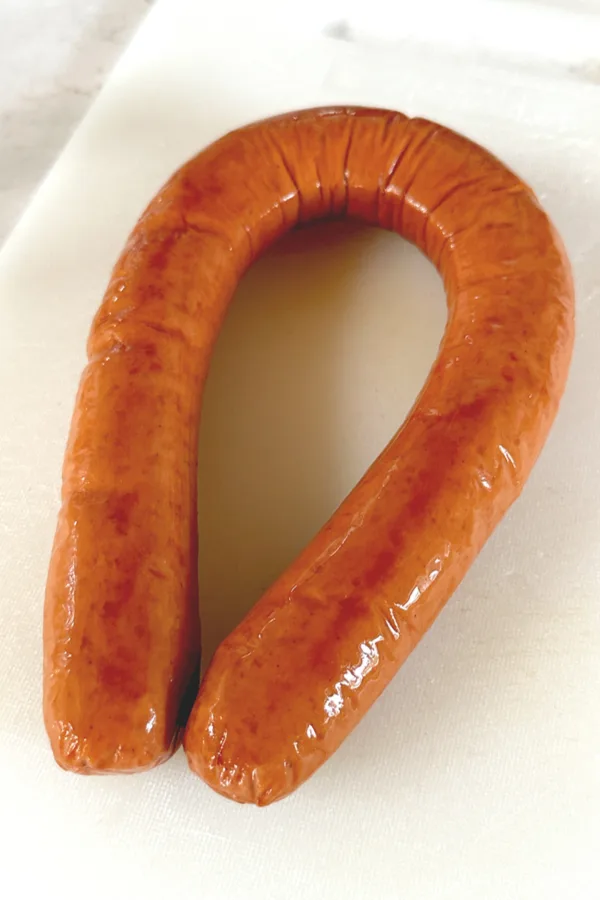 3. Onion
Onion is used to add more flavor to the potatoes and sausage. Use a yellow, white or sweet onion in this recipe.
However, if you purchased the potatoes O'Brien, there will already be onions included with the potatoes. Therefore, you have a choice to skip the fresh onion all together.
Although, I prefer to add a least some extra diced onion into the casserole, as it will add more flavor. But the choice is up to you.
4. Shredded Cheese
To bind the sausage and potato casserole together, shredded cheese is added to the crock pot. I prefer to use sharp cheddar cheese to give the casserole more of a bold flavor.
However you could also use mild cheddar cheese or a different variety of cheese all together. Mexican blend cheese is a great substitute that will melt perfectly as it cooks.
5. Condensed Cream of Chicken Soup
The sausage and potatoes will be nestled in a creamy sauce which begins with condensed cream of chicken soup. I highly suggest using low-sodium or salt free soup so that you can adjust the salt level per your taste preference.
And for those who don't like to use cream soups in your recipes, you can make homemade cream of chicken soup or substitute full-fat Greek Yogurt. However, if you choose to use the yogurt you will want to add a little garlic powder and onion powder to the mix to add a little flavor.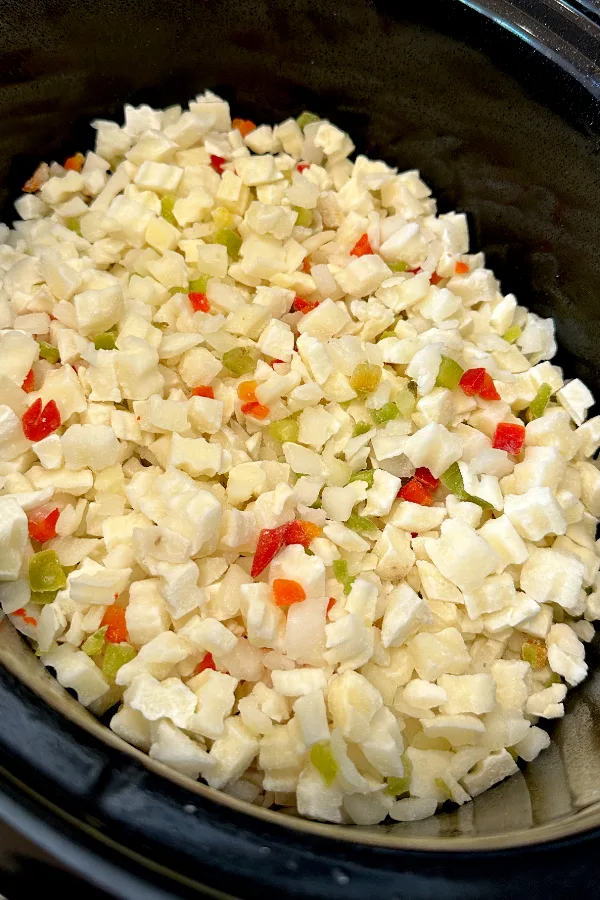 6. Milk
A little milk is used to thin out the sauce. You can use full-fat, 2% or plain, unsweetened plant-based milk products. You can also use 1% or skim milk, but for more flavor stick to the other choices.
7. Sour Cream
The final ingredient that you will add is sour cream. Not only does it add a creamy texture, but it also provides a bit of tang that pairs well with the other ingredients.
Again, you can use full-fat, reduced-fat or even fat free sour cream.
Crock Pot Sausage and Potato Casserole
*Specific measurements and complete recipe instructions are located in a printable recipe card at the bottom of this article. However, be sure to continue to read the tips and tricks to making this recipe below.
INGREDIENTS
1 – 32 oz. bag hash browns, cubed
14 oz. kielbasa, cut into small pieces
1 small onion, diced
2 1/2 cups shredded cheddar cheese
10.5 oz can cream of chicken soup
1/2 cup milk
1/2 cup sour cream
salt and pepper, to taste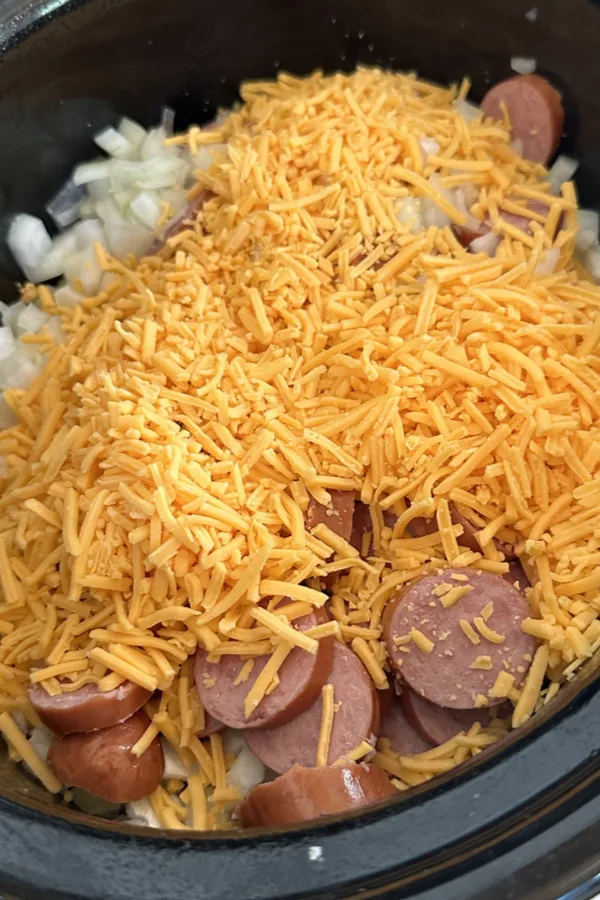 INSTRUCTIONS
The first step in this recipe is to spray your slow cooker with non-stick spray. If you like to use the slow cooker liner bags, you could use that instead.
Next, cut your sausage into bite size pieces, approximately in 1 inch sections. You can use any type of sausage that you like.
This time I chose to make it using Turkey Kielbasa. However, we have also made it with pork Kielbasa, hot Italian sausage, and Andouille sausage and they have all turned out fantastic!
Once you have the sausage cut, place it in the slow cooker. Then add the potatoes, diced onions, and two cups of the shredded cheese. Stir to combine.
Now in a small bowl, combine your cream of chicken soup, sour cream and milk. Then pour it in the slow cooker over top of the potato and sausage mixture.
Stir until well combined and the potatoes and sausage are coated. Before adding the lid, sprinkle the remaining cheese on top.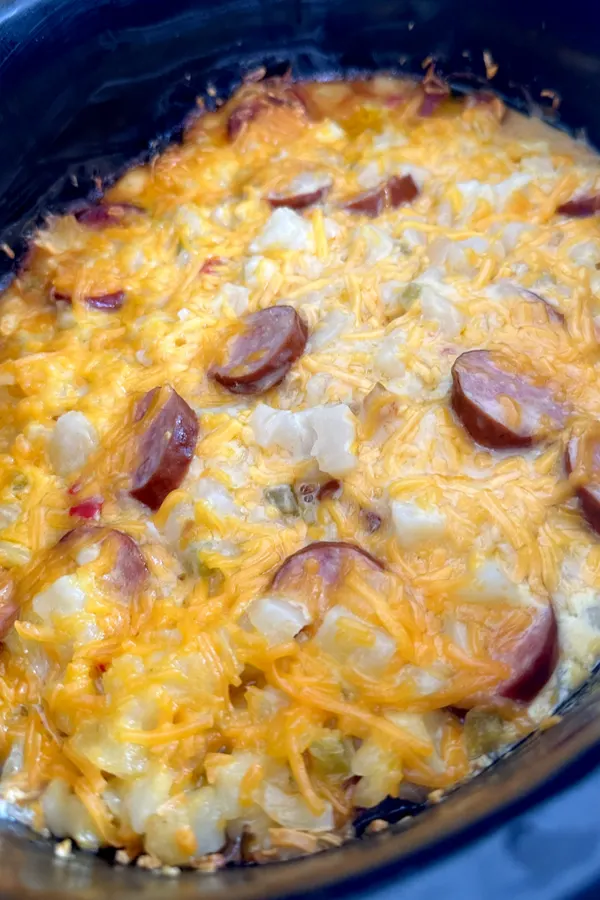 Cook Time Required
Cook on Low for 6 hours or High for 3-4 hours. However, just a word of caution. You don't want to overcook this recipe. Otherwise the potatoes will lose their texture and become more like mashed potatoes.
Although, this has happened to me before, and the sausage and potato casserole is still delicious after spending some extra time in the slow cooker!
Serve warm.
Enjoy! MARY
Other Easy Crock Pot Recipes

To receive our 3 Recipe Articles in your inbox each week, sign up for our free email list located in the middle of each recipe or email me at contact@makeyourmeals.com. You can also follow us on Facebook and Pinterest. This article may contain affiliate links where a small commission is paid if you purchase a product at no additional cost to you.
Crock Pot Sausage & Potato Casserole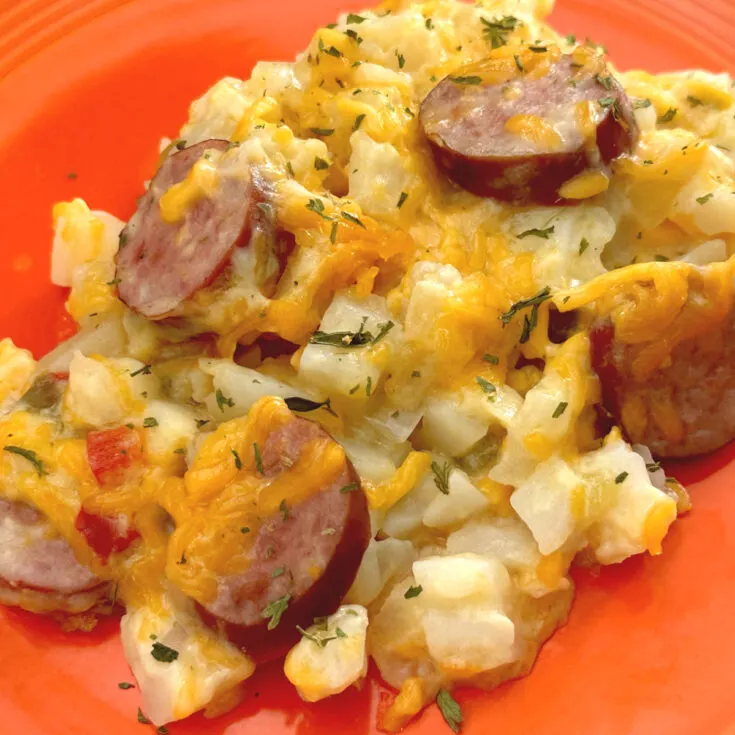 An easy, slow cooker meal that the entire family will love! Sausage & Potatoes cooked in a creamy sauce that is an easy to make, comfort meal!
Total Time
3 hours
10 minutes
Ingredients
1 - 32 oz. bag hash browns, cubed
13 oz. kielbasa, cut into small pieces
1 small onion, diced
2 1/2 cups shredded cheddar cheese
10.5 oz can cream of chicken soup
1/2 cup milk
1/2 cup sour cream
salt and pepper, to taste
Instructions
Spray the inside of the slow cooker with non-stick spray.
Add the hash browns, kielbasa, onion, and 2 cups of the cheese to the slow cooker and mix.
In a separate bowl, combine cream of chicken, milk, sour cream, salt and pepper.
Pour over hash brown mix and mix until incorporated.
Sprinkle remaining cheese over top.
Cook on LOW for 6 hours or on HIGH for 3-4 hours. It is done when your potatoes and onions have cooked through. *Do not overcook, or the hash browns will begin to fall apart.
Serve immediately.
Notes
Recipe provided by Make Your Meals
Nutrition Information:
Yield:
8
Amount Per Serving:
Calories:

691
Total Fat:

51g
Saturated Fat:

17g
Trans Fat:

1g
Unsaturated Fat:

30g
Cholesterol:

84mg
Sodium:

1709mg
Carbohydrates:

41g
Fiber:

3g
Sugar:

4g
Protein:

19g
Nutritional Information is to be used as a general guideline only . Nutritional calculations will vary from the types and brands of the products used.