You may not think about a biscuit breakfast casserole as a holiday meal or tradition, but it certainly has become that in my house.
Every Thanksgiving and Christmas morning I make something easy for breakfast so that I can enjoy quality time with my family.
The last thing that I want to be doing on a holiday morning is to spend extra time in the kitchen making eggs, bacon and pancakes that are cooked to order.
Instead, I would rather make one of my favorite breakfast casseroles, overnight monkey bread or even quick & easy Air Fryer Donuts made from biscuit dough.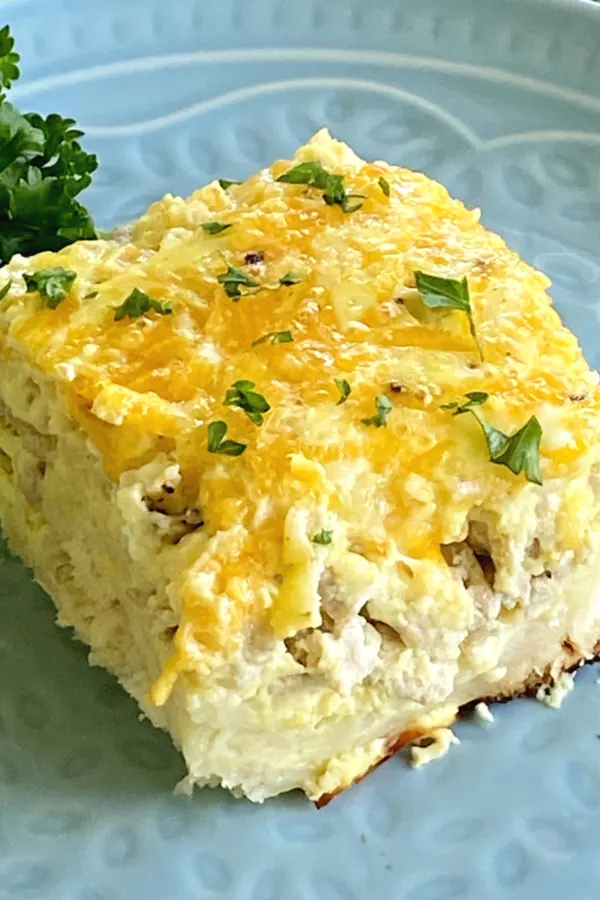 But ever since making this easy breakfast casserole, it has become one of the family favorites! Refrigerator biscuits that are topped with whisked eggs, sausage crumbles and cheese.
A breakfast recipe that takes only a few minutes to prepare and ready to eat in under 30 minutes! Best of all you can substitute your favorite breakfast toppings to please everyone in the family.
However, don't think of this recipe as solely a holiday tradition. It is so easy that it can be made on the weekends, or even on a busy weekday morning.
That is because this recipe can be made the night before. Simply prepare the recipe as instructed and cover and refrigerate it overnight.
Then when you wake up in the morning, place it in the oven and a hot and delicious breakfast will be ready to eat in just 25 minutes!
Biscuit Breakfast Casserole Recipe
INGREDIENTS REQUIRED
Tube Refrigerator Biscuits
Ground sausage, cooked
Eggs
Milk
Sharp cheddar cheese, shredded
Mozzarella cheese
Salt & pepper, to taste
MORE ABOUT THE INGREDIENTS AND POSSIBLE SUBSTITUTIONS
1. Refrigerator Biscuit Dough
You can find tubes of biscuit dough in the refrigerator section of the grocery store. They are often found alongside crescent roll dough and refrigerated cookie dough.
You will not need the large, grand size biscuits. Instead, purchase the regular size biscuits or a small pack of Grand biscuits that contain 5 biscuits.
However, if you need to feed more than 8 servings, go ahead and adjust the ingredients and use and entire tube of the large biscuits instead.
It doesn't matter what flavor of biscuits that you choose. I find the standard buttermilk biscuits work great in this recipe.
2. Cooked Ground Sausage
You can purchase pre-cooked ground sausage at the grocery store, both in pork and turkey sausage crumbles. However, I find it more economical to purchase ground sausage and cook my own.
Although this will add extra time to the prep time, I usually cook it a day or two ahead of time. Therefore, when it is time to assemble the Biscuit Breakfast Casserole I don't have any extra work to do.
If you can't have sausage or don't prefer the taste, feel free to substitute whatever breakfast meat that you prefer. Some common substitutions are diced ham, bacon, or diced chicken breakfast sausage.
And of course if you are vegetarian, you can leave the meat out all together or use plant based crumbles instead.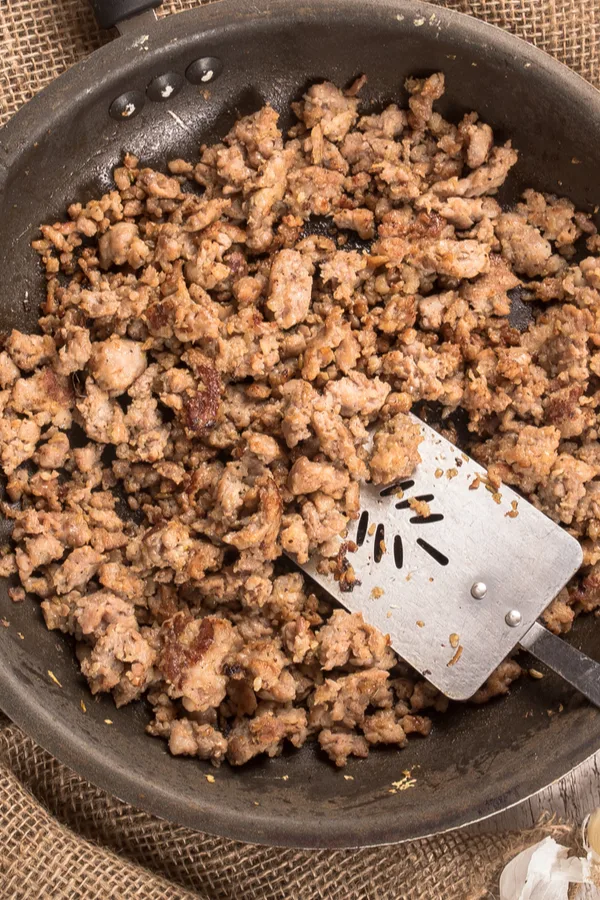 3. Eggs
It goes without saying that most breakfast casserole recipes contain eggs. This is even the case with my favorite French Toast Casserole and Cinnamon Roll Casserole recipes as well.
As a guideline, I use large eggs for all of my recipes unless it states differently. However, I prefer to use pasture raised, brown eggs whenever possible.
4. Milk
Choose whatever type of milk that you have on hand. Whole, 2% or even skim milk will work in this recipe. You can even use plant based milk as well.
However, be sure that the plant based milk is unsweetened.
5. Cheese
Although my favorite combination of cheese for this biscuit breakfast casserole recipe is sharp cheddar and Mozzarella cheese, you could substitute your favorite variety here as well.
Monterey Jack, Colby, and even Hot Pepper cheese will add great flavor to your breakfast casserole.
Although freshly grated cheese melts better, it is fine to use pre-shredded cheese when you are in a hurry. Just be aware that the cheese may not spread out as much and might be a little on the stringy side once baked.
But I am a realist. And on busy holiday mornings, who has time to grate your own cheese?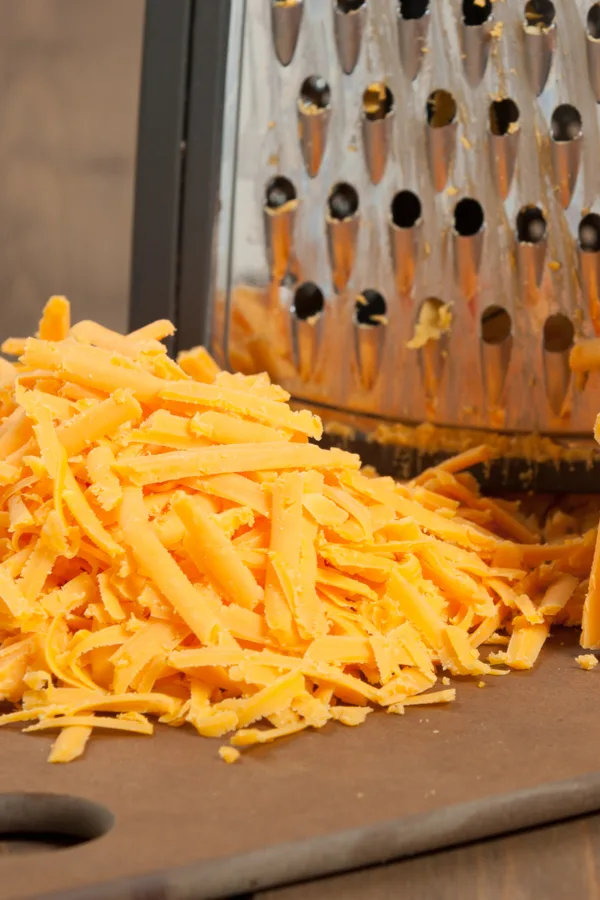 6. Salt & Pepper
Add as much salt and pepper that you would like. If you would like to add a little more flavor, throw in a pinch of cayenne pepper or hot pepper flakes.
Just a little bit will enhance the other flavor of the other ingredients without increasing the heat level. However, if you like things with a bit of spice, add a little extra.
7. Other Possible Ingredients
It is easy to customize this biscuit breakfast casserole with other ingredients as well. Although I tried to keep the recipe simple for a quick and easy to prepare meal, you can add in some of your other favorite omelet ingredients as well.
Here are some suggested ingredients: onions, peppers, mushrooms, and spinach. Not to mention the meat substitutions or additions as stated above.
And when the casserole is ready to be served, garnish it with optional toppings such as chopped parsley, salsa, green onions, or avocado slices.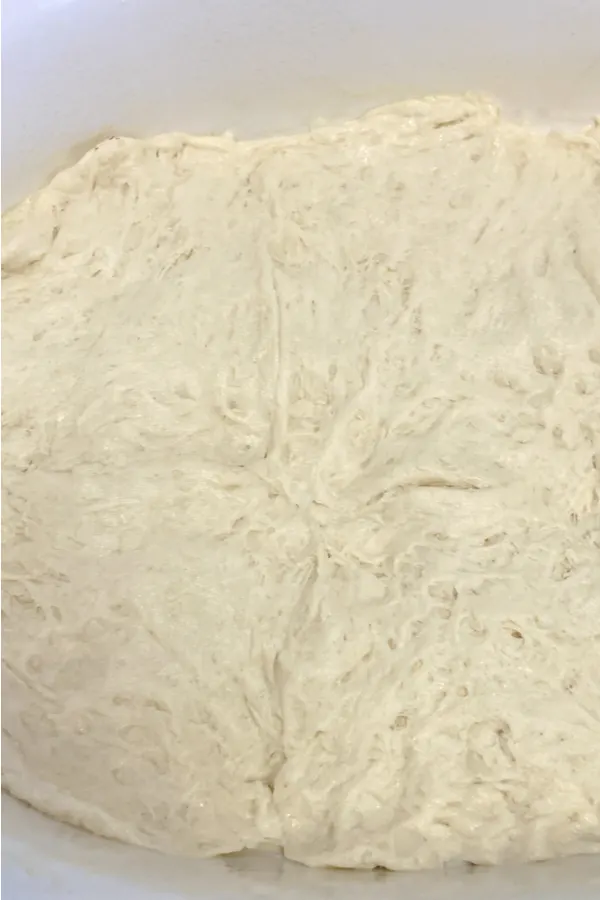 HOW TO MAKE THIS BISCUIT BREAKFAST CASSEROLE
The first step in making this delicious breakfast recipe is to preheat the oven and grease an 8 x 8 inch baking dish with non-stick spray.
Then open the can of biscuit dough and place them in the bottom of the pan. Firmly press the edges together to form the bottom crust.
Be careful that all the edges are sealed so that the egg mixture doesn't seep through to the bottom of the baking dish during the cooking process.
Once you have a complete layer of biscuit dough in the bottom of the pan, sprinkle the top of the biscuits with the cooked ground sausage, cheddar cheese and mozzarella cheese. Set the pan aside while you prepare the egg mixture.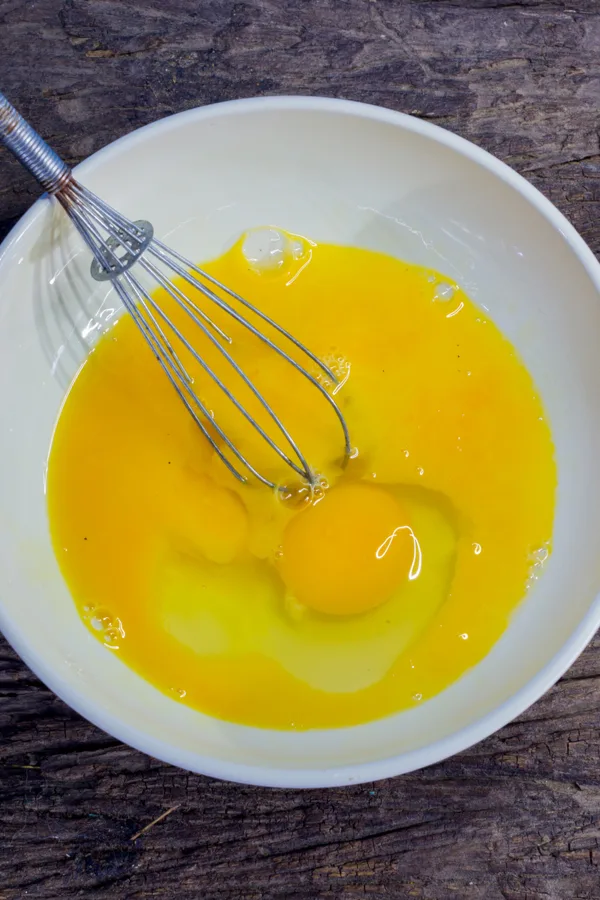 In a medium bowl whisk together the eggs, milk, salt and pepper until the yolks and egg whites can no longer be seen. Then carefully pour the egg mixture over the cheese, sausage and biscuits.
Overnight Casserole Instructions
*If you are making this the night before, cover and place in the refrigerator overnight. If you are using a glass baking dish, be sure to take it out of the refrigerator at least 20 minutes prior to baking so that the glass doesn't break when put in the oven.
However if you use a metal or aluminum pan, you can place the casserole in the oven right out of the refrigerator.
Follow the recommended cook time, however it may need a few extra minutes in the oven to become fully set.
Cook Time
Place the baking dish in the preheated oven and bake for 20-25 minutes or until the eggs are set. Then remove the baking dish from the oven and let it sit for 5 minutes before serving.
Slice the biscuit breakfast casserole into squares and serve warm.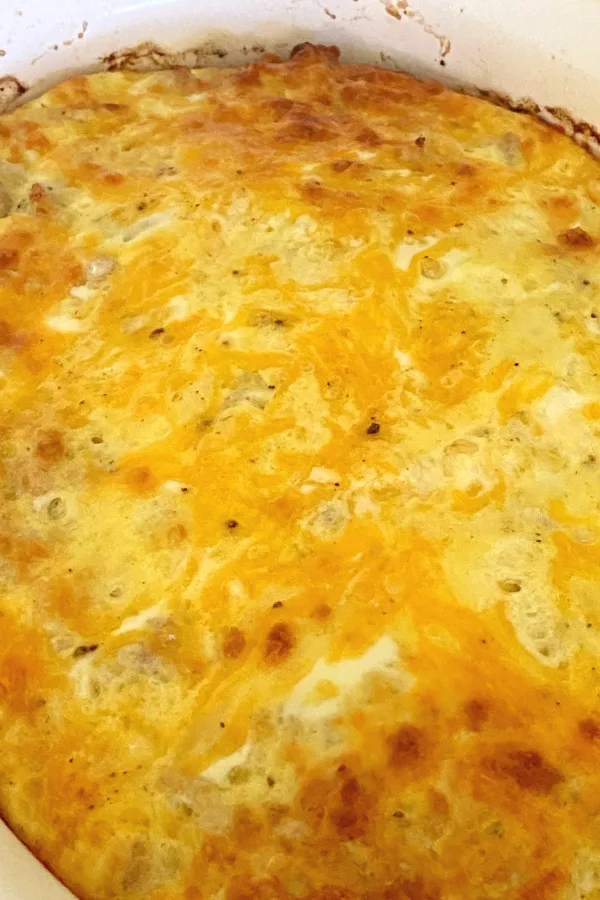 Enjoy! Mary
Other Breakfast Casserole Recipes That You May Enjoy

To receive our 3 Recipe Articles in your inbox each week, sign up for our free email list located in the middle of each recipe or email me at contact@makeyourmeals.com. You can also follow us on Facebook and Pinterest. This article may contain affiliate links where a small commission is paid if you purchase a product at no additional cost to you.
Yield: 8 servings
Biscuit Breakfast Casserole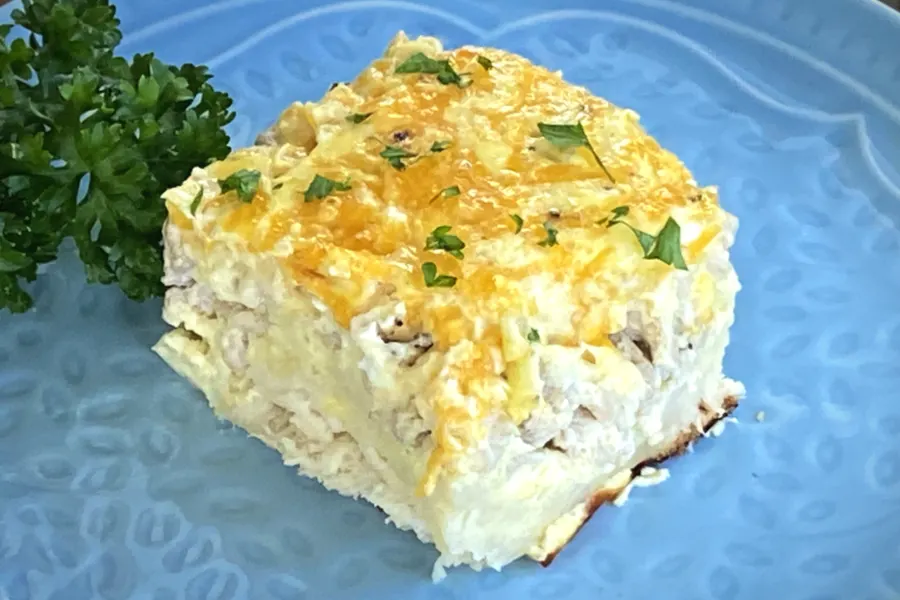 An easy to make breakfast casserole filled with biscuits, egg, cheese and sausage. Bake right away or make it an overnight casserole instead.
Ingredients
1 small package 10 biscuits
3/4 lb. ground sausage, cooked
5 eggs
2/3 cup milk
3/4 cup sharp cheddar cheese
3/4 cup Mozzarella cheese
salt & pepper, to taste
Instructions
Preheat oven to 425°F (218°C).

Line bottom of greased 8x8 inch baking dish with biscuit dough, firmly pressing to seal each one together, forming a biscuit crust.

Sprinkle the top of the biscuits with sausage, cheddar and mozzarella cheese.

Whisk together eggs, milk, salt and pepper in a medium bowl until and pour the mixture over the sausage and cheese.

Bake 20-25 minutes or until set. Let stand for 5 minutes before cutting into squares; serve warm.
Notes
To make this an overnight recipe prepare the casserole as instructed, then cover and place in the refrigerator overnight. Bake as instructed in the morning, allowing for 5 extra minutes for baking.
Recipe provided by Make Your Meals
Nutrition Information:
Yield:
8
Amount Per Serving:
Calories:

570
Total Fat:

37g
Saturated Fat:

14g
Trans Fat:

0g
Unsaturated Fat:

19g
Cholesterol:

175mg
Sodium:

1080mg
Carbohydrates:

36g
Fiber:

1g
Sugar:

3g
Protein:

22g
Nutritional Information is to be used as a general guideline only . Nutritional calculations will vary from the types and brands of the products used.