Now that Summer is officially here, it is the perfect time to make homemade lemonade!
I have wonderful memories of my childhood, making fresh lemonade for our lemonade stand.
Well, it wasn't actually a true lemonade stand. It was only a card table with a homemade "Fresh Lemonade" sign hanging down the front.
But it worked for us and we couldn't be more excited to make a few extra cents on a hot summer day!
Unfortunately, it was truly just a FEW cents. You see, we lived on a dead-end street with a total of 10 houses.
And of course, in the middle of the day, there wasn't much traffic going up and down the street.
The only people who came down the street were a few parents that came home for lunch that day. I think they felt sorry for us, so they would buy a glass of homemade lemonade before heading back to work.
As funny as it sounds, I was okay with that! That meant there were plenty of leftovers for us to have as we sat and waited in the hot sun.
There is just something so nostalgic about fresh, homemade lemonade. Most people don't bother making it themselves any more.
But every year for the summer holidays, I always make a big batch to share with family and friends.
It is now one of the most requested items for every picnic at our house.
This recipe requires an extra-large capacity pitcher. I sometimes I use a 2 gallon beverage dispenser for easy filling of the glasses.
And for another throwback recipe, how about making your own Bomb Popsicles or Homemade Ice Cream Sandwiches!
Check out the printable recipe below and all of our recipes and let me know what you think!
To receive our 3 Recipe Articles in your inbox each week, sign up for our free email list. You can also follow us on Facebook, Twitter, Pinterest, and Instagram. This article may contain affiliate links.
Homemade Lemonade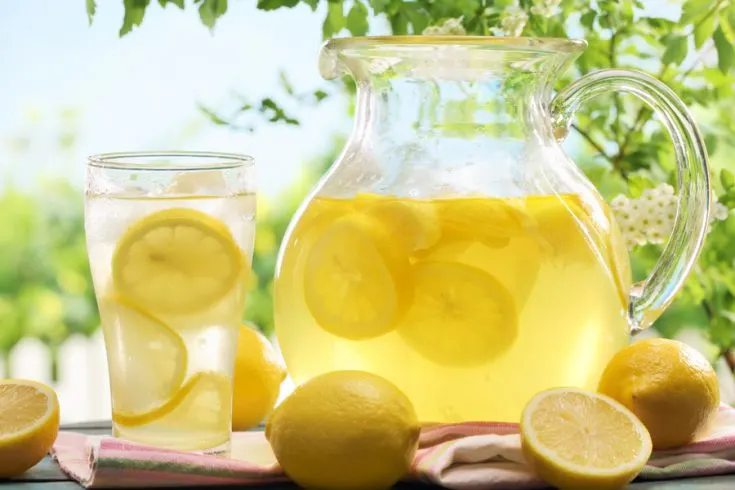 The BEST homemade lemonade recipe – perfect for a hot day!
Ingredients
2 cups sugar
2 cups water
1 gallon cold water
2 cups freshly squeezed lemon juice
1 lemon, sliced
Instructions
Add the sugar and 2 cups of water to a medium sauce pan. Bring to a boil over medium-low heat, stirring constantly until the sugar dissolves. Remove from heat and let it cool completely.
In a large pitcher, add the gallon of cold water and lemon juice. Stir in the simple syrup and lemon slices. Pour lemonade into glasses filled with ice.
Notes
Recipe provided by Make Your Meals
Nutrition Information:
Serving Size:
1 grams
Amount Per Serving:
Unsaturated Fat:

0g