What do you do when you have extra bananas and leftover pumpkin puree – Banana Pumpkin Ice Cream, of course!
I went to the grocery store this past week and like always, I picked up a bunch of organic bananas.
However, I didn't know that my husband also went to the grocery to pick up a few items as well.
Yes, you guessed it. He picked up a bunch of bananas too!
Because both bunches of bananas were more green than ripe, making banana bread was out of the question.
I could have thrown some bananas in a brown paper bag and speed up the ripening process, but I honestly didn't want all those extra bananas sitting around.
So I looked in my fridge to gain some inspiration on the banana dilemma.
I didn't have enough extra fruit to make a fruit salad. And I couldn't imagine a banana tomato combination that sounded delicious.
Then I saw a bunch of spinach and kale. Of course I could make a smoothie, but I just had one that morning.
Smoothies don't store well in the fridge or freezer so I knew that I would have to come up with another plan.
That is when I saw the leftover pumpkin puree in the fridge. I had just used my Instant Pot to turn a pie pumpkin into a puree earlier that week.
I used it for to make Pumpkin Cookies and my Instant Pot Pumpkin Cheesecake recipe but still had plenty left over.
That is when I knew that I had to make Banana Pumpkin Ice Cream.
I have used bananas in smoothies before, and because they turn out so creamy, I knew that they could be the cream base to my ice cream.
But in order to get it creamy and not mushy, I knew that I would have to freeze the bananas first.
*Be sure to slice your bananas thin before freezing. This will help the blender process them faster.
It only takes 1 minute and 20 seconds to make the ice cream, so you have to make all the ingredients work in your behalf.
In order for the pumpkin flavor to shine in the banana pumpkin ice cream, I decided to use pumpkin pie spice. Every Autumn I buy a jar of it, only for it to sit in my pantry from December to October untouched.
I am on a mission to use up whatever I can in my kitchen so this gave me a great excuse to use it.
And in order to sweeten the ice cream, I decided to use maple syrup. You could use any sweetener that you like.
I just happened to have the maple syrup handy and it pairs well with pumpkin and bananas.
Into the Instant Pot Ace Blender it went!
In 80 seconds, I had cold, soft serve ice cream. I prefer to have my ice cream in between hard and soft serve.
So I scooped out the ice cream out of the blender and into a freezer safe container.
It took my freezer about 3 hours to chill it to the consistency that I like. If you like your ice cream harder, then you will need to freeze it longer.
The longer that it freezes, the more difficult it will to scoop it out of the container. You may have to let it sit on the counter to warm up a little.
Check out the printable recipe below and all of our recipes and let me know what you think!
To receive our 3 Recipe Articles in your inbox each week, sign up for our free email list. You can also follow us
on Facebook, Twitter, Pinterest, and Instagram. This article may contain affiliate links.
Banana Pumpkin Ice Cream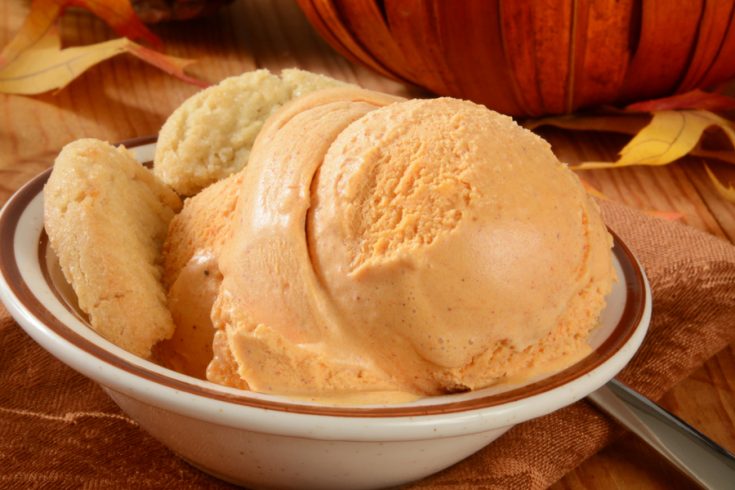 Creamy and delicious ice cream thickened with bananas and flavored with pumpkin, maple syrup and pumpkin pie spice.
Ingredients
1/3 cup maple syrup
1/4 cup milk
1 cup pumpkin puree
1 1/2 teaspoons pumpkin pie spice
4 unripe bananas, sliced in thin slices and frozen overnight
Instructions
Place items in the Instant Pot Blender in the order listed.
Push Ice Cream Button
Pour into a container, cover and freeze for 3 hours.
Notes
Recipe provided by Make Your Meals
Nutrition Information:
Serving Size:
1 grams
Amount Per Serving:
Unsaturated Fat:

0g