Is there ever a time when the thought of pumpkin cookies doesn't make you smile?
Okay, I know that the thought of taking a bite out of almost any cookie is enough to make you smile and your mouth water.
However, there is something special about taking a look at the dessert table and seeing an orange, round cookie topped with a smooth and creamy icing on top.
You automatically assume that it has to be a pumpkin cookie, as there is nothing that looks quite like them.
You pick it up, and can feel how soft and moist they are. And with just one bite, you are hooked!
The cookie melts in your mouth and the icing provides the perfect sweetness to the pumpkin flavor to make this cookie one of our favorites.
But honestly, Just like Christmas Cut-out cookies, we only see these cookies on trays or in the stores for about 3, maybe at the tops, 4 months out of the year.
I would imagine that is because everything pumpkin comes out as soon as the kids head back to school. Just look around you.
Every coffee shop is filled with a menu of pumpkin spice everything. Donuts, lattes, coffee, ice cream, and anything else that you can imagine.
And what about the home and garden stores. There are pumpkins lining every aisle and Halloween decorations, costumes, and candy on nearly every shelf.
And by the time that the New Year comes around, all thinks pumpkin, and definitely all things cream cheese have all been forgotten.
So for the last few months of the year, when the pie pumpkins are bountiful, we use them to make pumpkin cookies, pies, rolls, donuts, and even pumpkin cheesecake!
See: How To Use A Pie Pumpkin To Make Pumpkin Puree
See: Pumpkin Cheesecake Recipe
What Your Need To Know About Making Pumpkin Cookies
There are a few things to consider to make these bakery quality pumpkin cookies.
First of all, it is important that you use pumpkin puree, and not pumpkin pie filling. The cans in the store are typically right next to each other. Therefore, be sure to take a second look to make sure you purchase the correct one.
And not all pumpkin puree brands have the same quality of puree. The non-brand versions typically contain more water than the name brand products.
I would suggest using a known brand such as Libby, if possible. However, if you do use a generic brand, just drain some of the water out of the puree before using it in this recipe.
Dump the contents of the can into a fine mesh strainer lined with a cheesecloth and let drain for at least an hour before using.
1 CUP, not 1 can of puree is required
Please read the recipe carefully. In order to make pumpkin cookies, only 1 cup of puree is required, not 1 can.
Measure out what is needed and store the remaining puree in an air-tight container for your next pumpkin recipe.
This is why we prefer to make our own pumpkin puree. We store 1 cup portions in the freezer, and pull them out when needed.
There is no pressure to make another pumpkin recipe right away, and we never have to run to the store to grab a can of puree.
Check out the printable recipe below and all of our recipes and let me know what you think!
To receive our 3 Recipe Articles in your inbox each week, sign up for our free email list. You can also follow us
on Facebook, Twitter, Pinterest, and Instagram. This article may contain affiliate links.
Classic Pumpkin Cookies With Cream Cheese Icing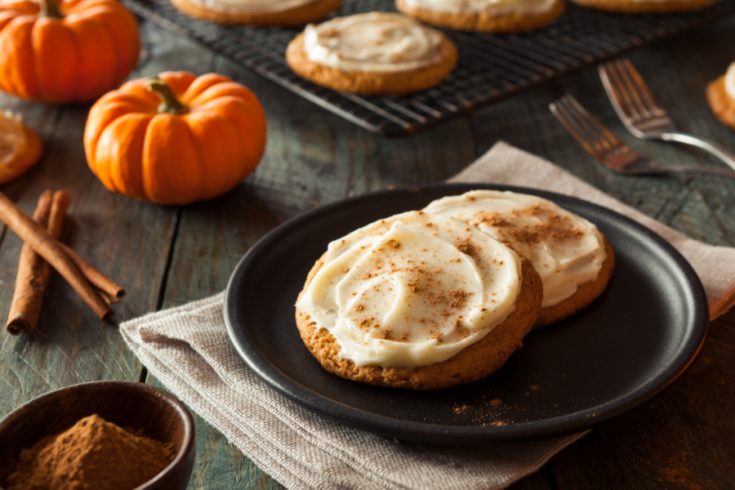 Soft and moist pumpkin cookies with a delicious cream cheese icing. A special treat any time of the year!
Cookie
Ingredients
2 1/2 cups all-purpose flour
1 teaspoon baking powder
1 teaspoon baking soda
2 teaspoons ground cinnamon
1 1/2 teaspoons pumpkin pie spice
3/4 cup granulated white sugar
3/4 cup light brown sugar, lightly packed
1/2 teaspoon salt
1/2 cup unsalted butter, room temperature, 8 tablespoons
1 cup canned pumpkin puree
1 large egg
1 teaspoon vanilla extract
Cream Cheese Frosting
4 ounces block cream cheese, softened
4 tablespoons unsalted butter, softened
2 cups powdered sugar
1 teaspoon vanilla extract
Pinch of salt
Instructions
Preheat oven to 350 degrees F.
Prepare a large baking sheet by lining the bottom with parchment paper.
In a large mixing bowl add flour, baking soda, baking powder, cinnamon, pumpkin pie spice, and salt. Whisk to combine until well incorporated and set aside.
In a medium mixing bowl add the butter, white sugar, and brown sugar. Mix until creamy.
Add pumpkin, egg, and vanilla to the butter/sugar mixture and continue to beat until the mixture is creamy.
Slowly add in the dry ingredients and mix just until combined. Do not over mix.
Place a heaping tablespoon of the batter on the prepared baking sheet and flatten the top of the dough slightly.
Bake for 10-12 minutes, watching carefully, to avoid over-baking. The tops should be soft and look a little under-cooked but the tops should not be shiny. Remove the pan from the oven and let the cookies sit 4-5 minutes before moving to a cooling rack.
Prepare the Frosting
In a stand mixer with the whisk attachment, beat the room temperature cream cheese and butter together on medium-high speed until creamy. Add in the powdered sugar, salt, and vanilla. Beat until combined and creamy. Do not overmix.
Once the cookies are completely cooled, frost the top of each cookie.
Store cookies on plates loosely covered in plastic wrap or foil and place in the refrigerator. on plates loosely covered with foil in the fridge for up to 4 days.
Notes
Cookies can be frozen before they have been iced for up to 3 months. Recipe provided by Make Your Meals.
Nutrition Information:
Serving Size:
1 grams
Amount Per Serving:
Unsaturated Fat:

0g