Over the last couple of years, I have attempted to make Air Fryer Potato Chips a handful of times.
And until recently, the results were less than desirable. In fact, they were awful.
They almost always turned out with the edges burnt and the center underdone. So every time that you would take a bite, you first get the taste of a burnt chip, followed by a soft and chewy center.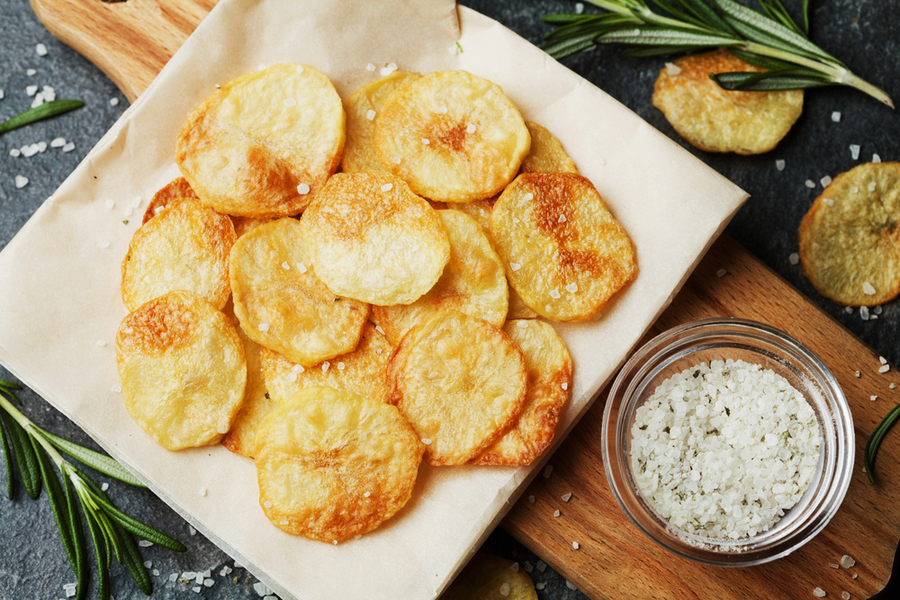 This was definitely not the results that I was hoping for! I couldn't understand why I couldn't make the chips nice and crispy and evenly cooked.
So I began to experiment with different methods of making Air Fryer Potato Chips.
And FINALLY, yes, finally, I have figured out the secrets to making crisp, homemade potato chips! And be sure to serve your chips with Dill Pickle Dip for a real treat!
The Secrets to Making Air Fryer Potato Chips
First of all, just like when making Air Fryer French Fries, it is best to use Russet or Idaho Potatoes when making potato chips.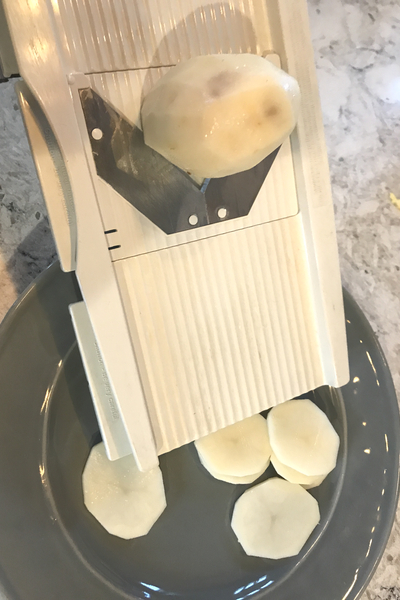 These varieties have a higher starch to water ratio and will crisp up much better than other potatoes.
And beyond popular belief, the potato chips cook much better when they are peeled. Although I have seen several recipes where the recommendation is to leave the peels on, I have found that removing them produces much more consistent results.
Once you have peeled your potatoes, it is time to slice them into thin slices. Use a mandoline to cut your potatoes into even slices, about the thickness of a dime.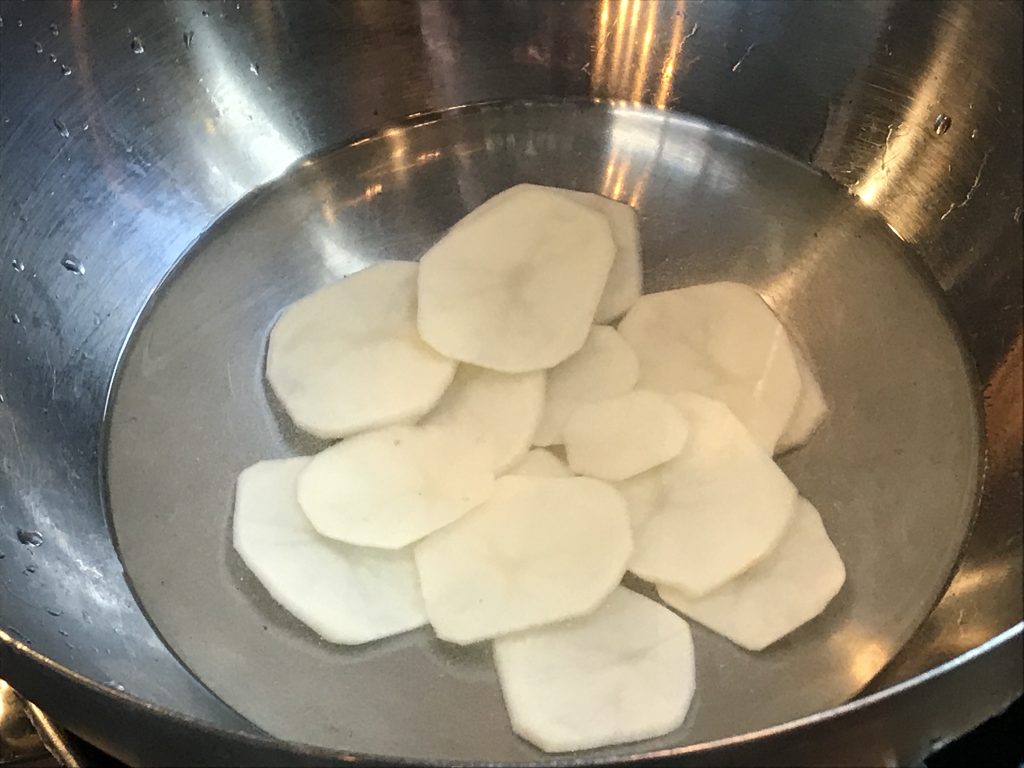 If you have a slicer with both the v-cut and the adjustable slanted blade, choose the slanted blade. Just be sure to position the blade to cut in the thinnest position possible.
Next, rinse your potato slices to help remove the starches on the surface. Then cover the potatoes with cold water and let them soak for at least 30 minutes.
After the potatoes are done soaking, rinse them a couple of more times to remove the starches.
Then place them on a paper towel to dry. First, blot the potato slices and then place on another dry paper towel for at least 10-15 minutes to allow them to dry completely.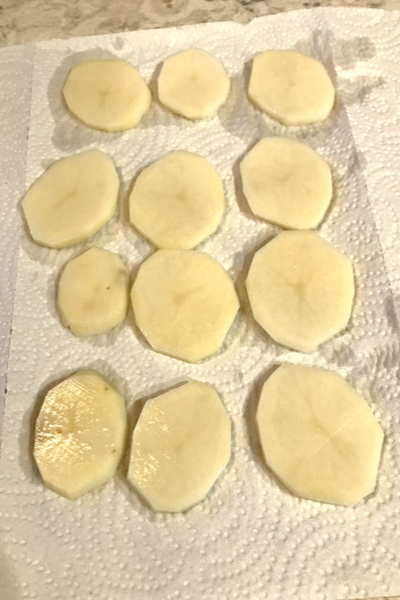 Cooking Instructions
Right before you are ready to cook your potato chips, preheat the air fryer for 3 minutes at 300°F.
Next, spray your potato slices with oil on both sides and place in the basket.
Although it is always best to cook in single layers, you can stack the potato slices in 2 layers.
Cook at the low temperature of 300°F for 8 minutes and then shake and/or flip the potatoes.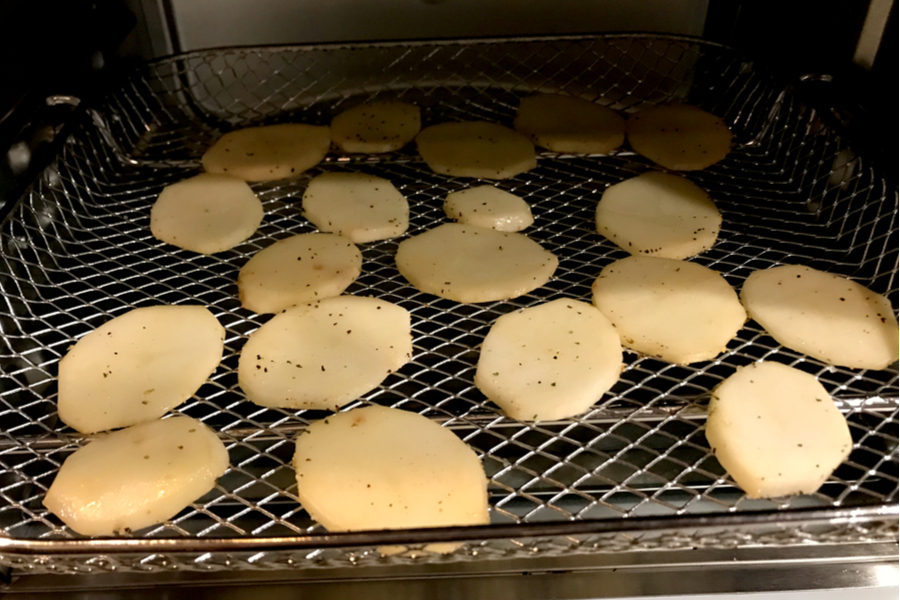 Continue to cook at that temperature for an additional 8 minutes. The low temperature will help dry out your potato chips while they are in the Air Fryer without burning them.
Once the initial 16 minutes of cooking time is up, increase the temperature to 400°F. It is now time for the chips to become nice and crisp.
Cook for approximately 5-7 minutes, checking them frequently to prevent the thinner potatoes from burning.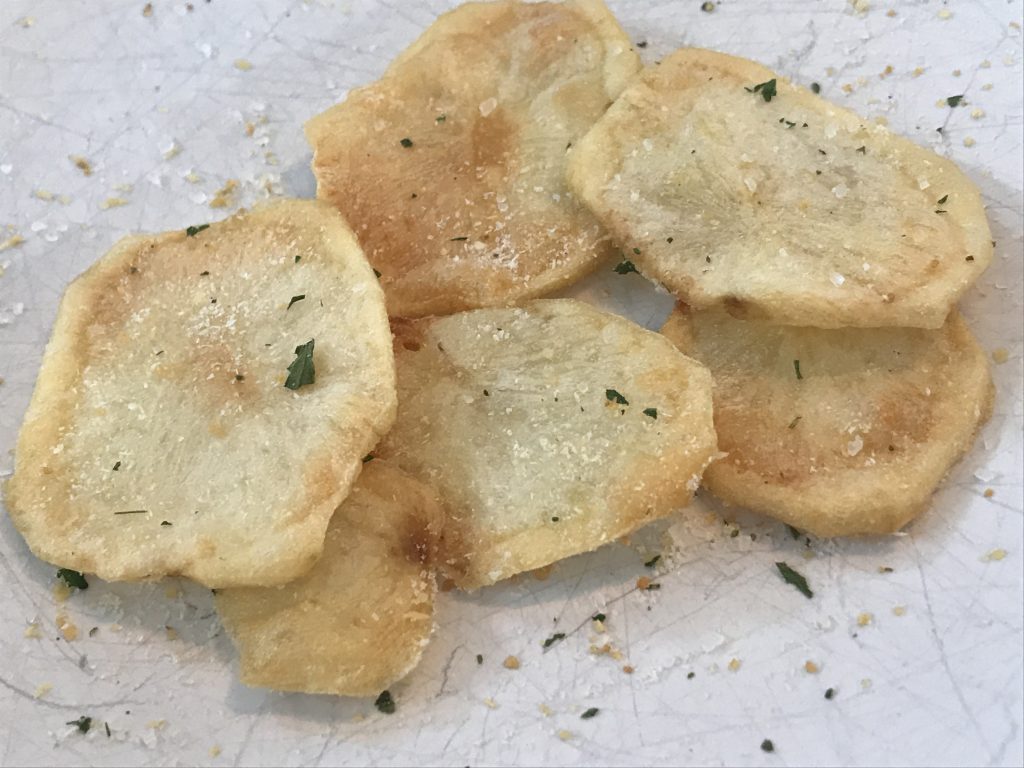 Remove any potato chips from the air fryer that are crispy throughout, and allow the remaining chips to cook until the centers are just as crisp as the outside edges.
We love our Emeril Lagasse's 360 Power Air Fryer XL because it has a glass window. This makes it extremely easy to monitor the status of your potato chips without opening the basket frequently.
Once the potato chips are removed from the Air Fryer, sprinkle with your favorite seasonings!

To receive our 3 Recipe Articles in your inbox each week, sign up for our free email list located in the middle of each recipe or email me at contact@makeyourmeals.com. You can also follow us on Facebook and Pinterest. This article may contain affiliate links where a small commission is paid if you purchase a product at no additional cost to you.
Yield: 2
Air Fryer Potato Chips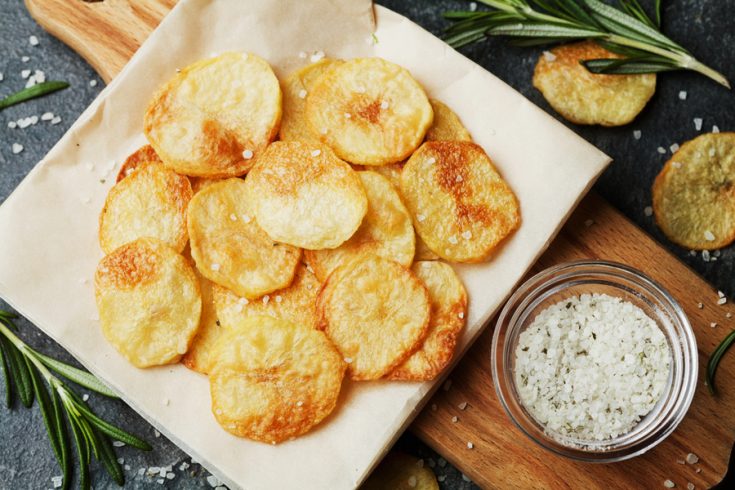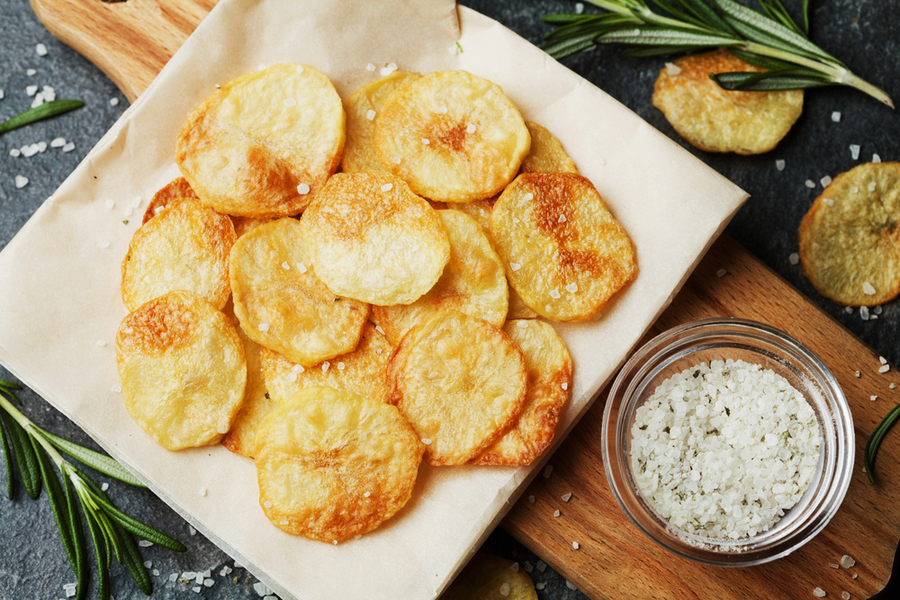 How to make homemade potato chips that are nice and crispy throughout.
Ingredients
1 medium Russet potato
cooking spray
salt and/or seasoning to taste
Instructions
Wash the potato and peel the skin.
Slice the potato into 1/8 inch thick rounds using a mandolin slicer or a sharp knife.
In a large bowl, soak the potato slices in cold water for at least 30 minutes. Drain and rinse 2-3 times to remove the any remaining starch.
On a flat surface, place a layer of paper towel, and then place the potato slices on top in one single layer. Add another layer of paper towel to dry the potato slices. Then move to a dry paper towel and let them sit for 10-15 minutes until the slices are completely dry.
Preheat the air fryer to 300°F for at least 3 minutes.
Spray cooking spray on both sides of the potato slices. Add the potato slices to the air fryer basket, spreading out evenly. Cooking in a single layer is ideal, however, do not add more than 1 sliced potato in the basket at one time.
Air Fry for 16 minutes, shaking the basket and separating any stuck chips half way through the cooking time.
At the end of the cooking time, shake again and then increase the temperature to 400°F, and set the timer to 5 minutes. Watch very closely, and check every 2 minutes. Remove any chips that are crispy and golden and cooked through the center. Place any remaining chips with soft centers back in the air fryer and cook in increments of 2 more minutes until crisp.
Immediately sprinkle with salt or seasoning of choice and serve.
Notes
Recipe provided by Make Your Meals
Nutrition Information:
Yield:
2
Serving Size:
1 grams
Amount Per Serving:
Unsaturated Fat:

0g