Philly Cheesesteak Stuffed Peppers are a terrific alternative to traditional Philly cheesesteak or Chicken Philly sandwiches.
When trying to lose weight and eat healthier, most people try to eliminate carbohydrates including bread and pasta products.
While at first it is easy to eat meat and veggies for every meal, by week 3 you are most likely searching for a little variety in your diet.
This is typically when I crave sandwiches, subs, or anything with bread.
Don't give in – go for Philly Cheesesteak Stuffed Peppers instead.
Ditch the bread and layer tender bits of steak, onions and mushrooms right in the center of a sliced bell pepper. Of course don't forget to add the classic thick and gooey slices of provolone cheese that will encompass the mouth-watering meat mixture.
You get all of the flavor of a traditional Philly cheesesteak without the guilt of eating a thick sub bun.
The details…..
In order to make the peppers tender and easy to slice, bake them in the oven for 20-30 minutes until they can easily be pierced with a fork.
In the meantime, slice the sirloin steak, across the grain, into nice and thin slices. These thin slices will not only make it easy to chew, but it will also decrease the cooking time to mere minutes.
I prefer to saute my onions and peppers in a little bit of butter to give it an additional layer of flavor. However, you can omit this step if you prefer and saute them in the leftover oil and juices that are in the skillet.
Before you assemble the Philly Cheesesteak Stuffed Peppers, remove the juices from the inside of the peppers. You can dump the juices out of each pepper boat, or take a paper towel and soak up the juices.
Place a slice of the provolone cheese in the center of the pepper, add meat mixture and top with another slice of cheese. It is a CHEESE steak…..
Broil until the cheese is melted.
And if you have that certain someone in the house that continues to eat bread, you can always place the meat mixture and cheese in a sub bun and broil it along with your stuffed peppers.
Check out the recipe below and let me know what you think!
To receive our 3 Recipe Articles in your inbox each week, sign up for our free email list.
You can also follow us on Facebook, Twitter, Pinterest, and Instagram. This article may contain affiliate links.
Philly Cheesesteak Stuffed Peppers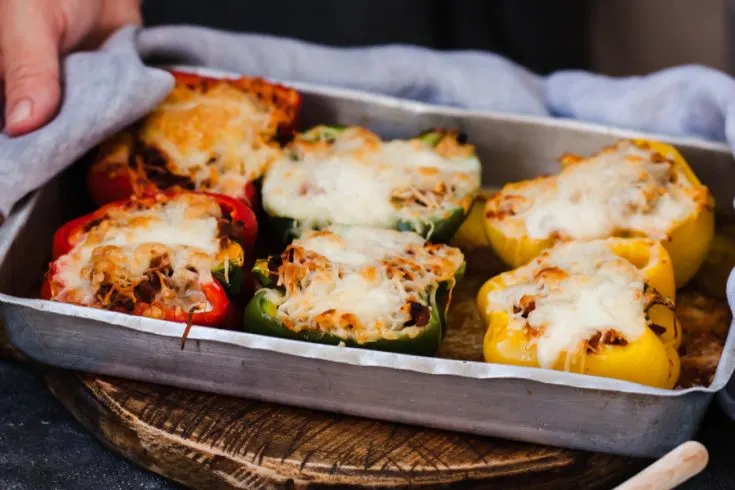 A healthier twist on traditional Philly Cheesesteak sandwiches. Get all the flavor without the carbs!
Ingredients
4 bell peppers, halved
1 TBSP olive oil
1 1/2 lb. sirloin steak, thinly sliced
1 TBSP butter
1 large onion, sliced
16 oz. Crimini mushrooms
1/2 tsp kosher salt
1/2 tsp ground black pepper
16 slices provolone cheese
Instructions
Preheat oven to 325º.
Slice each pepper in half so that you have two boats. Remove seeds and ribs.
Place peppers in a large baking dish and bake until tender, 20-30 minutes.
In a large skillet over medium heat, heat oil. Add steak and cook about 1 minute per side. Remove from skillet and set aside.
Melt the butter in the skillet over medium heat.
Add onions and mushrooms to the hot skillet and season with salt and pepper to taste. Cook for 5 minutes until softened.
Return steak to skillet with onions and mushrooms and stir to combine.
Pour out any liquids that are in the peppers.
Place one slice of provolone in the bottom of each pepper half and top with steak mixture. Top with another piece of provolone.
Broil in the oven for 3-5 minutes or until the cheese is melted.
Notes
Recipe provided by Make Your Meals
Nutrition Information:
Serving Size:
1 grams
Amount Per Serving:
Unsaturated Fat:

0g