One of our favorite special occasion meals is Pan Seared Sea Scallops.
No, this isn't a dish that you would make weekly. But it is an amazing, easy to make meal that is perfect for a special occasion.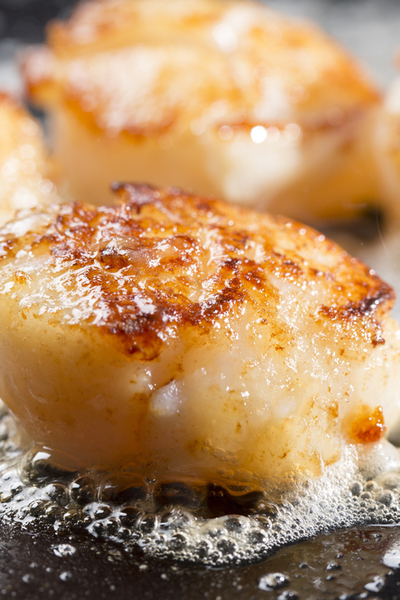 I first had sea scallops at a benefit auction dinner. I fell in love with them right there.
They were tender, juicy, and drizzled with an herb butter glaze.
Served with garlic mashed potatoes and grilled asparagus, I felt that I just had a meal that was made for a king (or queen in my case).
I knew that this was something that I wanted more often!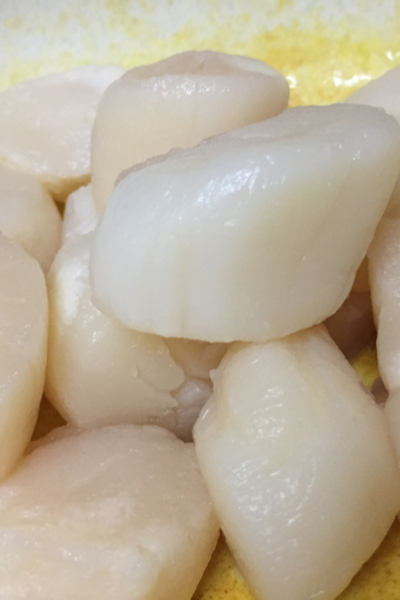 That was until I saw the price of the scallops in the grocery store. WOW! I had pure sticker shock!
I put buying them in the store on hold and embraced the memories of the perfect pan seared sea scallops that I had at the auction.
Perfectly Cooked Pan Seared Sea Scallops
So the next opportunity that I had to order them at a restaurant, I jumped at the chance.
Unfortunately, the experience wasn't the same.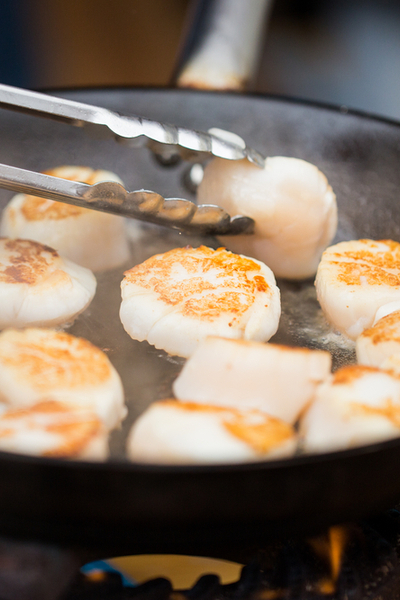 The pan seared sea scallops that I ordered off the menu were chewy and dry.
I was in disbelief. How could something that I once fell in love with turn out so bland and awful?
So I turned to one of my chef mentors to help me out.
She explained to me that many people overcook the scallops, which results in a tough to chew texture.
Being familiar with cooking different types of fish in general, I knew exactly what she meant.
I have been making salmon for years, and the key to making them perfect is to cook the filets just to the point of being done so they remain light and flaky.
The same principles apply pan seared sea scallops. Although sea scallops are quite thick in nature, the cooking time only takes minutes.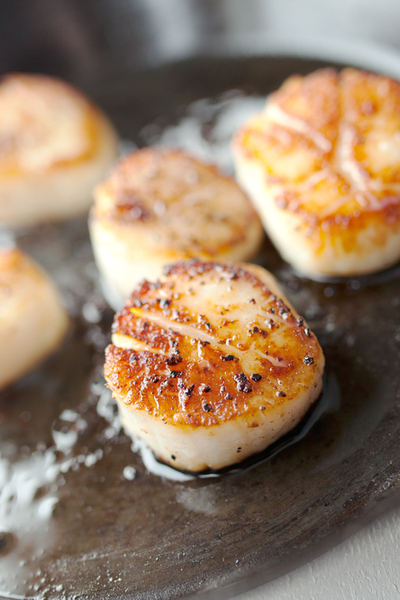 Once you place them in a scorching hot skillet, all that needs to be done is to brown each side and they are cooked to perfection.
We prefer to use our cast iron skillet, but any non-stick skillet will work.
Sound too easy? It really is that simple.
Scallops cook up perfectly when placed in high heat with a fat such as oil or butter for a short period of time.
Because this cooking time is so minimal, we prefer to use both oil and butter to maximize the flavor that the exterior of the pan seared sea scallops can absorb.
Herb Butter Glaze
To make this dish even more flavorful we have added a herb butter glaze to be drizzled over top of the scallops after they have been cooked.
This not only adds another layer of flavor, but it also brightens up the pan seared sea scallops into something outstanding!
Plus, the extra heat from the glaze keeps the scallops warm until ready to be served!
To receive our 3 Recipe Articles in your inbox each week, sign up for our free email list located on the side and bottom of each recipe. You can also follow us on Facebook and Pinterest. This article may contain affiliate links where a small commission is paid if you purchase a product at no additional cost to you.
Yield: 4 people
Pan Seared Scallops with Herb Butter Sauce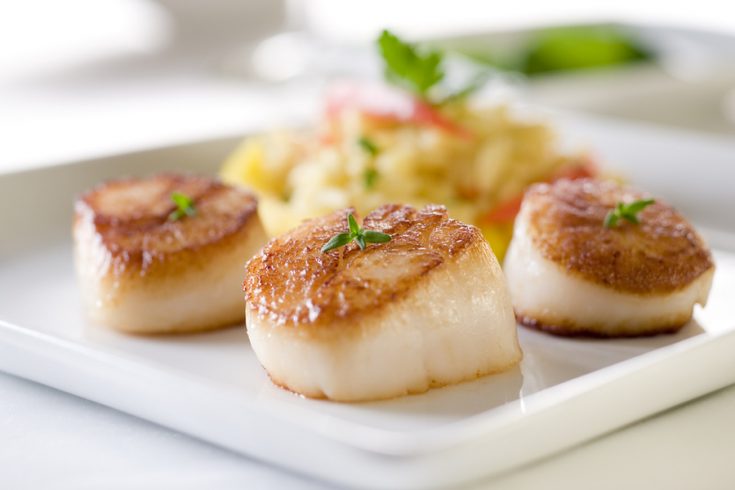 Delicate and easy to make pan seared scallops drizzled with a delicious and mouth wearing herb butter sauce.
Ingredients
1 stick unsalted butter, softened, 4 oz
2 Garlic Cloves, minced
1/2 shallot, finely diced
1/2 lemon, zested and juiced
1 teaspoon of chopped fresh parsley
1 teaspoon of chopped fresh thyme
1 teaspoon of chopped fresh chives
3 Tablespoons white wine
Kosher salt and black pepper to taste
1 tablespoon olive oil
1 lb. sea scallops
Instructions
Cut off 1 tablespoon of butter and set aside.
In a medium size bowl whisk together the remaining butter, garlic, shallot, lemon zest, lemon juice, parsley, thyme, chives, and salt and pepper until well combined and set aside.
Season the scallops on both sides with salt and pepper.
Heat 1 tablespoon of olive oil in a sauté pan over high heat until it begins to lightly smoke. Add in the scallops and turn the heat down to medium-high.
Immediately add in the 1 tablespoon of butter to brown the scallops
After 2 to 3 minutes turn the scallops over making sure that the bottoms are golden brown.
Cook the scallops for another 2 to 3 minutes or until the internal temperature is between 115-120 degrees F. Once removed from the pan the cooking process will continue for a final temperature of 125-130 degrees F.
Remove the scallops and set aside.
Deglaze the pan with the white wine and cook over medium heat until it is almost evaporated.
Add in butter mixture and whisk until melted.
Drizzle the butter over the scallops and serve.
Garnish with grated Parmesan cheese (optional)
Notes
Recipe provided by Make Your Meals
Nutrition Information:
Yield:
4
Serving Size:
1 grams
Amount Per Serving:
Unsaturated Fat:

0g