This Overnight Pickles Recipe is a quick and easy way to make crunchy pickles that requires no special canning equipment.
And with only 3 ingredients you can make them in just a few minutes. However, you will have to wait to eat them until the next day. But that is much better than traditional pickle recipes which require 2 weeks before you can take the first bite.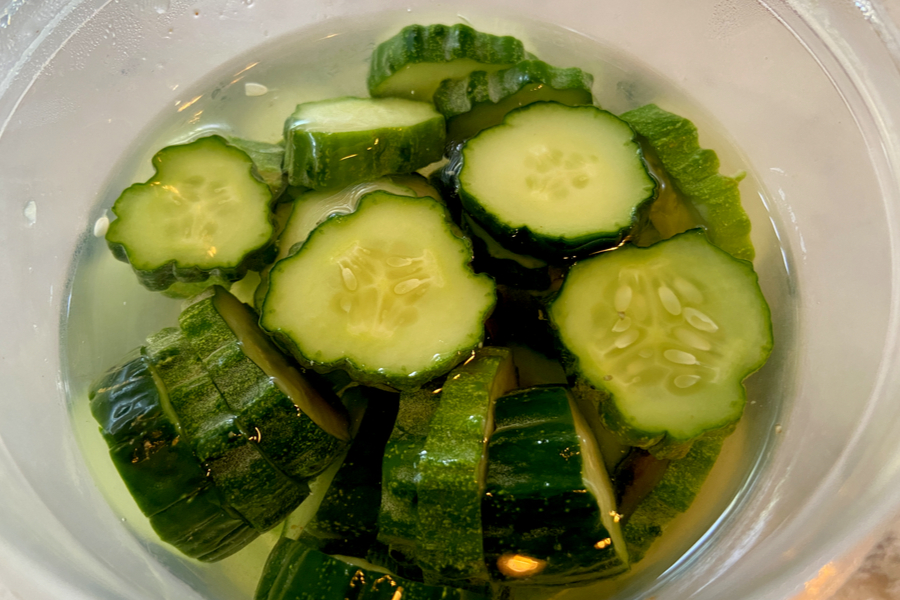 However, there is one thing you must understand about these overnight pickles. They aren't the soft and flimsy pickles that you put on hamburgers.
Instead, they are firm, crunchy and are best used as snack or addition to a vegetable tray. And if you have ever been to Ted's Montana Grill, you will know exactly what I am talking about.
This famous restaurant serves complimentary pickles while you wait for your meal to arrive. As soon as you take the first bite you will be addicted and asking for more!
They are super crunchy and they are flavored with a hint of salt and garlic. And if you like a little heat, be sure to add a few red pepper flakes to kick things up a notch.
How to Make Overnight Pickles
Just like any pickle recipe, you must start out with fresh cucumbers. And it is best to use pickling cucumbers whenever possible.
Pickling cucumbers are much smaller and thinner than standard salad cucumbers. They have a thicker skin and a smaller seed core which allows the overnight pickles to remain nice and crisp.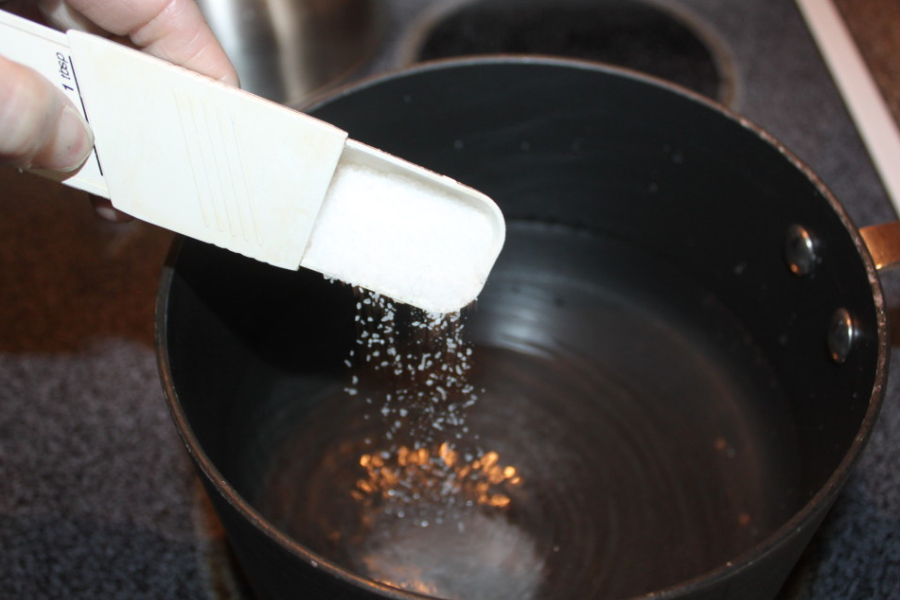 Clean the cucumbers and cut the end off each side. Be sure to discard the ends and not use them for pickling. Cut the pickles into bite size chunks or slices.
If we are making them for a vegetable tray, I prefer to use a crinkle cutter to make them look extra pretty. But typically I just cut them into chunks when I am making them for the family to enjoy as a snack.
Next, in a medium saucepan add the water and salt and heat just until the salt dissolves. Be sure to use pickling salt or non-iodized Kosher salt. Iodized salt contains other various forms of iodine which will may make the pickles soggy.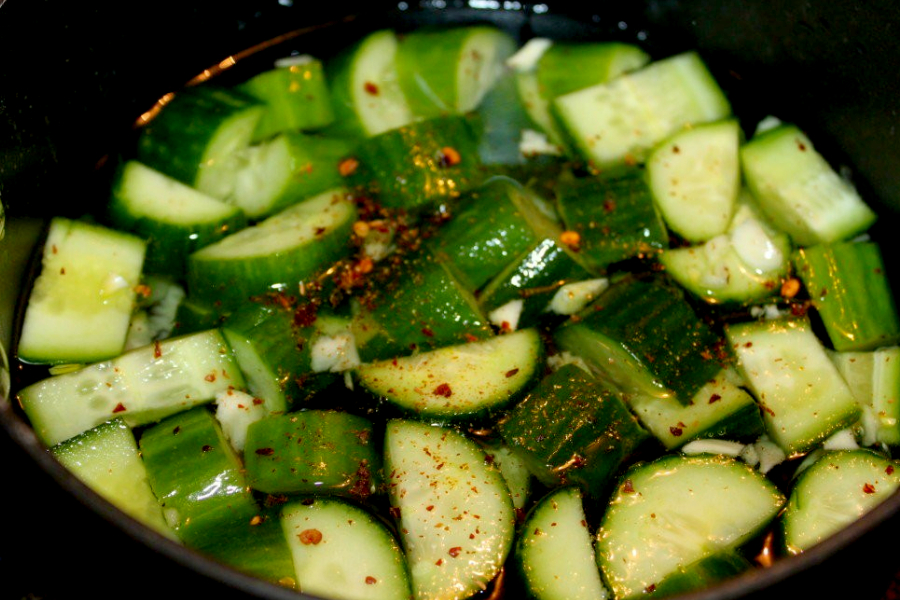 If you want your overnight pickles to have a little heat, add the red pepper flakes to the brine while the salt dissolves.
Once the salt has dissolved remove the saucepan from the heat and add the cucumber chunks and garlic to the water.
Submerge the Cucumbers
Then transfer the mixture to a bowl, mason jar, or cylindrical container. Place a small bowl or plate on top of the mixture so that the cucumbers are submerged in the brine.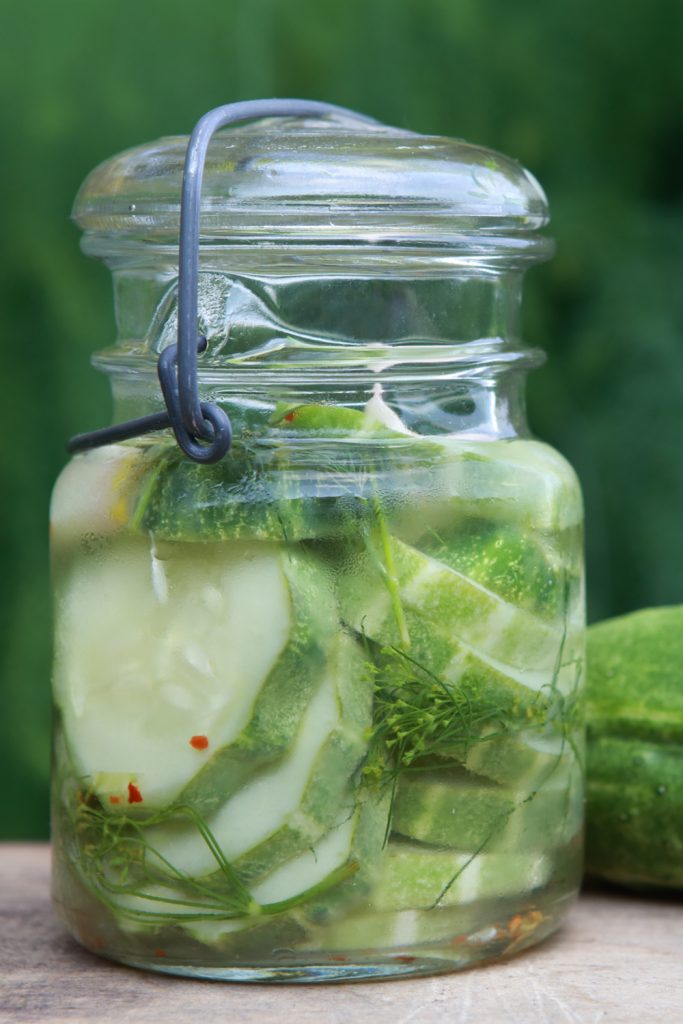 Refrigerate overnight before enjoying your Overnight Pickles!
If you are looking for other recipes for your garden fresh cucumbers, be sure to check out our favorite Cucumber, Onion & Tomato Salad recipe!

To receive our 3 Recipe Articles in your inbox each week, sign up for our free email list located in the middle of each recipe or email me at contact@makeyourmeals.com. You can also follow us on Facebook and Pinterest. This article may contain affiliate links where a small commission is paid if you purchase a product at no additional cost to you.
Overnight Pickles Recipe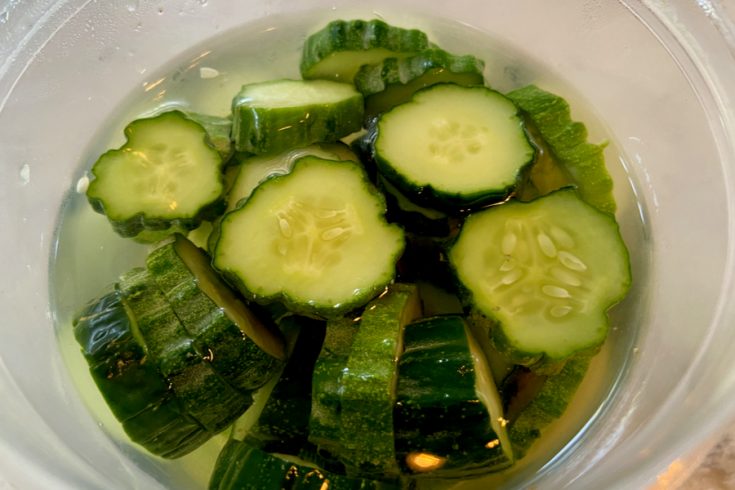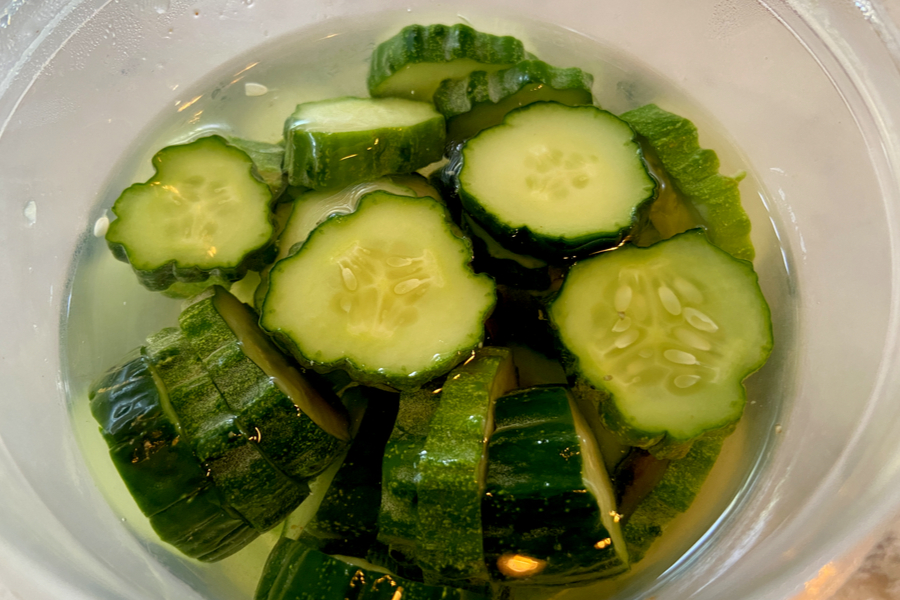 A quick and easy way to make crunchy pickles that requires no special canning equipment. Great to serve as a stand alone snack or use as a condiment.
Ingredients
5 small pickling cucumbers
1 quart of water
2 tablespoons of pickling or non-iodized Kosher salt
4 cloves of garlic
Instructions
Place water and salt in a medium sauce pan. Heat on medium low heat just until the salt has dissolved.
Slice cucumbers to your desired length and crush and roughly chop the garlic.
Add cucumbers, garlic and red pepper flakes (optional) to the water and remove from the heat.
Transfer mixture to a bowl or jar. *You want the pickles to be emerged in the water. You will need to place something on top of the mixture to prevent the cucumbers from surfacing to the top.
Place in the refrigerator and let it sit overnight.
Notes
*When the pickles are gone, add fresh, chopped cucumbers to the brine and let sit overnight. Recipe provided by Make Your Meals
Nutrition Information:
Serving Size:
1 grams
Amount Per Serving:
Unsaturated Fat:

0g