Crab cakes are defined as patties composed of crab meat mixed with mayonnaise, spices, a variety of vegetables that are held together with egg and bread crumbs. They are cooked and served as an appetizer or as the main dish.
Different varieties of crab cakes can be found throughout the country, however, in my opinion, the absolute best is Maryland Crab Cakes.
Be aware though, there are many variations in ingredients, even within the state, on what makes up a true Maryland crab cake.
Some insist that the you must use green peppers and onions to make the traditional dish. Others use celery and parsley, and some recipes include no vegetables at all!
However, everyone is in agreement that a true Maryland crab cake must include two critical ingredients: Old Bay Seasoning and lump crab meat.
The Cooking Process…..
Just like there has been controversy in the ingredients, the cooking process is debated as well.
Crab cakes can be baked, fried or broiled. There are some stout natives that will insist that broiling is the traditional method of cooking.
However, my preferred method of cooking is on the stovetop with a little bit of olive oil.
Whatever way that you choose to cook your crab cakes, make sure to refrigerate them for at least an hour before cooking so that they can bind together properly. This will help prevent the patties from falling apart when cooking.
Serve with a horseradish sauce for a tangy kick or a simple mixture of mayonnaise, sour cream and sriracha sauce.
Check out the recipe below and our other recipes and let me know what you think!
To receive our 3 Recipe Articles in your inbox each week, sign up for our free email list.
You can also follow us on Facebook, Twitter, Pinterest, and Instagram. This article may contain affiliate links.
Maryland Crab Cakes Recipe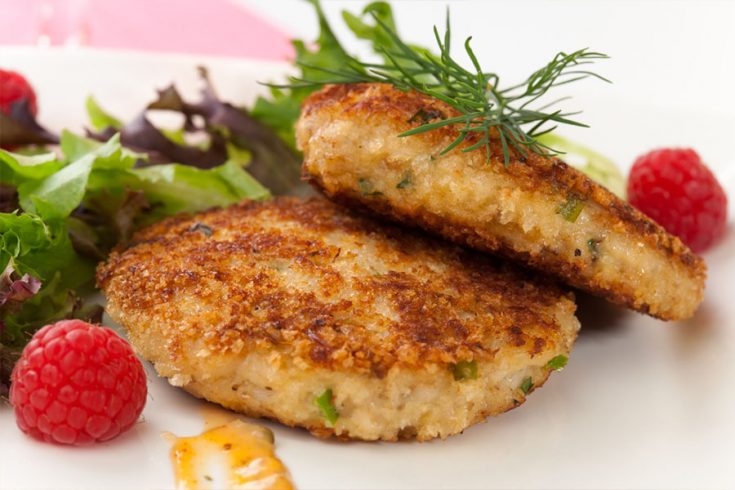 Classic crab cakes seasoned with Old Bay Seasoning with a light and tasty filling. Perfect for that special occasion.
Ingredients
2 1/2 tablespoons mayonnaise
1 1/2 teaspoons Dijon mustard
1 teaspoon Worcestershire sauce
1 teaspoon Old Bay seasoning
1/4 teaspoon salt
1 stalk of celery, finely diced
2 tablespoons fresh parsley, finely chopped
2 large eggs
1 pound blue crab meat
3/4 cup panko bread crumbs
olive oil
Instructions
Line a baking sheet with parchment paper.
In a large bowl combine the mayonnaise, Dijon mustard, Worcestershire sauce, Old Bay seasoning, salt, celery, parsley and eggs. Mix well.
Add the crab meat and ½ cup of the panko breadcrumbs and gently fold the mixture together until just combined, keeping the chunks of crab in shape.
Form 6 crab cakes and pat remaining bread crumbs on each side of cakes.
Place on prepared baking sheet. Cover and refrigerate for at least 1 hour.
Preheat a large nonstick pan to medium heat and coat the bottom with olive oil. When oil is hot, place crab cakes in pan and cook 3-5 minutes per side until golden brown.
Notes
Serve with tartar sauce or homemade sauce. Recipe provided by Make Your Meals
Nutrition Information:
Serving Size:
1 grams
Amount Per Serving:
Unsaturated Fat:

0g