If you are on a low-carb or ketogenic diet but still want to enjoy a delicious meal, then this Keto Taco Salad recipe is for you! However, even those who aren't on a diet will enjoy this recipe too!
You may think that the hardest part about being on a specific diet is actually following the diet. I would agree that it is hard maintaining any diet plan. However I believe the hardest part is actually cooking for the rest of the family who aren't on the same diet that you are on.
Although, with this recipe, you won't have to worry about that! In fact, if you don't tell them that this is a Keto recipe, they will never know!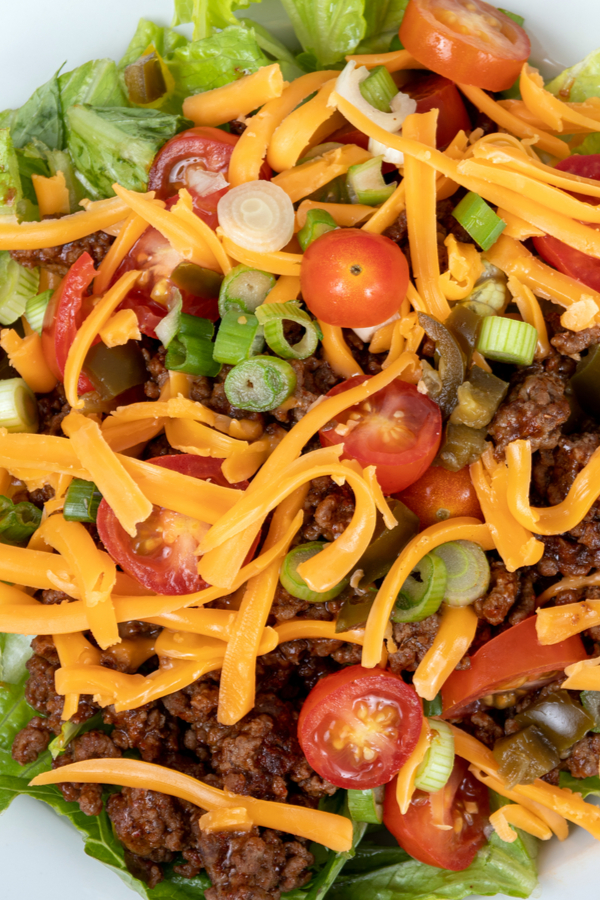 I have included the specific ingredients and instructions on how to make the salad below. However, I have also included two other bonus, taco based, Keto recipes that you may love just as well!
Classic Keto Taco Salad
INGREDIENTS
Extra Virgin Olive Oil
Ground chicken breast or ground beef
Salt
Paprika
Cumin
Chili Powder
Head of lettuce, chopped
Onion, diced
Optional Garnish Ingredients:
INSTRUCTIONS
Step 1:
Place a large skillet over medium heat. Then add the extra virgin olive oil to the pan. Once hot add the ground chicken breast and salt. If you are reducing this recipe in half, use only 1/2 teaspoon salt.
With a wooden spatula, break up the chicken as it cooks. Keep cooking until the chicken is no longer pink and cooked through. Because chicken is so lean, you will not need to drain the meat.
*If you are using ground beef instead of chicken, omit the oil and cook until the meat is no longer pink. Then drain and return the meat to the skillet.
Step 2:
Add cumin, paprika and chili powder to make your taco seasoning for the Keto Taco Salad. If you like your taco meat spicy, add a little more chili powder. However, if you don't like any heat at all omit the chili seasoning all together. Add the water and stir.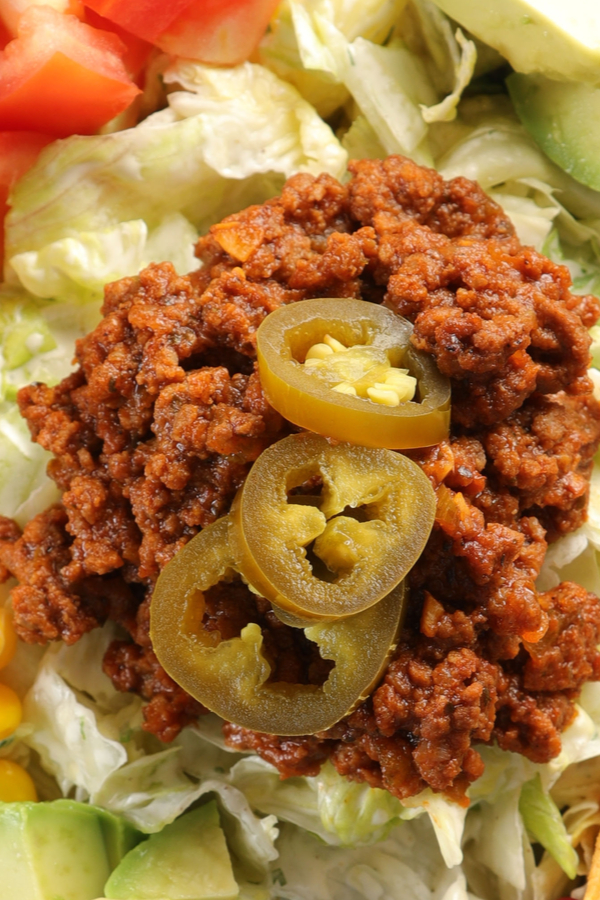 Step 3:
Bring the mixture to a boil, reduce the heat to a simmer, and continue to cook until the liquid has been mostly absorbed and evaporated. Remove the skillet from the heat and then set the skillet aside.
Step 4:
Chop up your lettuce, onion, and then dice the avocado, if using.
Divided the chopped lettuce between dinner plates. Then sprinkle a few chopped onions over the lettuce, and then add as much, or as little of the seasoned and cooked chicken on top of the lettuce and onion.
When ready to serve, add some diced avocado and a dollop of sour cream to each plate, if desired. It is okay to add a couple cherry or grape tomatoes, but because they contain carbs, be sure to limit them to 2-3 per serving.
Enjoy!
Bonus Recipes
1. Keto Taco Salad Casserole
Onion
Ground beef
Green Bell pepper
Salt
Cumin
Oregano
Garlic powder
Salsa, low-carb
A packet of Mexican Blend cheese
Shredded Lettuce
Step 1:
Place a large skillet or Dutch oven on the stove over medium-high heat. Add the ground beef, diced onion and diced green pepper to the pan.
Continue to cook, breaking up the ground beef as it browns into small crumbles. Continue to cook until the beef is no longer pink and is cooked through. Drain and return the cooked ground beef mixture back into the skillet or pan.
Preheat the oven to 350°F and continue with the next step as the oven heats up.
Step 2:
Once the meat is brown and back in the skillet it is time to add the taco seasoning to the meat. Although you could use a packet of store-bought taco seasoning, often times those packets are not Keto-friendly. Therefore, I prefer to to make my own seasoning to keep my Taco Salad Casserole Keto friendly.
For every pound of ground beef that you use, add 1 teaspoon of salt, 1 teaspoon of cumin, 1 teaspoon of dried oregano, and 1 teaspoon of garlic powder. Again, you may add some chili powder if you want your casserole to contain a little heat.
After adding the seasoning, stir the mixture for about a minute and then give it a taste to make sure it tastes just as you want it. Adjust the spices accordingly.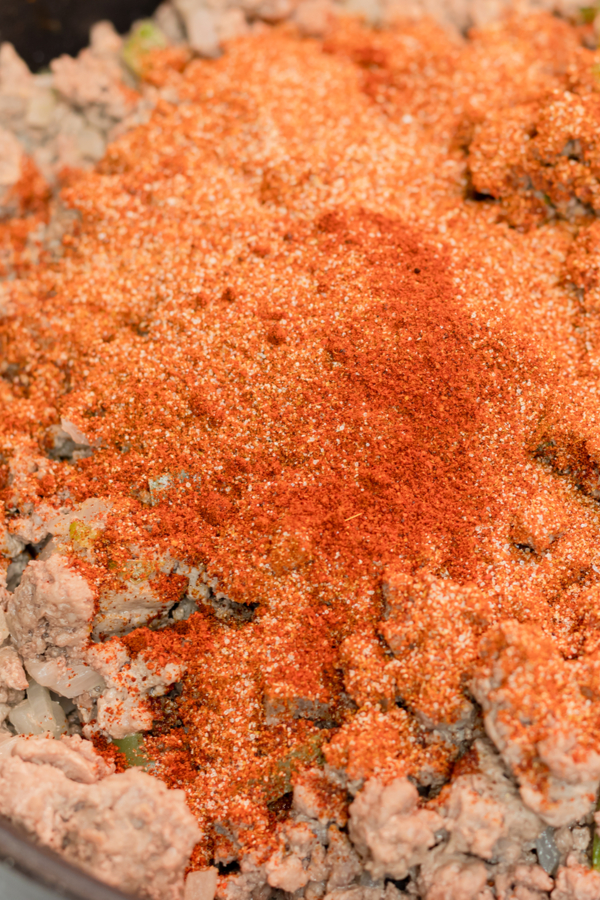 Step 3:
Lower the heat to low after the meat has been seasoned.
Then add 1 cup of low-carb salsa to the mixture and stir until evenly distributed throughout the beef mixture. Then add 1 cup of the Mexican blend cheese and stir.
Feel free to add more cheese if you prefer. Cheese is naturally low carb, so adding more will not hurt your Keto diet.
Step 4:
Place the mixture in a greased casserole dish or place the Dutch oven directly in the preheated oven. Then bake for 10 minutes.
After the 10 minutes have elapsed, take the pan out of the oven and sprinkle the top with more shredded cheese and shredded lettuce.
Be sure to check out another one of my favorite Keto Taco Casserole recipes here: https://makeyourmeals.com/keto-taco-casserole/
Enjoy!
2. Mixed Greens Keto Taco Salad
Ingredients:
Extra virgin olive oil
Ground beef or ground chicken
Avocado
Cumin
Paprika
Chili Powder
Garlic powder
Salt, to taste
1 pack of mixed salad greens
Grape or cherry tomatoes
Avocado
Cheddar Cheese
Salsa, low-carb
Step 1:
Place a large skillet over medium heat. If using ground chicken spread about 1-2 teaspoons of extra virgin oil over the bottom of the skillet, and wait for about 30 seconds for the oil to heat up.
Once the oil is heated up, add the ground chicken to the skillet. However, if you are using ground beef, skip the oil and add the meat to the warm skillet.
Again, use your spatula to break up the meat into small pieces. Continue to cook the meat for 5-10 minutes or until the the meat is cooked through and no longer pink.
Step 2:
Once the meat is cooked, add a teaspoon each of cumin, paprika, chili powder, and garlic powder to the mixture. When done, stir the mixture together, and then add salt to taste.
Mix everything one last time and cook for 1-2 minutes, being sure that the spices are evenly distributed throughout the cooked meat.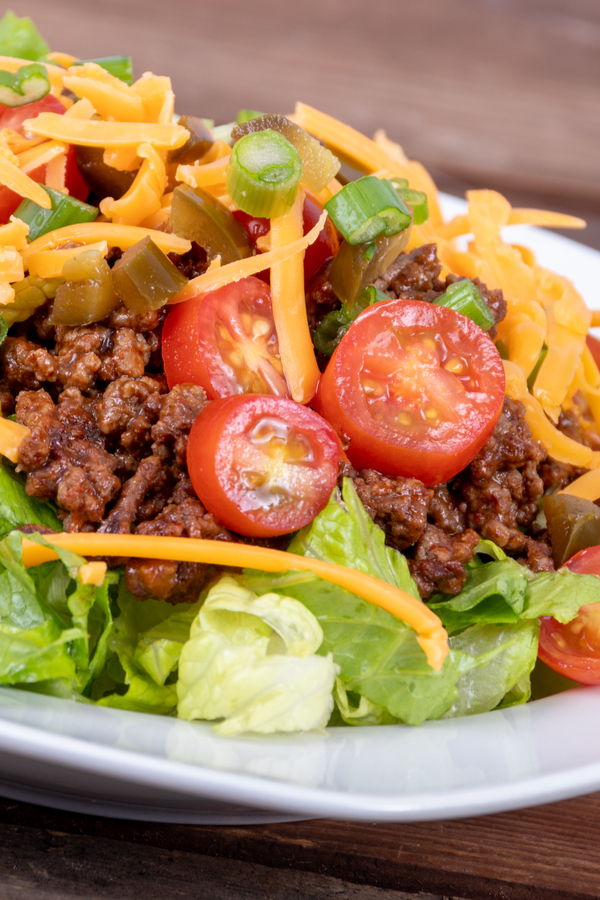 Step 3:
Wash and pat the mixed greens dry. Then place the lettuce in a large salad bowl.
Next, slice about 8 grape tomatoes in half, and add them to the mixed greens in the salad bowl. Tomatoes naturally contain carbs, so you don't want to eat too many if you want to keep this taco salad Keto friendly.
Then add the cooked and seasoned ground beef or ground chicken on top of the lettuce.
Dice an avocado into small pieces and then add it to the mixture. Sprinkle 3/4th cup of cheddar cheese and add a little salsa on top.
Toss the salad and serve.
Enjoy! Mary

To receive our 3 Recipe Articles in your inbox each week, sign up for our free email list located in the middle of each recipe or email me at contact@makeyourmeals.com. You can also follow us on Facebook and Pinterest. This article may contain affiliate links where a small commission is paid if you purchase a product at no additional cost to you.
Yield: 4-6 servings
Keto Taco Salad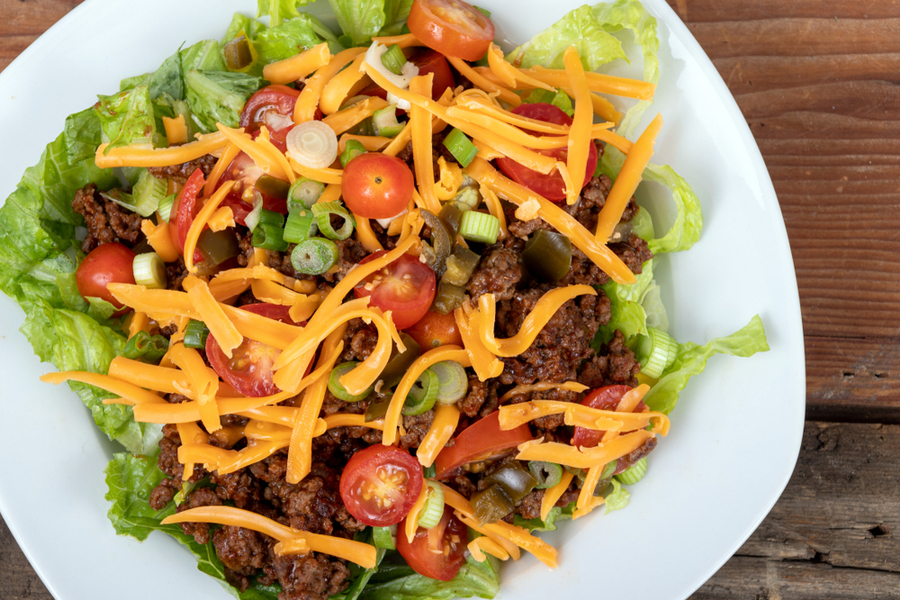 A delicious Keto Taco Salad recipe using fresh ingredients and spices. The perfect low-carb recipe that the entire family can enjoy!
Ingredients
1 Tablespoon Extra Virgin Olive OIl
2 lbs. ground Chicken breast
1 teaspoon of Salt
1 teaspoon Paprika
1 teaspoon Cumin
1/2 teaspoon Chili Powder, more to taste
1 head Lettuce, chopped
1/2 Onion, diced
Garnish Ingredients
Instructions
In a large skillet placed over medium heat add 1 tablespoon of extra virgin olive oil. Then add your ground chicken and salt.
When the chicken is brown and cooked through, add the cumin, paprika and chili powder. Add 1/4 cup water and bring the skillet to a boil. Reduce heat and simmer for 15 minutes, stirring occasionally or until most of the liquid has evaporated. Remove the skillet from the heat.
Divide the chopped lettuce evenly among the dinner plates. Sprinkle chopped onions on the lettuce, and then add as much, or as little of the pre-cooked and seasoned ground chicken to the lettuce and onion.
Garnish with diced avocado, and then add a dollop of sour cream on each plate, if desired.
Notes
Recipe provided by Make Your Meals
Nutrition Information:
Yield:
6
Amount Per Serving:
Calories:

367
Total Fat:

22g
Saturated Fat:

6g
Trans Fat:

0g
Unsaturated Fat:

15g
Cholesterol:

163mg
Sodium:

485mg
Carbohydrates:

8g
Fiber:

5g
Sugar:

2g
Protein:

37g
Nutritional Information is to be used as a general guideline only . Nutritional calculations will vary from the types and brands of the products used.