With the new year around the corner, it is time to share our Instant Pot Hoppin' John recipe.
If you have never heard of this dish, you aren't alone.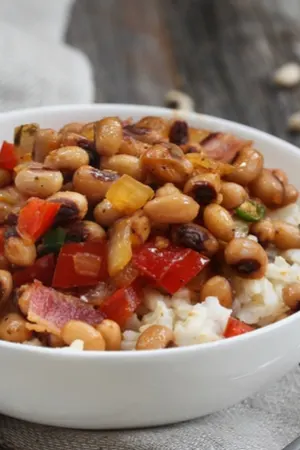 This classic good-luck meal originates in the Southern part of the United States.
More specifically, the southeastern states.
Because I am originally from the North, I had never heard of eating Hoppin' John for our good-luck New Year's Day meal.
In fact, it was a tradition in our home to eat pork roast and sauerkraut on the first day of the year.
I thought everyone did. I had no idea that there were other meal traditions throughout the United States.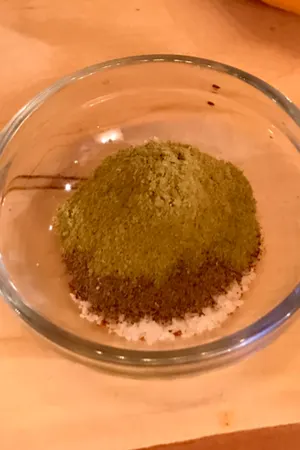 However, over the past 5 years I have spent some time visiting and living in the South. And by doing so, I have had the pleasure of experiencing some recipes that I had never tried, or even heard of before. For instance Black Eyed Peas Jambalaya.
I can honestly say that I had never had black-eyed peas when I was growing up.
I wasn't found of peas in general and when I was offered them as a side dish in a restaurant in Tennessee, I kindly declined.
Boy did I feel silly when I found out that they weren't even peas!
Black-eyed Peas are actually beans. And why are they symbol of good luck and a tradition to eat on New Year's Day.
Why Are They Lucky?
When cooked, black-eyed peas swell up which symbolizes prosperity.
They are often eaten with collard greens. This deep rich green color stands for money.
And just like up in the North, eating pork is a good luck tradition. The reasoning behind eating pork is rumored from the fact that when pigs forage, they always do so in a forward motion.
Thus, pork symbolizes positive motion forward for the new year.
Instant Pot Hoppin' John Recipe
So why make Instant Pot Hoppin' John?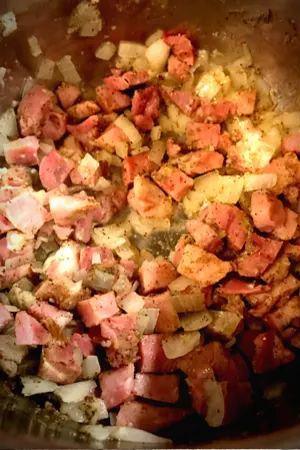 The answer is simple – there is no better way to make beans!
The Instant Pot cooks beans in a fraction of the time that it takes other methods.
We used our Instant Pot 3 quart mini for this recipe. However, we have also doubled this recipe and made it in our 6 quart and 8 quart Instant Pots.
(Yes, we may have an Instant Pot addiction).
But the best part of all – there is no need to soak the beans prior to cooking!
Just put them in the Instant Pot with the liquid and seasonings and dinner is ready in less than 30 minutes!
Although this is considered a must-have meal on January 1st, we have been making it at least once a month for the past several years.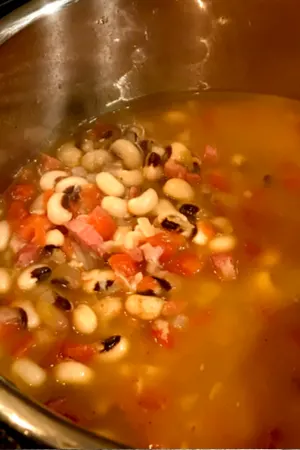 We will switch up the ingredients with whatever we have on hand.
For instance, we have used bacon and leftover pork chops instead of the ham.
We have also switched out the blacked-eyed peas with frozen purple hull peas before.
And of course we use a variety of greens to compliment the meal. If we want a one pot meal, the greens go in the recipe as stated below.
However, there are some people that prefer to have a traditional side dish of greens alongside the main dish.
However you choose to make your good luck meal – we hope that this year is the best one yet!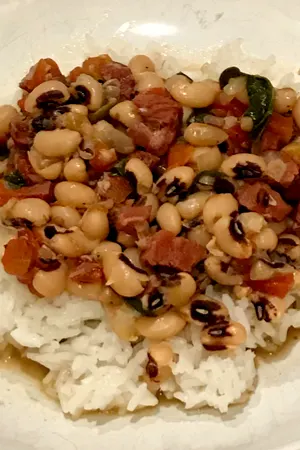 To receive our 3 Recipe Articles in your inbox each week, sign up for our free email list located in the middle of each recipe or email me at contact@makeyourmeals.com. You can also follow us on Facebook and Pinterest. This article may contain affiliate links where a small commission is paid if you purchase a product at no additional cost to you.
Yield: 4
Instant Pot Hoppin' John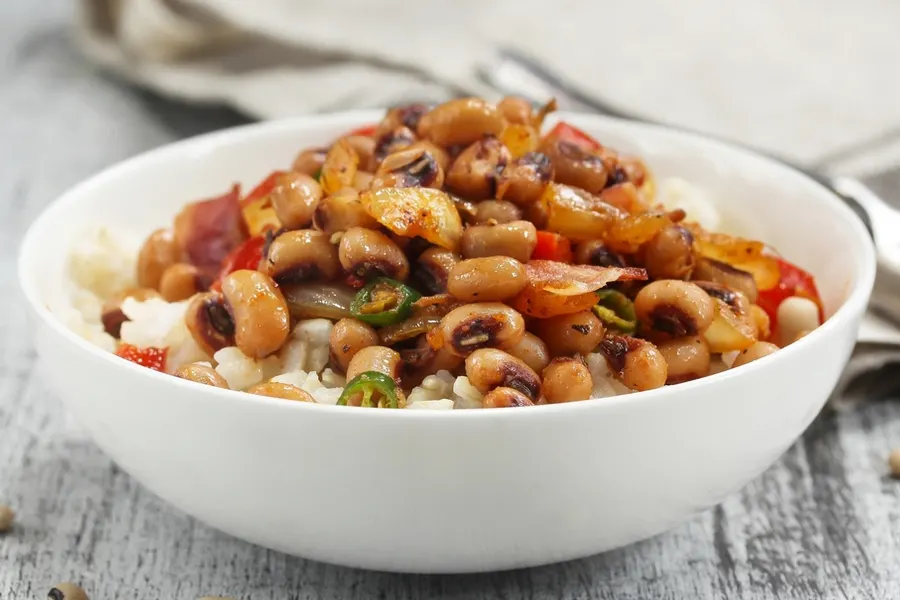 A southern classic meal that is a must-have on New Year's Day and that is said to provide good luck when eaten for the upcoming year.
Ingredients
8 oz black eyed peas, dried
1 small yellow onion diced
1 c ham diced
1 Tbsp butter
3 Garlic Cloves, minced
1 can diced tomatoes with green chiles, 10 oz.
3 1/2 cups chicken broth, low sodium
3/4 tsp salt
1/2 tsp pepper
1/2 tsp cayenne
1/2 tsp thyme
1 cup leafy greens (collard, turnip, kale or spinach), julienned
3 cups cooked rice
Instructions
Turn your Instant Pot to sauté and when the display reads HOT, add the butter.
As soon as the butter melts, add the diced onion. Sauté for 3 minutes and then add the minced garlic. Continue to sauté for one additional minute.
Turn the pot OFF. Add the diced ham, salt, pepper, cayenne, and thyme. Stir.
Add the can of diced tomatoes and chiles, the rinsed and drained black eyed peas and chicken broth.
Close lid and place steam valve in sealed position. Pressure cook/Manual on HIGH pressure for 15 minutes.
Once the cooking time expires perform a controlled quick release and stir. Add the julienned greens to the liquid and replace the lid and Pressure Cook/Manual on High Pressure for an additional 4 minutes.
Once time cooking time expires perform a quick release. Serve over rice.
Notes
This recipe was made in a 3 quart Instant Pot Mini and can easily be doubled to make in the 6 quart or 8 quart Instant Pot.
The Instant Pot will require additional time to come to pressure before the cook time begins.
Recipe provided by Make Your Meals
Nutrition Information:
Yield:
4
Serving Size:
1 grams
Amount Per Serving:
Unsaturated Fat:

0g