Yes, it is true…you can make colored Easter eggs in the Instant Pot!
Earlier this week I was asked if I would help dye Easter Eggs for a community Easter Egg hunt.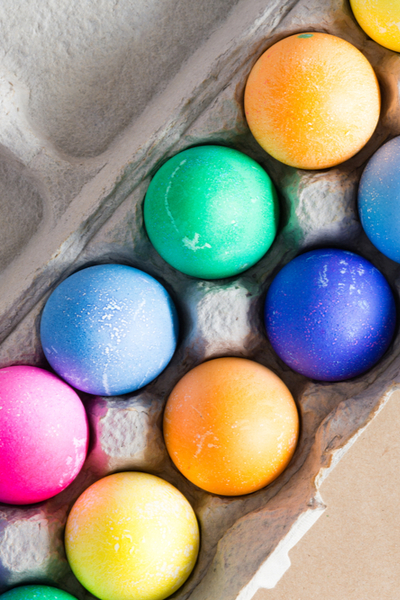 Wanting to volunteer, I quickly agreed that this was something that I could help with.
However, I had one large dilemma – time!
You see, when we color Eater eggs in our house, I typically dye them using natural ingredients.
By natural, I don't mean with food dye and vinegar. And no, the tablets that you dissolve don't count either.
Instead, I boil down fruits, vegetables, and even use coffee grounds to make the colored water.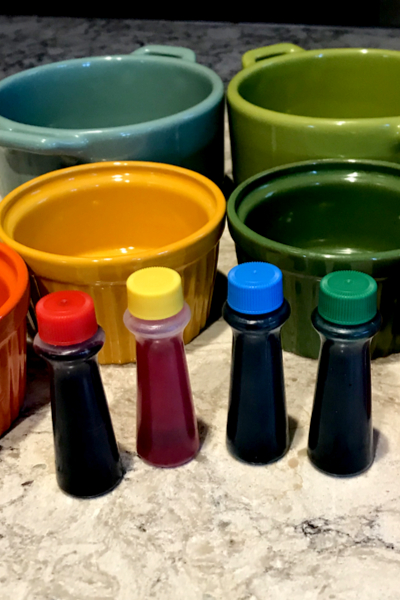 I then add the vinegar to the each shade of water and soak the eggs until they become a variety of brilliant colors.
However, this process takes a while to prepare. You have to boil down each individual item seperately.
And for this event, I didn't have the extra time it takes to color the Easter eggs using the natural method.
However, I wanted to help so I turned to the old-fashioned food coloring method.
Colored Easter Eggs With Food Coloring
Because these eggs were going to be used for an Easter egg hunt, and not being consumed afterwards, I felt comfortable coloring them with food coloring.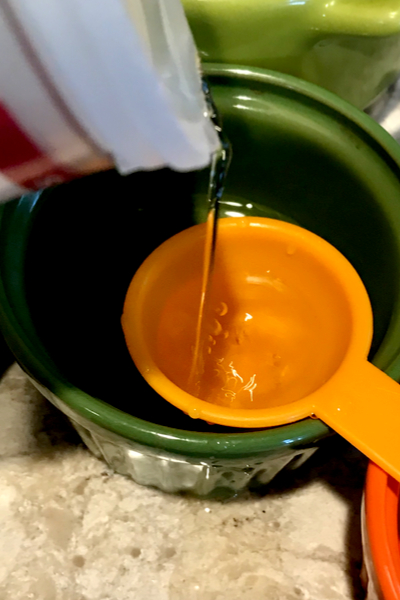 There is a lot of controversy regarding the ingredients in food coloring and if it is safe to be consumed.
We won't get in all the details here, however, because the eggs were solely going to be used for an Easter egg hunt, I had nothing to worry about.
So I bought one of the 4 packs of food coloring at the grocery store and got to work.
My first thought was to make Instant Pot Hard Boiled Eggs and dye them in individual cups afterwards.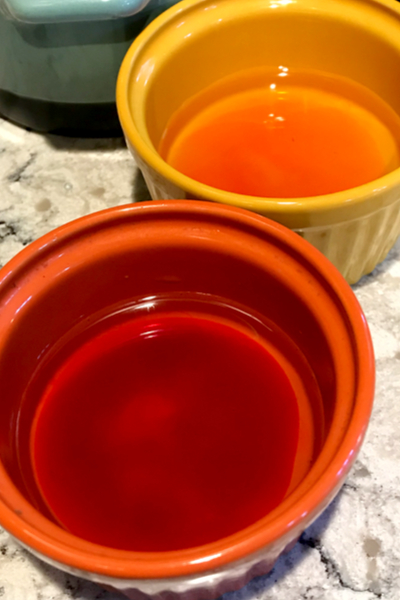 Seemed like an obvious choice.
However, I wanted to take it one step further to see if the Instant Pot could actually color the eggs while they are being cooked!
Color Easter Eggs WHILE They Cook
So instead, I pulled out my oven safe ramekins and decided to give it a try!
I mixed vinegar and food coloring in the bottom of each dish. Next I added the egg and covered it with water.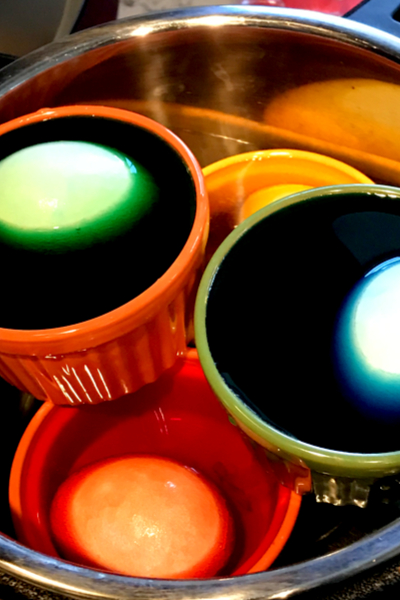 Well, kind of.
My ramekins are on the smaller side, so the egg wasn't completely covered.
I was worried that with part of the egg sticking out, it would leave a strange white oval. But it was all I had to work with in a short amount of time.
Plus, I could always say that it was a creative design!
So I stacked my ramekins on the trivet of the Instant Pot and cooked my eggs like I normally do.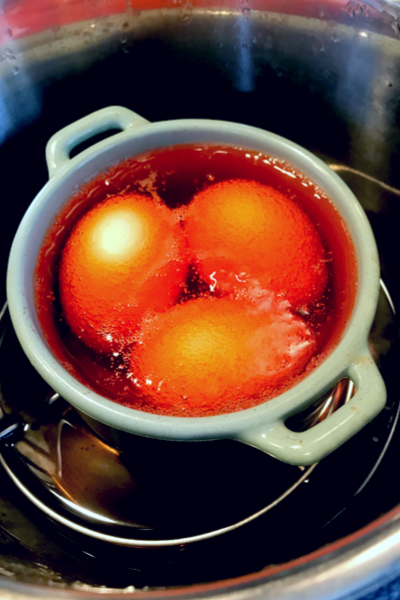 5 minutes under pressure, 5 minutes waiting after cooking, and then 5 minutes in an ice water bath.
The result – perfectly colored Easter Eggs!
And somehow that mysterious oval spot never happened. The entire eggs was completely covered.
How To Get A Deeper Color
So then I began to experiment.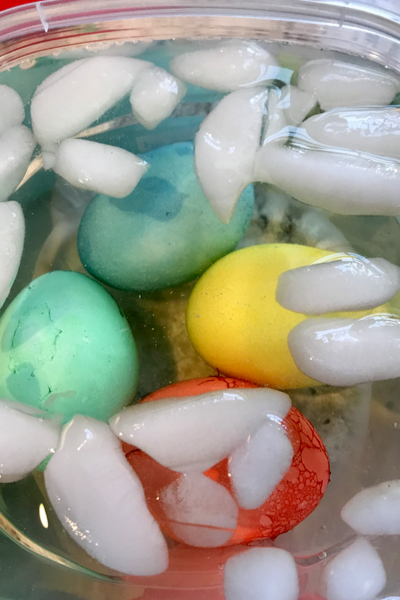 I added 3 eggs to a larger dish and the eggs were completely submerged this time.
Once the natural pressure release time expired, I transferred 2 of the eggs to the ice water bath and the other one into dish filled with half ice water and half of the dyed water.
I let them soak for a good 45 minutes, and the one left in the half and half water came out much darker than the other two.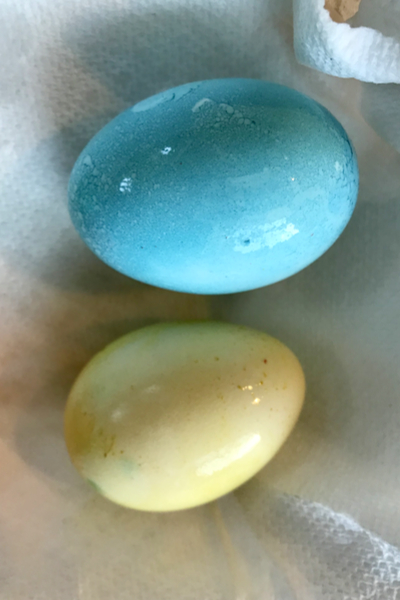 It was a fantastic way to get a variety of colors for the Easter egg hunt!
To receive our 3 Recipe Articles in your inbox each week, sign up for our free email list located on the side and bottom of each recipe. You can also follow us on Facebook and Pinterest. This article may contain affiliate links where a small commission is paid if you purchase a product at no additional cost to you.
How To Color Easter Eggs In the Instant Pot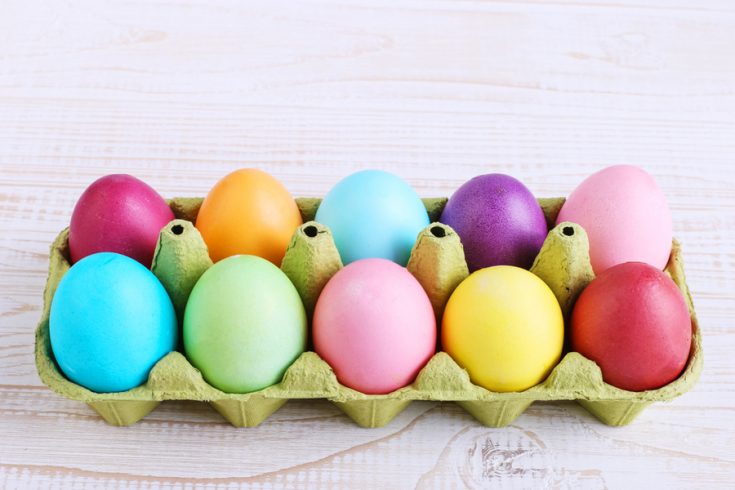 The traditional method of dying Easter eggs taken to a new level – coloring Easter eggs while they cook!
Ingredients
Eggs, not hard-boiled
Food Coloring
Apple Cider Vinegar
Instructions
In the liner of your Instant Pot add the trivet and 1 cup of water.
In each ramekin add 3 tablespoons of vinegar and 10 drops of food coloring. Stir.
Place an egg in each ramekin and add enough water to cover the egg.
Place filled ramekins in the Instant Pot. It is okay to stack them as long as the lid is able to be locked.
Pressure cook/Manual on HIGH pressure for 5 minutes.
Once the cooking time expires, allow for Natural Pressure Release for 5 minutes and fill a large bowl full of ice water. Release any remaining pressure.
Immediately transfer eggs to an ice bath to stop the cooking process.
After 5 minutes in the ice bath remove the eggs with tongs and allow to dry.
Notes
*If you want a deeper color, add the eggs to a mason jar with half ice water and half of the dyed water that the egg was cooked in.
Recipe provided by Make Your Meals
Nutrition Information:
Serving Size:
1 grams
Amount Per Serving:
Unsaturated Fat:

0g