I always get excited when I go out to eat at a restaurant and see the special soup of the day is French Onion Soup.
There is just something about diving my spoon through a thick layer of melted cheese and bread to find a rich layer of broth and caramelized onions waiting to be consumed.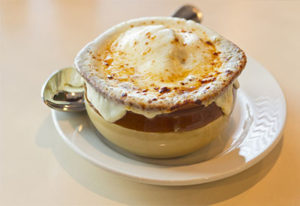 But for some reason, French onion soup was never a recipe that I made frequently in my own kitchen until about 5 years ago.
I decided that in order to satisfy my craving and not spend so much money going out to eat, I would have to start making it at home.
So after a few attempts to get the perfect combination of caramelized onions in rich and succulent broth, I was able to replicate that restaurant quality soup right in my own kitchen.
The Secret To The Perfect French Onion Soup
Some recipes call for only beef broth. However, I find that by adding a little chicken broth to the mixture provides an unexpected depth of flavor to the soup.
That also holds true on the selection of onions in this recipe. Most French onion soup recipes use only standard yellow onions.
My recipe uses a combination of sweet and red onions which gives a sweet and rich flavor to the soup.
This actually was developed by accident. In one of my attempts to make this recipe at home, that is all that I had in my pantry. Now I wouldn't make it any other way!
Check out the recipe below and let me know what you think! Also if you have an Instant Pot check out our Instant Pot French Onion Soup recipe.
To receive our 3 Recipe Articles in your inbox each week, sign up for our free email list.
You can also follow us on Facebook, Twitter, Pinterest, and Instagram. This article may contain affiliate links.
French Onion Soup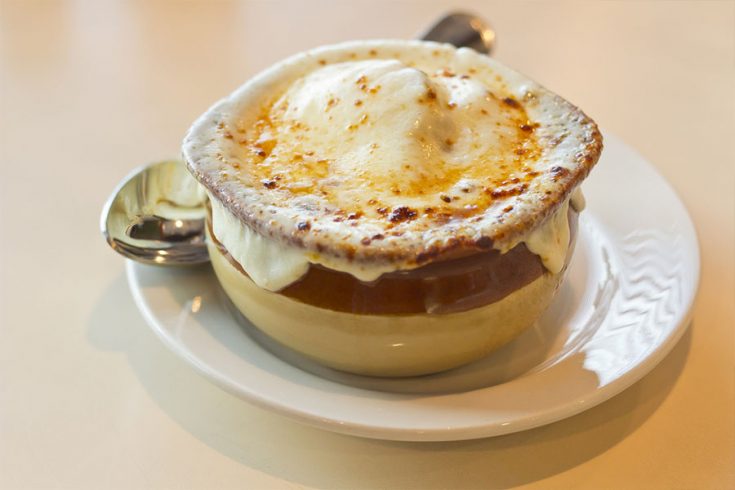 Mouth-watering French onion soup topped with toasted bread and melted cheese made easily right in your own kitchen. Absolutely delicious!
Ingredients
4 tablespoons unsalted butter
2 large sweet yellow and 2 large red onions, peeled and sliced into 1/4 inch slices
1/2 teaspoon kosher salt
6 cups low-sodium chicken broth
1 3/4 cups low-sodium beef broth
1/4 cup dry red wine
2 sprigs fresh parsley
1 sprig fresh thyme
1 bay leaf
1 tablespoon balsamic vinegar
Salt and black pepper
1 French bread loaf cut on an angle, 3/4-inch slices
4 1/2 ounces Gruyere or Swiss cheese, sliced thin
Instructions
Cut onions in halve lengthwise and peel away the dried skin. Cut the onions evenly into 1/4-inch slices.
Melt butter in large Dutch oven or large pot over medium-high heat. Add sliced onions and 1/2 teaspoon salt, stirring to coat onions thoroughly with butter. Cook, stirring frequently, until onions are reduced and caramelized (approximately 30 minutes). The inside of pot will be coated with very deep brown crust.
Stir in chicken and beef broths, wine, parsley, thyme, and bay leaf, scraping pot bottom with wooden spoon to loosen browned bits. Bring to a simmer for approximately 30 minutes.
Remove herbs and discard. Stir in balsamic vinegar and adjust seasonings with salt and pepper to taste.
Preheat oven to 400 degrees F.
While the soup simmers, arrange the bread slices in single layer on a baking sheet and bake until the bread is dry, crisp, and golden at edges, about 10 minutes (watch carefully so they don't burn). Set aside.
When ready to serve, adjust oven rack to upper middle position and heat the broiler. Place oven- and broiler-safe serving bowls/crocks on a rimmed baking sheet and fill each with about 1 1/2 cups of soup. Top each bowl with toasted bread slices - covering the entire surface top surface of the soup. Divide cheese slices, laying them in a single layer on top of the bread, slightly over­lapping the edge of the dish.
Place the baking sheets with the bowls into the oven, about 5 to 6 inches from the broiler and broil until cheese is bubbly and begins to turn brown, approximately 10 minutes.
Notes
Recipe provided by Make Your Meals
Nutrition Information:
Serving Size:
1 grams
Amount Per Serving:
Unsaturated Fat:

0g