I have been eating Doritos Taco Salad for over 25 years. It would always be served at our large family gatherings and it was sure to be the first dish to be empty each and every time.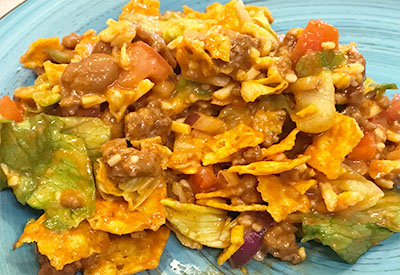 It combines all of the flavors of standard taco salad with a sweet and tangy dressing and crunchy nacho flavored Doritos.
This is always a huge crowd favorite at every event!
The best part of this Doritos Taco Salad recipe is that it is so versatile. Just like our Taco In A Bag Recipe, you can easily adapt the recipe based on your taste and preferences.
Doritos Taco Salad Recipe
The base recipe is included below, but feel free to add any vegetables or toppings that you and your family enjoy.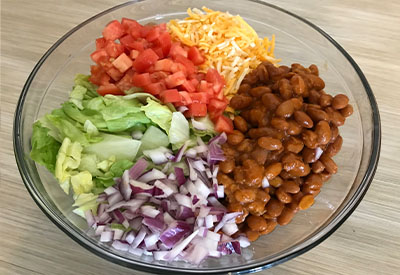 Sometimes I will add in green and sweet bell peppers. Or if I am feeding guests that like things spicy, I will add in diced jalapeno.
Some people add in black olives or green onions as well. I don't like black olives, so I will sometimes have a small bowl of them for others to add them in as they wish.
Toppings can be added on as well. How about a little sour cream or guacamole for an extra layer of flavor?
And don't forget to get creative with the flavor of Doritos that you choose. Of course, the standard nacho flavor Doritos works well this recipe.
However, you can adjust the recipe to include ranch flavored Doritos. You could even switch out the Catalina dressing for Ranch dressing to make a creamy version of Doritos Taco Salad.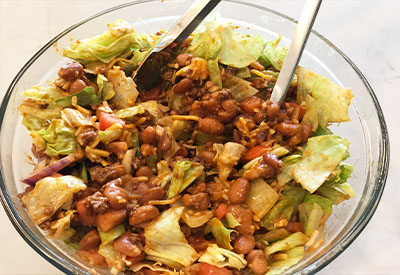 The most important thing to remember when making this recipe is to add in the dressing and Doritos right before serving. If you add the dressing too soon, your lettuce becomes drenched and soggy.
And you can only imagine what adding the Doritos would do if you tossed them in the dressing and let it refrigerate for hours!
Check out the printable recipe below and all of our recipes and let me know what you think!
To receive our 3 Recipe Articles in your inbox each week, sign up for our free email list. You can also follow us on Facebook, Twitter, Pinterest, and Instagram. This article may contain affiliate links.
Yield: 10
Dorito Taco Salad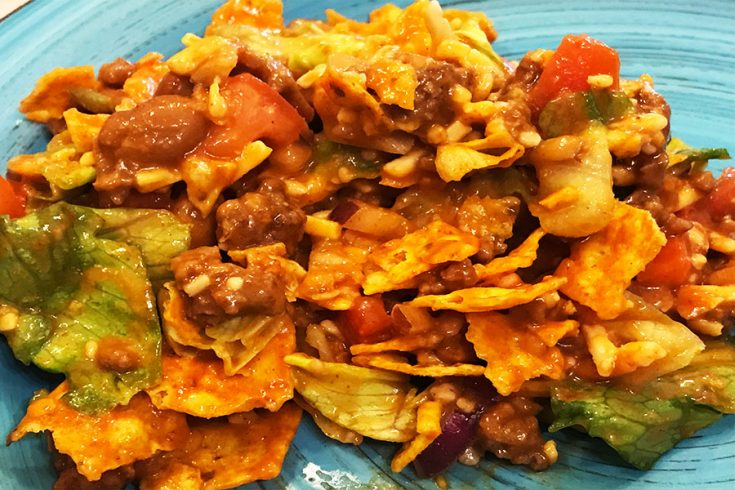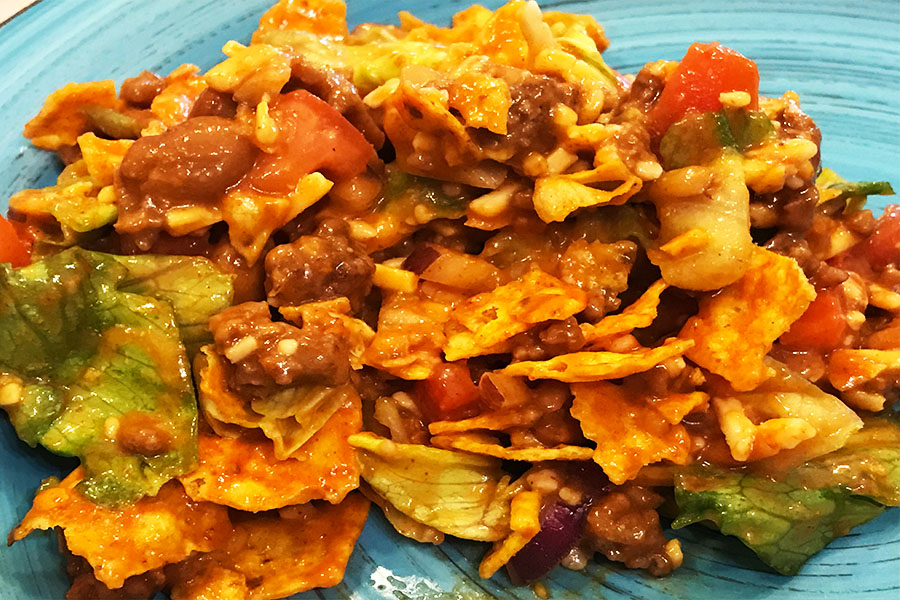 A delicious alternative to taco salad that is a huge hit at every picnic or family gathering!
Ingredients
1 lb ground beef
1 1 1/4 ounce package package taco seasoning
1 small head iceberg lettuce, chopped
1 large tomato, diced
1 cup shredded cheddar cheese
1 medium red onion, diced
1 15 oz. can chili beans, drained
1 16 oz. bottle Catalina dressing
1 10 oz. bag Doritos, nacho flavor
Instructions
In a medium skillet brown the ground beef. Drain excess fat. And add back to skillet with taco seasoning and water per the back of the instruction packet. Simmer until most of the water has been absorbed/evaporated. Let mixture cool.
In a large serving bowl, mix ground beef, lettuce, tomato, cheese, red onion and chili beans.
Cool in refrigerator until ready to serve.
Right before serving add in the Catalina dressing and slightly crushed Doritos and toss gently to coat.
Serve immediately.
Notes
Recipe provided by Make Your Meals
Nutrition Information:
Yield:
10
Serving Size:
1 grams
Amount Per Serving:
Unsaturated Fat:

0g