Making Orange Ginger Chicken at home is simple to do with the help of your crock pot. All the flavors of this classic take out meal, but made right in your own home.
Have you ever thought of making your favorite Asian inspired dish at home, but didn't know where to begin? Ever since sharing a recipe for General Tso's Chicken and Beef and Broccoli, I have received several requests for more meals that are commonly considered take out meals.
So after reviewing the requests, it was obvious which recipe that I needed to share next. Not only is this meal delicious and easy to prepare when you make it at home, you will find it very budget friendly as well.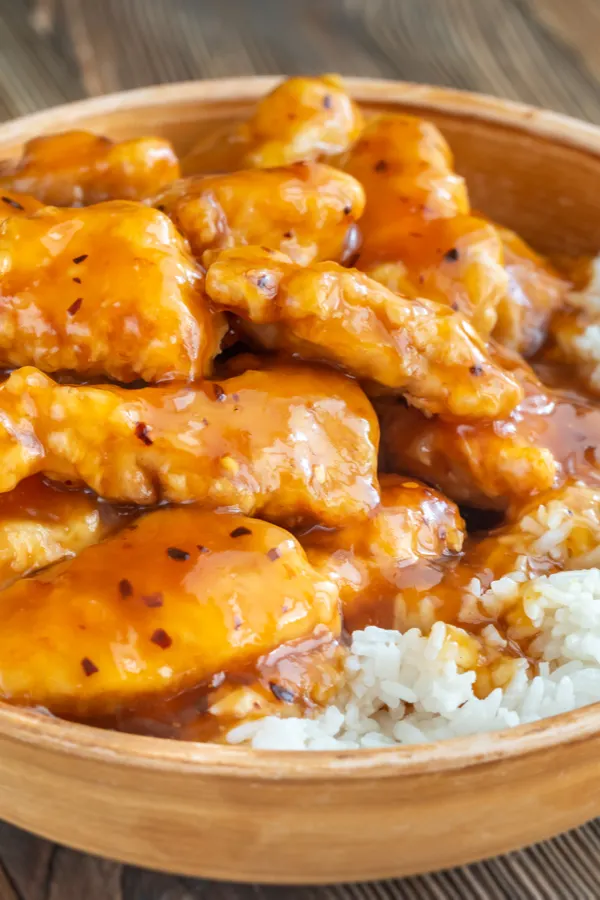 7 Common Ingredients Required
With just 7 basic ingredients that are mixed together in your slow cooker, an amazing dinner will be prepared in minutes. Not to mention, that it will be ready to eat when it is time for dinner.
You can eat the chicken as a stand alone protein meal. However, traditionally it is served alongside or on top of steamed white rice.
Although, this recipe doesn't have to stop there. Orange Ginger Chicken that is made in the crock pot can become even more interesting when other fresh ingredients are added as well.
When serving, stir in some crushed red pepper flakes, and serve it with a few diced green onions and sesame seeds on top. But you could also add in broccoli florets, snow peas, baby corn or even sliced water chestnuts to the crock pot during the cooking process as well.
The options are endless, and that is why this is the perfect meal to serve to your loved ones. Customize it to your liking and both you and your family will be satisfied and will be begging for more!
Below I will cover the specific ingredients and cooking instructions to make one of the most delicious meals that you will ever make. In addition, I will add in a few tips and answer the most frequently asked questions about making this dish.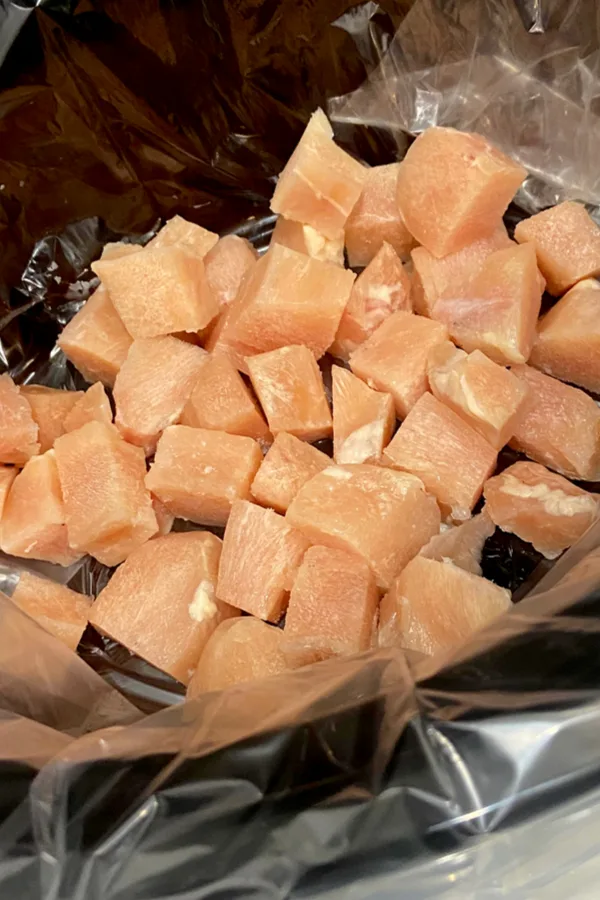 Crock Pot Orange Ginger Chicken Recipe
INGREDIENTS
Chicken breasts, skinless and boneless
Soy sauce, low-sodium
Honey
Orange juice
Fresh Ginger
Garlic cloves
Cornstarch
You can find the specific quantities located in the printable recipe card located at the bottom of this article. However, don't just scroll down to get to the recipe.
Instead, keep reading, so that I can share with you the tips, tricks and common substitutions that make this recipe so delicious!
INSTRUCTIONS
The first step in making this Orange Ginger Chicken recipe is to spray the liner of the crock pot with non-stick cooking spray. Although, if you prefer, you could also line it with a slow cooker cooking bag instead.
The important thing to remember is that this is a sticky recipe. Therefore, the sauce will end up coating the sides and bottom of your slow cooker, making it difficult to clean if you didn't prepare it ahead of time.
Now set the crock pot aside while you prepare the chicken. Cut the boneless, skinless chicken breast in bite size pieces. If you prefer, you can use chicken thighs instead, which will make the chicken even more tender when cooked.
Place the diced chicken into the prepared crock pot. Then set the pot aside while you prepare the sauce.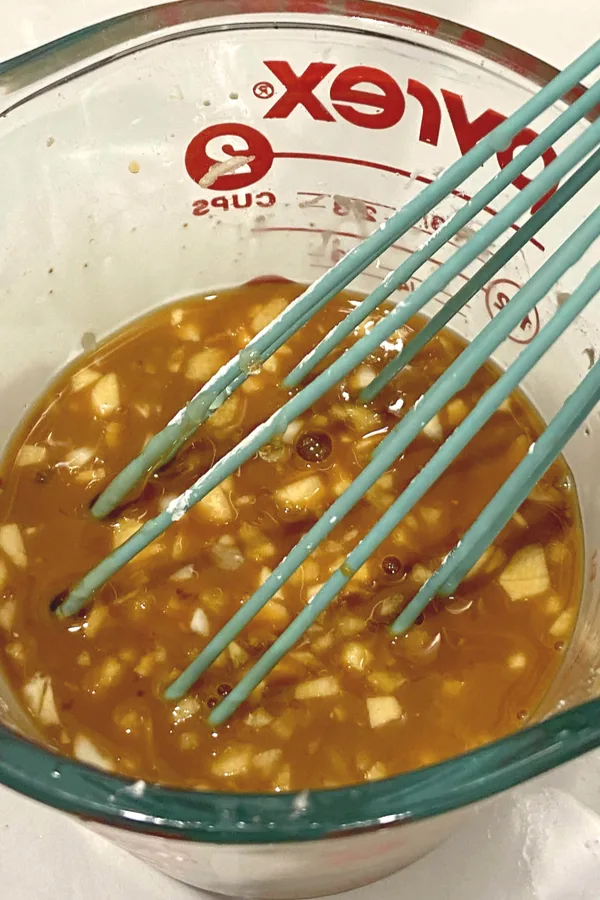 Prepare The Sauce
In a medium size bowl, mix orange juice, honey, soy sauce, garlic, ginger, and cornstarch until well incorporated. Then pour the mixture over the chicken pieces that are in the crock pot.
Now it is time to get the Orange Ginger Chicken cooking by setting the crock pot on the low heat setting for 5-6 hours. If you prefer to cook this recipe quicker, you can cook it on the high heat setting for 2-3 hours.
However, the longer the chicken has to cook in the slow cooker, the more tasty that it will become. Just be sure that the chicken pieces are cooked to an internal temperature of 165°F when checked by an instant read digital food thermometer.
When you are ready to eat, serve with cooked white rice and garnish with diced green onions, chopped fresh parsley and/or sesame seeds.
Additional Cooking Tips
1. This recipe coats the chicken in a thick orange ginger sauce. However, if you want a thinner sauce or extra sauce to serve on the side, simply double the sauce ingredients. Then cook and serve as instructed.
2. Another way to get a thinner sauce is to omit the cornstarch as part of the sauce ingredients. Then about 30 minutes before serving, you can determine if you want to thicken the sauce.
If you decide you need to thicken the sauce, mix cornstarch to water in a 1:2 ratio to make a slurry. Start with 1 teaspoon of corn starch and mix it with 2 teaspoons of water until smooth. Then stir it in the orange ginger chicken sauce.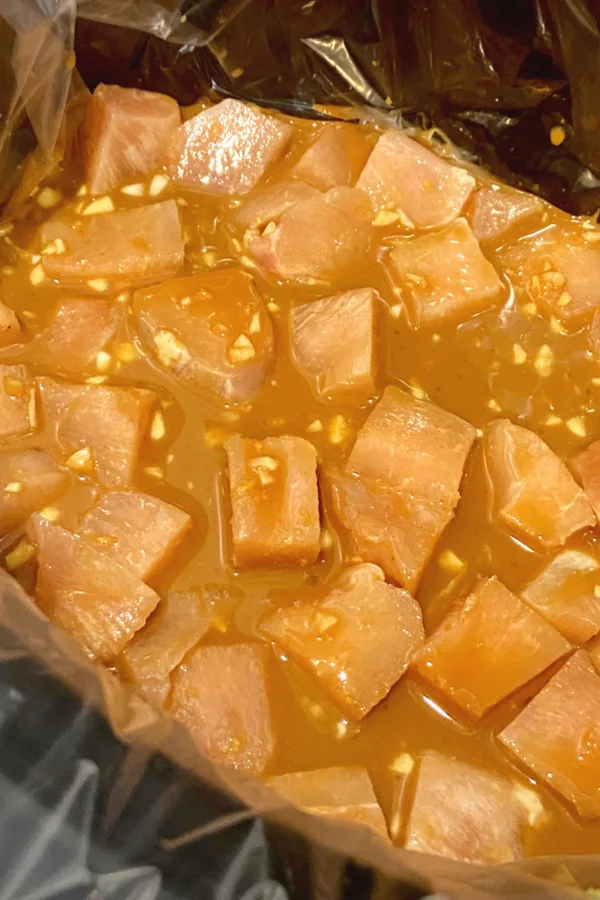 Continue to cook until the sauce is thickened to your liking. However, be sure to cook it on HIGH power for 30 minutes before serving to get rid of that pasty cornstarch taste.
3. To make clean up a breeze, use a crock pot plastic liner. Then after serving, toss the bag in the trash and clean up will be a breeze!
4. If you want to add vegetables to your Crock Pot Orange Ginger Chicken recipe, do so about 45 minutes before you are ready to serve. This way the vegetables will become slightly tender, but still have a nice crunch when eaten.
Frequently Asked Questions
Can I Use Thighs Instead of Chicken Breasts?
Yes, you can use chicken thighs in the place of breasts. However, I recommend using 4-5 boneless, skinless chicken thighs instead of bone-in, skin-one thighs. This way you can simply cut the chicken in bite size pieces and won't have to worry about removing the skin or bone before eating.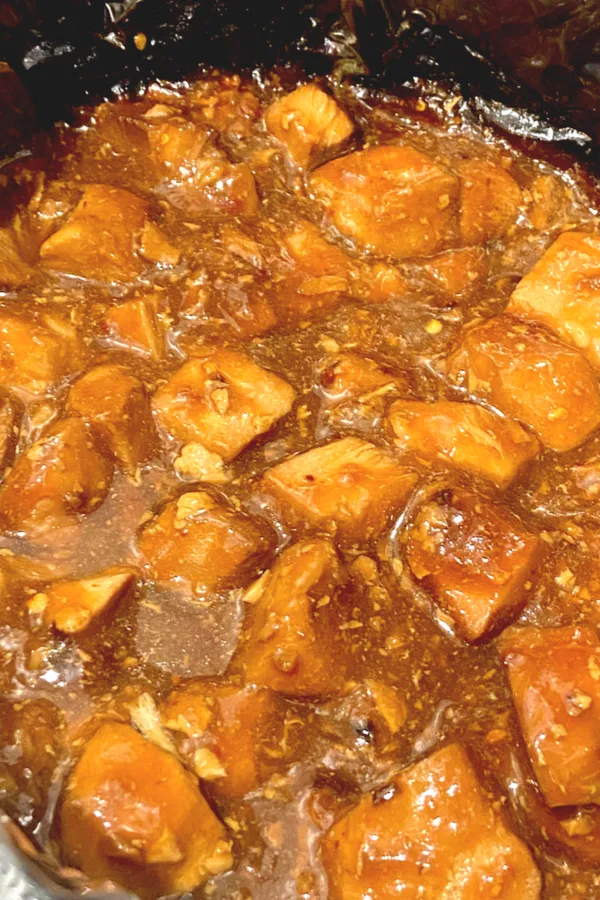 Can I Prepare Orange Ginger Chicken Ahead of Time In The Crock Pot?
If you want to make this recipe ahead of time, simply follow the cooking instructions in a Programmable Crock Pot, which will place the contents on the keep warm setting after it has finished cooking.
Then when you get home, make Steamed White Rice In An Instant Pot or per package directions and serve warm.
How Do I Store Leftovers?
If you have leftovers, let the chicken cool to room temperature. Then place in a sealed container and place in the refrigerator for up to 5 days.
Just like many recipes, this crock pot orange ginger chicken just gets better with time!
Enjoy! Mary

To receive our 3 Recipe Articles in your inbox each week, sign up for our free email list located in the middle of each recipe or email me at contact@makeyourmeals.com. You can also follow us on Facebook and Pinterest. This article may contain affiliate links where a small commission is paid if you purchase a product at no additional cost to you.
Yield: 5
Crock Pot Orange Ginger Chicken
Orange ginger chicken prepared in minutes, and cooked in a slow cooker for an easy meal to feed the family!
Total Time
4 hours
10 minutes
Ingredients
3 Chicken Breasts, boneless, skinless
1/2 cup Soy Sauce, low-sodium
1 cup Orange juice
1/3 cup Honey
1 tsp. Ginger, grated
2 Garlic cloves, minced
1/4 cup Cornstarch
Optional For Serving
Crushed Red Pepper Flakes
Sesame Seeds
Diced Green Onions
Instructions
Spray crockpot with cooking spray or use a crock pot cooking bag. Cut up the chicken breasts in 1-2 inch sections and put into crock pot.

Mix together soy sauce, orange juice, honey, ginger, garlic and cornstarch. Pour the sauce over the chicken.

Cover and cook on low for 5-6 hours.

Garnish with diced green onions and serve over white rice.
Notes
You can substitute 5-6 chicken thighs in place of the chicken breasts.
Place the remaining ginger root in the freezer for use whenever a recipe calls for fresh ginger.
Recipe provided by Make Your Meals
Nutrition Information:
Yield:
5
Amount Per Serving:
Calories:

250
Total Fat:

3g
Saturated Fat:

1g
Trans Fat:

0g
Unsaturated Fat:

2g
Cholesterol:

61mg
Sodium:

973mg
Carbohydrates:

31g
Fiber:

0g
Sugar:

23g
Protein:

25g
Nutritional Information is to be used as a general guideline only . Nutritional calculations will vary from the types and brands of the products used.