I have been making this gravy for years, and it is hands down, the BEST turkey gravy recipe!
When I was younger, I never cared for gravy. When we would have mashed potatoes for dinner everyone would pour gravy on top of their potatoes.
I never understood this concept. I didn't want my mashed potatoes to taste like meat.
Instead, I would make a large well in the center of my potatoes and put a pad of butter down inside.
It began to melt right away and I would stir it in so that in each bite I could taste just a hint of butter.
I still prefer my mashed potatoes that way, but I definitely love gravy poured on top of my meat.
What Makes The BEST Turkey Gravy Recipe
I have tried several different ways to make gravy.
Gravy Seasoning Packets
I used to buy the gravy seasoning packets from the grocery store. Add in a little flour and water, and your gravy is made.
In my opinion the gravy was too salty and lacked robust flavor. So I turned the package over to see what they used for the ingredients.
That was a huge mistake. I couldn't pronounce half of the ingredients listed and was shocked to find that MSG was listed as an ingredient.
That scared me away from packet gravy mixes ever since!
Jarred Gravy
So on to jarred gravy I went. I was sure that this was going to be the best turkey gravy that I had ever had.
By all means, they have test kitchens that perfect every recipe that they make.
I poured the gravy in the pan and heated it up. The taste was okay, nobody complained.
But it left me with a terrible headache after I ate it. I tried to justify that it was just a side effect of the food coma that I was in.
But after talking to a friend, who is also a dietitian, she explained that it was truly the gravy that gave me the headache.
I had eaten all whole and natural foods for dinner. Turkey and roasted veggies had filled my plate. The gravy was the only processed food that I had eaten.
She asked me to investigate the ingredients and sure enough, there was glutamic acid listed. This acid releases a chemical which binds to free sodium in your body.
And when it does, it forms MSG in your body which can cause headaches in certain individuals.
The BEST Turkey Gravy
Ever since then, I have been controlling my own ingredients and making homemade turkey gravy.
It is much easier than what I thought it would be.
After the turkey comes out of the oven I place it on the serving platter and let it rest. I then use all of the wonderful drippings in the bottom of the pan to start the gravy.
These drippings hold a ton of flavor!
I strain the liquid with my gravy strainer to remove any chunks of fat or skin that might have fallen off during the cooking process.
I mix in a little flour or arrowroot powder for a thickening agent. Then instead of adding water, I use stock to finish off the cooking process.
It sounds weird, but I actually prefer chicken stock over turkey stock to make gravy.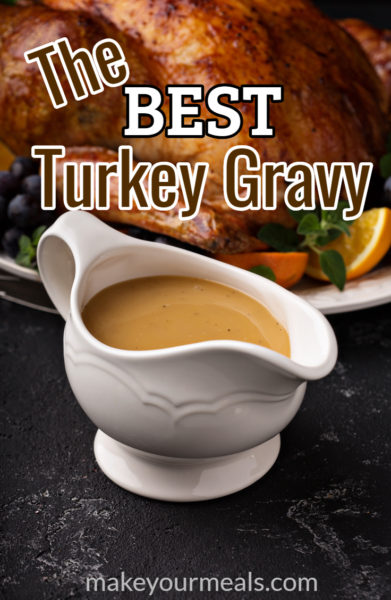 I believe the combination of the turkey drippings with the chicken stock adds another depth of flavor and makes the BEST turkey gravy!
So instead of reaching for a turkey gravy seasoning packet or a pre-made jar of gravy, make your own this year!
Check out the printable recipe below and all of our recipes and let me know what you think!
To receive our 3 Recipe Articles in your inbox each week, sign up for our free email list. You can also follow us
on Facebook, Twitter, Pinterest, and Instagram. This article may contain affiliate links.
The Best Turkey Gravy Recipe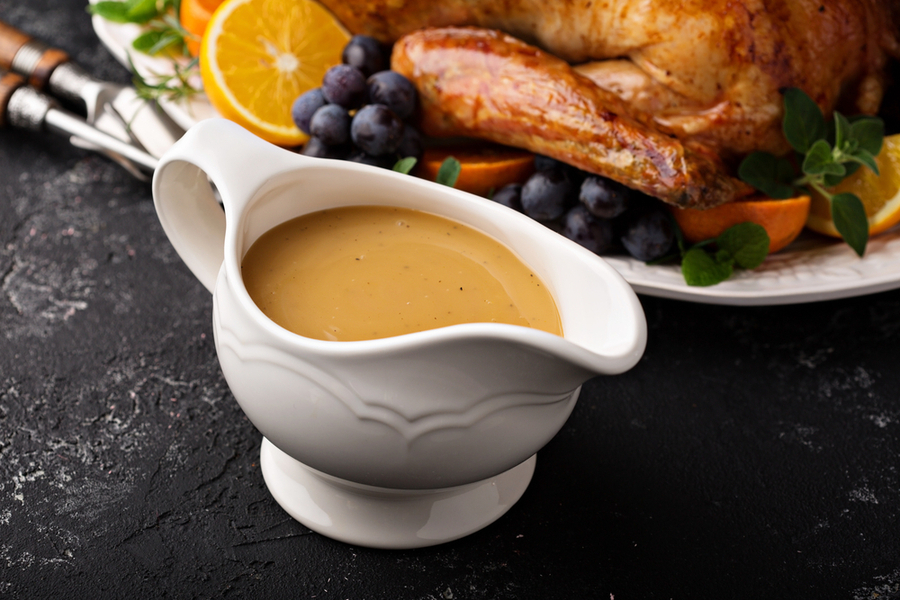 The best turkey gravy is made from the drippings for a freshly cooked turkey. It only takes minutes to make and is absolutely delicious
Ingredients
1 cup turkey drippings
1/4 cup all-purpose flour
4 cups stock, turkey, chicken or vegetable
1 teaspoon celery salt
salt and pepper to taste
Instructions
Strain the liquid in the bottom of your turkey roasting pan into a medium sized sauce pan. Place it on the stove over medium-low heat.
Whisk in the flour and bring mixture to a simmer, stirring occasionally until golden brown - approximately 5 minutes.
Gradually whisk in the stock until gravy is smooth.
Add celery salt, salt and pepper. Simmer for 15 minutes to allow gravy to thicken and the seasonings to blend.
Serve Warm
Notes
If you prefer you can make this gravy ahead of time by omitting the turkey drippings. Recipe provided by Make Your Meals
Nutrition Information:
Serving Size:
1 grams
Amount Per Serving:
Unsaturated Fat:

0g