If you like your brownies to have the consistency more like fudge, rather than cake, then you are going to love this homemade fudge brownie recipe. It's simply the BEST!
When someone offers me a brownie or when I purchase one at a bake sale, I always secretly hope that it will be a fudge brownie. And if it happens to be dipped in chocolate like our Chocolate Chip brownies, watch out!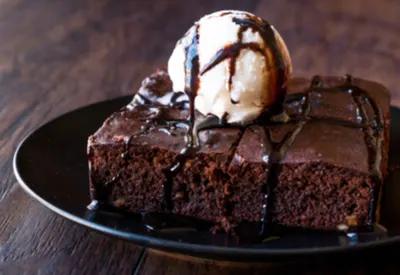 Now don't get me wrong. I will eat and enjoy almost any type of brownie. The only ones that I don't prefer are ones that are made with nuts.
But because I am a huge brownie fan, I will eat even eat the ones made with nuts. I just pick them out and enjoy the rest of the brownie.
There is just something about the ease and simplicity of eating a brownie. There are no utensils to worry about and who can resist sinking your teeth into a soft chocolate dessert.
However, if you don't mind using utensils and are looking at a fun to eat dessert, try our Dirt Pudding Recipe.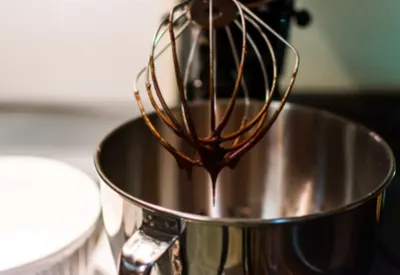 But there are definitely two different types of consistencies when it comes to making brownies. Some people prefer their brownies to have a light and airy interior which is similar to the consistency of cake.
Others, including myself, prefer a slightly dense brownie that is referred to as a fudge brownie.
Fudge Brownies vs. Cake Brownies
Fudge brownies typically are made with whole eggs, where cake brownies will use an additional egg white in the recipe. And to get that airy texture of the cake brownie, most recipes will call for beating the butter and sugar together until nice and fluffy.
Most fudge brownies recipes use less flour in the recipe and adds in bits of chocolate to get that gooey center consistency.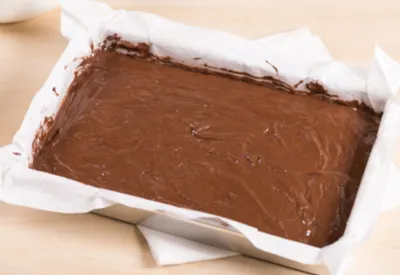 And one last key to get make the BEST fudge brownie recipe – take the brownies out of the oven when a toothpick that is inserted in the center comes out with a few brownie pieces stuck to the toothpick.
You don't want the toothpick to have batter coating it entirely. Rather, a few chunks of sticky brownies will indicate that they are cooked, but still soft and moist inside.
Check out the printable recipe below and all of our recipes and let me know what you think!
To receive our 3 Recipe Articles in your inbox each week, sign up for our free email list. You can also follow us on Facebook, Twitter, Pinterest, and Instagram. This article may contain affiliate links.
Homemade Fudge Brownie Recipe
Soft and chewy fudge brownies with a light and flaky top crust.
Ingredients
1 cup unsalted butter
2 cups sugar
1 cup cocoa powder
1 teaspoon salt
1 teaspoon baking powder
1 Tablespoon vanilla extract
4 large eggs, room temperature preferred
1 1/4 cups flour
2 cups mini chocolate chips
Instructions
Preheat the oven to 350 degrees F and line a 9x13 baking dish with parchment paper. (You may have to use two overlapping sheets to get both the sides and bottom covered) Or grease the pan well.
In a medium size saucepan melt the butter over medium-low heat.
Add sugar to the melted butter and stir to combine. Heat just until hot but not yet simmering. The mixture will begin to look shiny, remove from the burner and set aside.
In a large mixing bowl add the cocoa, salt, baking powder, vanilla and eggs. Beat until smooth.
Add the butter mixture to the mixing bowl and beat until smooth.
Slowly add the flour and chocolate chips, stirring until well incorporated.
Pour the batter into the prepared pan.
Bake for 30 minutes or until a toothpick inserted in the center comes out clean or with just a few sticky crumbs. If the toothpick looks like it is coated with batter, continue to bake until done.
Notes
Recipe provided by Make Your Meals
Nutrition Information:
Serving Size:
1 grams
Amount Per Serving:
Unsaturated Fat:

0g