Every year when I head to the pumpkin patch with the family I always purchase a bag of Apple Cider Donuts for us to enjoy while we walk around the fields.
You see, where we live, the pumpkin patch is not just a place where you go to pick out the best pumpkins that you can find. Instead, it is a half day event.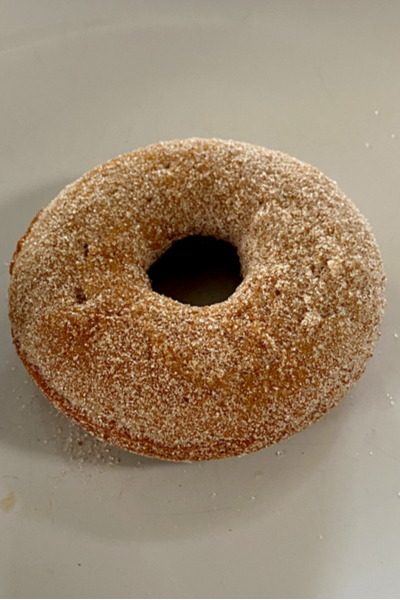 There are not only stacks and stacks of pumpkins displayed beautifully throughout the farm. There are tractors to climb, slides to slide down, and corn mazes to navigate through.
Then there is the petting zoo, zip lines and more! But my favorite stop of all, is the apple cider stand.
Warm apple cider served with a cinnamon stick and yummy cake like donuts made with the same apple cider and coated in a cinnamon sugar topping.
It is something that the entire family looks forward to every year. But this year is a little different. We will not be able to make our annual visit to the pumpkin patch.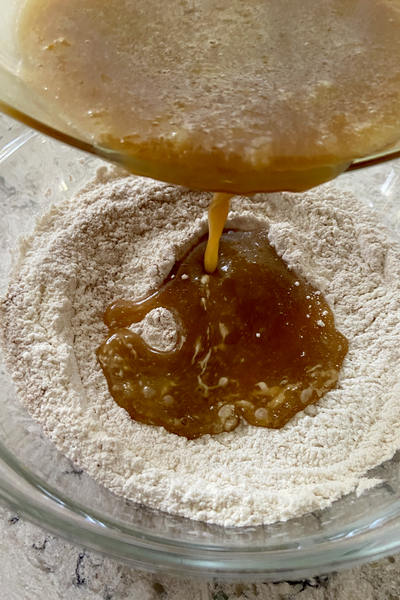 However, that is not going to stop me from enjoying my favorite Apple Cider Donuts! This year I decided to make them in our own kitchen!
How To Make Apple Cider Donuts
The first thing you need to know about making these donuts is that it does require a donut pan. I have had my non-stick pan for many years and use it almost soley during the Fall and Winter months.
That is because in the summer, I stick to my quick Air Fryer Donut recipe that uses biscuit dough. But in the cooler months, I don't mind heating up my oven to make these delicious donuts.
Next, be sure to use apple cider for this recipe, not apple juice. The cider gives the donuts that unique flavor that makes them so delicious.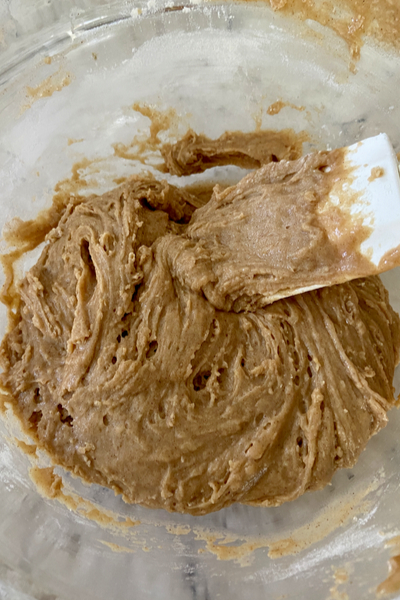 Start by reducing the apple cider down in a small saucepan. Once you have 1/2 cup of cider left in the pan, remove it from the heat and let it cool.
While the cider is cooling, begin to prepare the other dough ingredients. Start by whisking together the dry ingredients in one bowl. Then in another bowl, whisk together the butter, egg, sugars, milk and vanilla extract.
Next, slowly pour the wet ingredients and the reduced apple cider into the dry ingredients and whisk until smooth. The Apple Cider Donut batter will be moist and slightly thick.
Filling The Donut Pan
Now it is time to pour the batter in a greased donut pan. I find it easier to place the batter in a large resealable plastic bag to pipe the batter into the pan.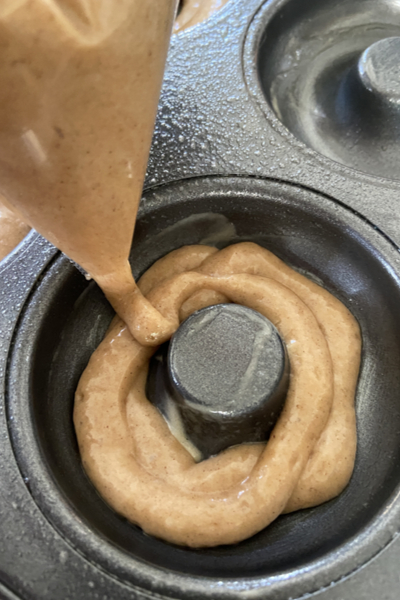 Be sure to not overfill the pan. The dough should fill each donut mold only half way full. This is because the donuts will rise during the baking process.
Bake in a preheated oven for approximately 10 minutes, or until a toothpick inserted in the center comes out clean.
While the donuts are baking prepare the cinnamon sugar topping and place in a brown paper bag or gallon size resealable plastic bag and set aside.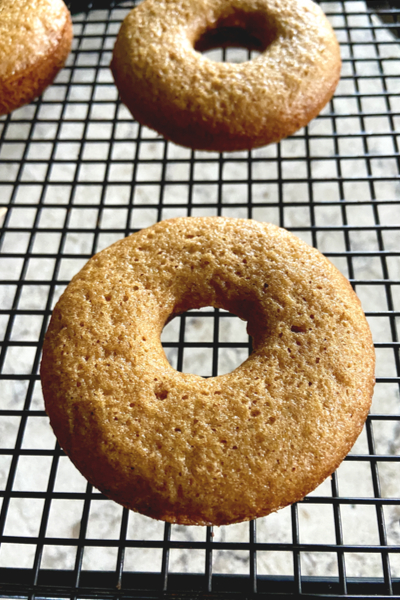 One the donuts are removed from the oven, let them cool for 2 minutes before transferring them to a wire cooling rack. Then once cool enough to handle, drop 1-2 donuts in the cinnamon sugar topping and shake the bag until they are coated.
Return them to the cooling rack and repeat with the remaining apple cider donuts.
Serve immediately or store in an air-tight container for up to 3 days. Enjoy!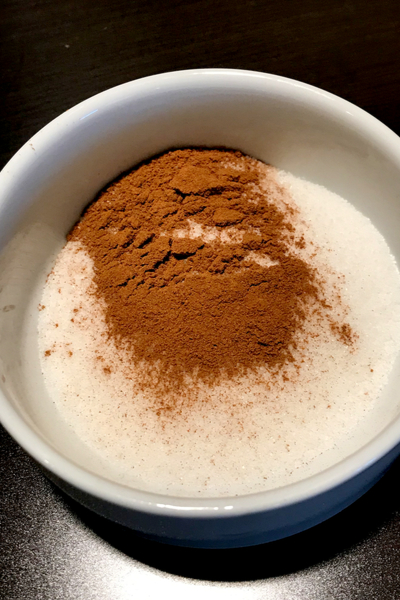 To receive our 3 Recipe Articles in your inbox each week, sign up for our free email list located in the middle of each recipe or email me at contact@makeyourmeals.com. You can also follow us on Facebook and Pinterest. This article may contain affiliate links where a small commission is paid if you purchase a product at no additional cost to you.
Yield: 14 donuts
Baked Apple Cider Donuts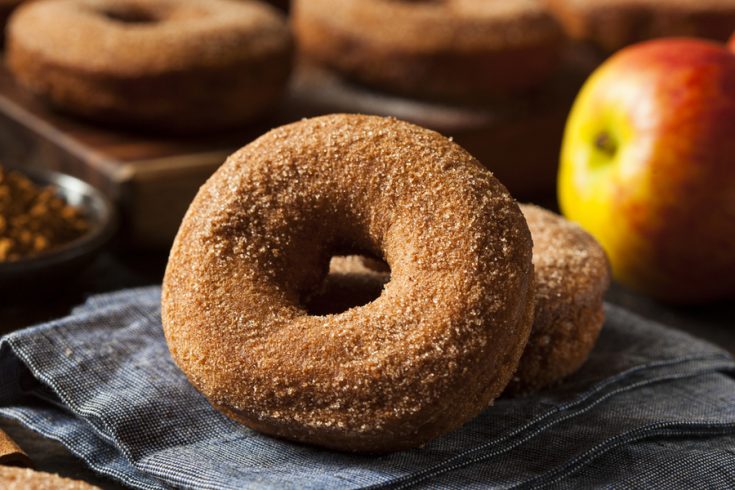 Cake like donuts made with apple cider and coated in a cinnamon sugar topping that becomes the perfect Fall treat!
Ingredients
1 1/2 cups apple cider
2 cups all-purpose flour
1 teaspoon baking soda
3/4 teaspoon baking powder
1 teaspoon ground cinnamon
1 teaspoon apple pie spice
1/4 teaspoon salt
2 Tablespoons unsalted butter, melted
1 large egg, room temperature
1/2 cup light brown sugar, packed
1/2 cup granulated sugar
1/2 cup milk, room temperature
1 teaspoon pure vanilla extract
Topping
1 cup granulated sugar
1 teaspoon ground cinnamon
Instructions
Place the apple cider in a small saucepan over medium-low heat. Stirring occasionally, reduce the apple cider until you're left with about 1/2 cup. This takes approximately 10-15 minutes. Set aside to cool for 10 minutes.
Preheat oven to 350°F. Spray donut pan with non-stick spray. Set aside.
In a large bowl whisk the flour, baking soda, baking powder, cinnamon, apple pie spice, and salt together. Set aside.
In a medium bowl whisk the melted butter, egg, brown sugar, granulated sugar, milk, and vanilla extract together.
Pour the wet ingredients and reduced apple cider into the dry ingredients and whisk until smooth and combined. Batter will be wet and slightly thick.
Spoon the batter into the donut pan holes, filling each one half full.
Bake for 10-11 minutes or until the edges and tops are lightly browned. To test, use a toothpick and insert in the thickest part of the donut. If it comes out clean, the donuts are done. Cool donuts for 2 minutes then transfer to a wire rack.
Re-grease the pan and bake the remaining donut batter.
Coat the donuts: Combine the granulated sugar and cinnamon together in a large resealable bag. Once the donuts are cool enough to handle, place each one in the bag with the topping and shake. Remove and return to the cooling rack.
Serve immediately or store in an air-tight container for 2 days, or in the refrigerator for up to 5 days.
Notes
To fill the donut pan easily, place batter in a large resealable bag. Then cut a corner off the bottom of the bag and pipe the batter into each donut cup, filling about halfway. Recipe provided by Make Your Meals
Nutrition Information:
Yield:
14
Serving Size:
1 grams
Amount Per Serving:
Calories:

216
Total Fat:

2g
Saturated Fat:

1g
Unsaturated Fat:

0g
Cholesterol:

18mg
Sodium:

155mg
Carbohydrates:

46g
Fiber:

1g
Sugar:

32g
Protein:

3g