Homemade Eggnog Recipe
You can't think about Christmas without thinking of eggnog. This delicious holiday beverage has been a classic American drink since the early 1700's.
This creamy drink actually originated in Britain. This egg yolk and milk based beverage was only consumed by the wealthy and was used to celebrate good fortune.
However, once the eggnog recipe was introduced in America, it became popular among the common folks. Partly due to the abundance of farmers who had easy access to eggs and dairy products.
Because of its rich and creamy texture, it became a popular holiday drink.
Love It or Hate It?
But if you ask 100 people if they like eggnog you are likely to get mixed responses. Some people love it, while other people can't stand the thought of taking a sip.
And that is not surprising when you consider what most people have tasted.
Every year eggnog cartons line the milk shelves of the grocery store. This is where the convenience of pre-packaged products have turned some people away from eggnog.
I was one of those people.
I first had eggnog at a holiday work party. There was a big punch bowl full of eggnog sitting in the center of a beautiful buffet table.
It looked so festive with cinnamon sprinkled on top and whipped topping sitting next to it virtually begging to top this beautiful drink.
So I decided to give it a try.
I used the drink ladle and poured it in a gorgeously etched glass. Scooped out a dollop of whipped cream and sprinkled extra cinnamon on top.
It was a drink that was definitely picture worthy! I was so proud of the creation and I couldn't wait to give it a try!
And that is when it all went wrong. I took a sip through the thick whipped cream and tasted the eggnog. YUCK!!
It wasn't what I was expecting at all. I thought it would be a nice and creamy drink with a deliciously rich flavor that had a slight hint of cinnamon infused throughout.
Instead, it tasted like a thickened milk and sugar drink. I swore that I would never try it again.
Homemade Eggnog
Fast forward several years later and I was faced with the invitation to try a friend's homemade eggnog.
I quickly declined the offer and stated the reason why. She giggled and told me that I had never tried 'real' eggnog.
Well of course I had! I would have to guess that most people purchase eggnog from the grocery store.
However, she went on to tell me that the Food and Drug Administration allows eggnog be made with as little as 1% egg yolk.
How in the world can you label something as EGGnog with less than 1% egg yolk?
After about an hour of eggnog talk, she convinced me to try her homemade eggnog recipe.
I was hesitant to give it a second try, but she promised I wouldn't be disappointed.
I lowered my lips onto the glass, almost wishing it would be socially acceptable to pinch my nose shut. My eyes closed tightly and I took a tiny sip.
The small amount came across my lips and I was pleasantly surprised. I opened my eyes and took a true drink to judge the flavor.
WOW – this was not the same drink that I tried the first time! Homemade eggnog was thick, creamy and delicious. And it had the perfect balance of sweetness and spices.
How To Make Homemade Eggnog
Her homemade eggnog was so good that I begged her to teach me how to make it.
When she was explaining to me how she made it, I was shocked to find out how quick and easy that it comes together.
I thought it would be a long and laborious process, but it wasn't.
The key to making homemade eggnog is whisking.
First you must whisk together the egg yolks with the sugar until light and creamy. You know when you have whisked it long enough when you don't see any of the crystals of the sugar in the mixture.
Then when heating the milk and cream you want to make sure that it just heats up enough to a light simmer. As soon as you see bubbles, remove it from the heat and begin to temper the egg mixture.
In order to make sure that the eggs don't scramble when the hot liquid is added to it, work in small batches. Pour a tablespoon into the egg and sugar mixture and whisk vigorously.
Repeat until most of the hot liquid has been whisked with the eggs.
Then all that is left to do is to heat everything one last time until slightly thickened. As it cools, it will thicken more.
Spiked Eggnog
Of course, if you prefer, you can add liquor to your homemade eggnog.
One of the most popular additions to eggnog is rum. You can use clear rum or a spiced rum for a more robust flavor.
However, you can also use whiskey, bourbon or cognac to make this an adult only beverage.
Check out the printable recipe below and all of our recipes and let me know what you think!
To receive our 3 Recipe Articles in your inbox each week, sign up for our free email list. You can also follow us on Facebook, Twitter, Pinterest, and Instagram. This article may contain affiliate links.
Yield: 3 cups
Homemade Eggnog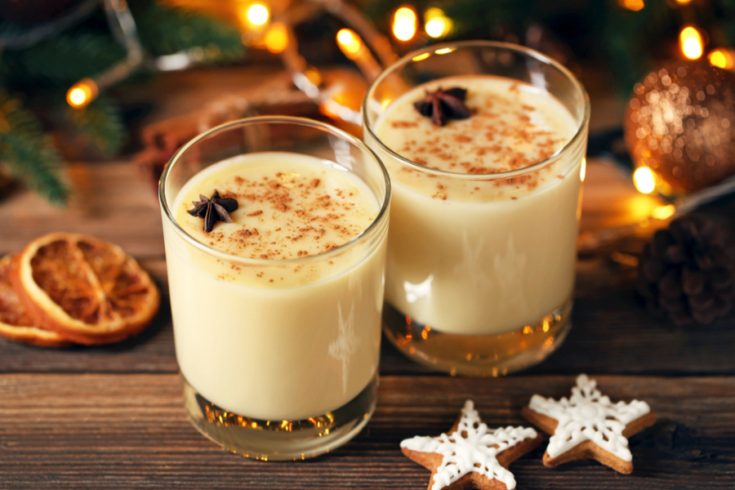 Creamy and delicious homemade eggnog that is much better than store-bought and so easy to make.
Ingredients
6 large egg yolks
1/2 cup granulated sugar
1 cup heavy whipping cream
2 cups milk
1/2 teaspoon ground nutmeg
pinch of salt
1/4 teaspoon vanilla extract
Instructions
Whisk the egg yolks and sugar together in a medium bowl until light and creamy, set aside.
In a saucepan combine the cream, milk, nutmeg and salt. On medium-high heat stir often until mixture barely reaches a simmer.
Add a tablespoon of the hot milk to the egg mixture, whisking vigorously. Repeat, adding a tablespoon at a time, to temper the eggs.
Once most of the hot milk has been added to the eggs, pour the mixture back into the saucepan on medium heat.
Whisk constantly for just a few minutes, until the mixture is just slightly thickened (or until it reaches about 160° F on a thermometer). Please note that it will thicken more as it cools.
Remove from heat and stir in the vanilla. Optional – for a smoother consistency, add the liquid to a blender filling it no more than half full (working in batches as necessary).
Pour the eggnog into a pitcher or other container and cover with plastic wrap.
Refrigerate until chilled. It will thicken as it cools.
Notes
Recipe provided by Make Your Meals
Nutrition Information:
Yield:
3
Serving Size:
1 grams
Amount Per Serving:
Unsaturated Fat:

0g