This taco casserole recipe is an easy to make dinner recipe that the entire family will love, including the pickiest eater. It includes all of the flavors of a taco but instead of making it in individual tortilla shells the ingredients are layered in a casserole dish and baked to perfection.
It is one of my favorite go-to weeknight recipes because it takes only 10 minutes to prepare. And in a total of 30 minutes a delicious dinner is ready to be served.
Not only is it full of flavor, it is an easy to make recipe that requires only 6 basic ingredients. It is the perfect recipe for those who are new to cooking and for those that don't have much time to make dinner.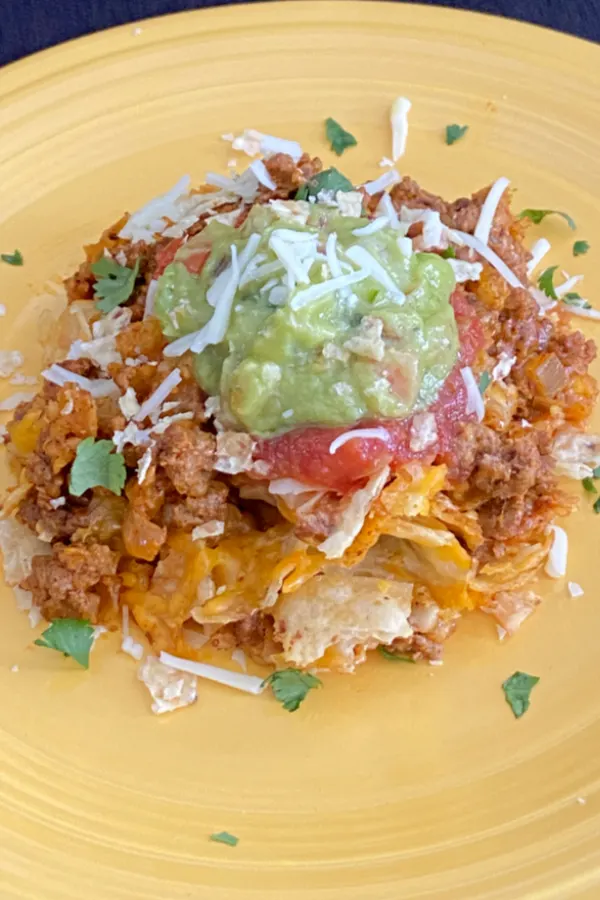 All that you have to do is layer the ingredients and put the casserole in the oven. Then when it is ready each serving can be customized with your favorite toppings.
For me, I like to add a little diced cilantro, guacamole, diced tomatoes and diced onions on top. However, the kids tend to pile their taco casserole with sour cream, more cheese, and a tiny bit of lettuce.
And finally, my husband likes dinner with a lot of heat. Therefore he will add diced jalapeños, hot pepper powder and few shakes of hot sauce on his serving.
Although we all like our own individual toppings, everyone can agree that we all love the taste of the casserole itself.
Why You Will Love This Recipe
Easy to make: Taco casserole is an easy dish to make that requires minimal preparation time and can be cooked quickly, making it perfect for busy weeknights.
Delicious: Although this dish requires only 6 ingredients it is a tasty and flavorful dish that incorporates all the flavors of a traditional taco, including seasoned ground beef, taco seasoning, shredded cheese, and of course tortilla chips.
Versatile Recipe: This casserole can be customized to suit individual tastes and preferences. Feel free to add or omit ingredients such as beans, corn, peppers, or onions.
Easily Adaptable to Feed Several or a Few: This is a great dish that can be easily adapted to feed a large family or to feed just a few people. Because the ingredients are simply layered on each other the amount can easily be increased or decreased to make a little or a lot. Therefore this is one of my favorite recipes to take to a potluck.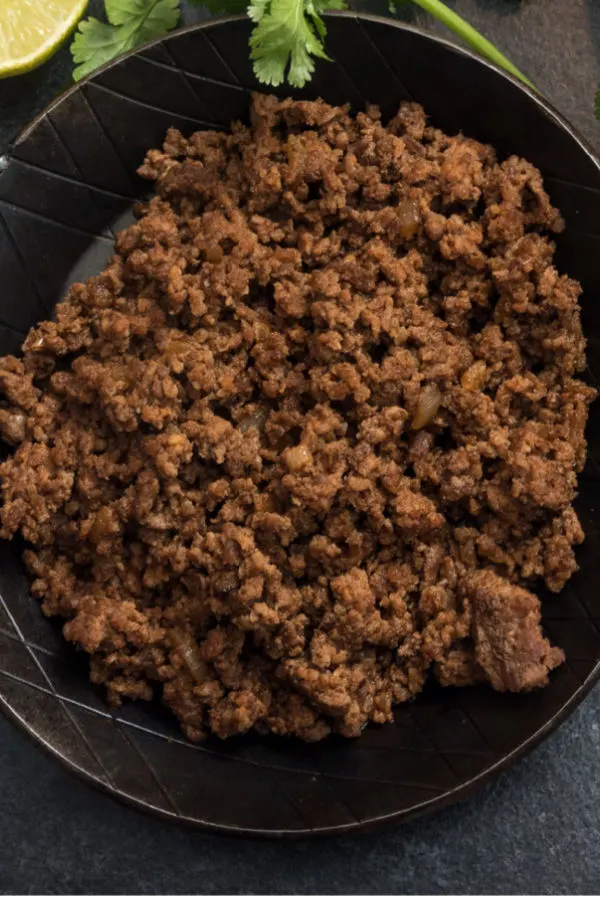 What To Serve With Taco Casserole
Although this easy taco casserole is a flavorful and hearty dish on its own, you can also serve it with a variety of sides to create a complete and satisfying meal.
1. Chips and salsa: To keep things easy serve tortilla chips and salsa with the meal. It is a natural appetizer or side dish for any Mexican meal.
2. Rice: Serve taco casserole with a side of rice to help balance out the flavors and add some additional texture to the meal.
3. Refried Beans: The smooth texture of creamy refried beans pairs perfectly with the crunchy texture of the tortilla chips that are in the casserole. You can even make Homemade Refried Beans to make them even more flavorful.
4. Cornbread: A warm piece of cornbread can be a great side dish to add some sweetness to the meal and balance the savory flavors of the casserole.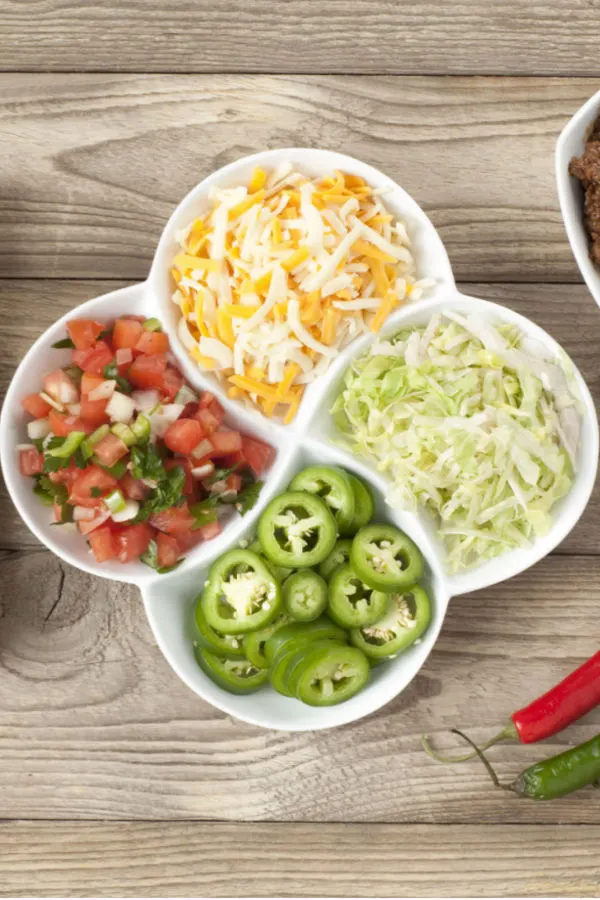 How To Store and Reheat Taco Casserole
This is a great dish for leftovers, as it reheats well and can be eaten as a quick and easy lunch or dinner the next day. My husband also like to reheat it in the morning for breakfast and put an egg on top.
To Store:
Allow the casserole to cool down to room temperature.
Cover the casserole dish tightly with plastic wrap or aluminum foil.
Place the covered casserole dish in the refrigerator.
Taco casserole can be stored in the refrigerator for up to 4 days.
To Reheat:
Preheat the oven to 350°F (177°C).
Remove the casserole from the refrigerator.
Cover the casserole dish with aluminum foil.
Bake the casserole in the preheated oven for 20-25 minutes, or until heated through.
Alternatively, you can reheat individual servings of taco casserole in the microwave. Place a serving on a microwave-safe plate and heat on high for 1-2 minutes, or until heated through.
However, be aware that the reheated leftovers will not be as crunchy as when you first enjoyed the meal due to the chips absorbing moisture. Although, the casserole will still be delicious!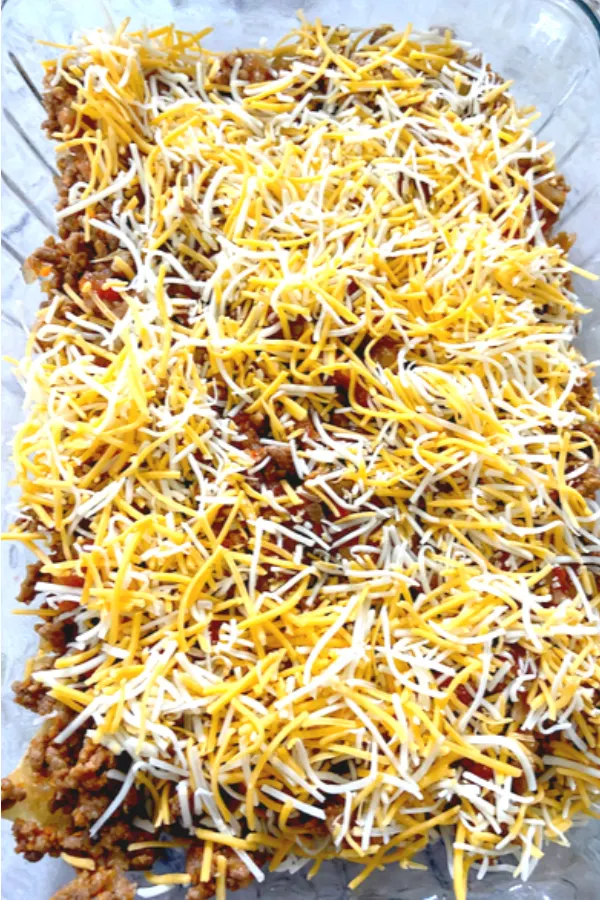 How To Make This Easy Taco Casserole
*Specific measurements and complete recipe instructions are located in a printable recipe card at the bottom of this article. However, be sure to continue to read the tips and tricks to making this recipe below.
INGREDIENTS
1 pound ground beef
½ cup onion, diced
3 Tablespoons taco seasoning (1 packet)
3/4 cup water
4 cups tortilla chips, more or less based on brand
½ cup salsa
2 cups Mexican cheese, shredded and divided
Toppings (optional)
sour cream
lettuce
onion
jalapeños
salsa
guacamole
INSTRUCTIONS
The first step in making this casserole is to cook the ground beef. Yes, if you don't want to use red meat, you can substitute ground turkey, chicken or even a plant based mixture as well.
Heat a skillet over medium-high heat. Then add the ground beef to the hot skillet. If you are using any type of lean meat or a plant based substitute for your taco casserole, be sure to add a little oil to the pan to prevent sticking.
When the meat is about a half of the way brown, add in the diced onions. I find that if you put the onions in the skillet at the same time that you start to brown the meat, then the onions become too soft and get lost in the dish.
Once the meat is no longer pink and cooked through, drain if necessary and place the mixture back in the skillet. Add the taco seasoning and water and simmer until the water is nearly gone. Remove from the heat and set aside.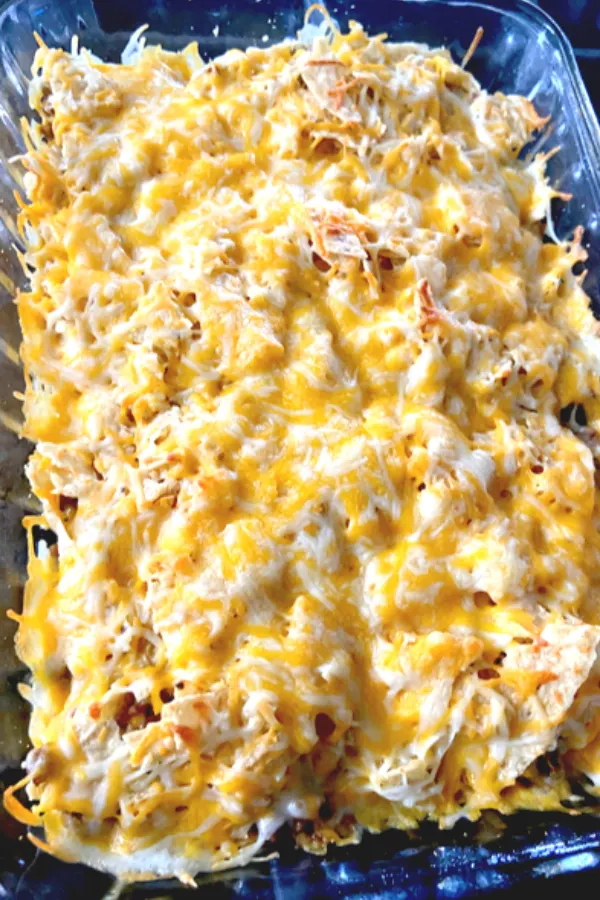 Layer The Casserole
In a 8 x 11 casserole dish, spray the bottom and sides with non-stick cooking spray. Then lightly crumble tortilla chips and spread them on the bottom of the dish in an even layer.
You want enough chips to cover the bottom of the taco casserole. Because tortilla chips come in all shapes and sizes, the amount will really depend on the type that you purchase.
Next, spread the ground meat and onion mixture over top of the layer of tortilla chips. Then spread the salsa on top of the meat.
Add 1 cup of shredded Mexican cheese on top and then add another layer of crushed tortilla chips on top of the cheese. Finally, sprinkle the top with the remaining shredded cheese.
Bake for approximately 15-20 minutes, or until the cheese has melted and the sides are bubbly.
Remove the Taco Casserole from the oven and serve immediately. Add your choice of toppings with each serving.
Enjoy! Mary
Easy Taco Casserole Recipe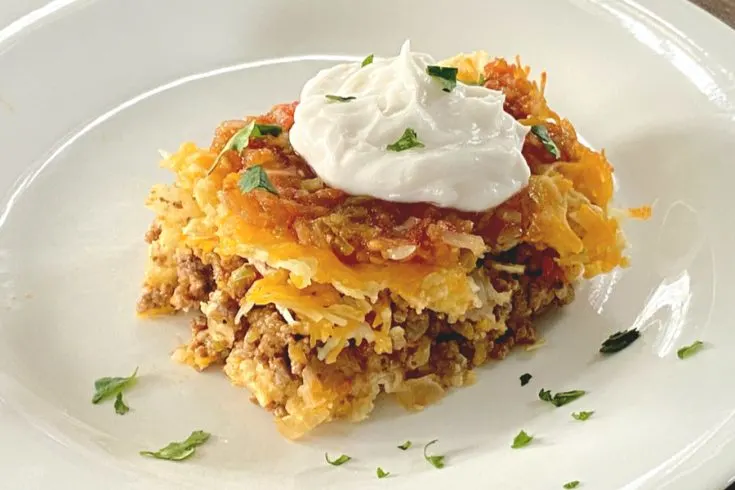 A quick and easy to make taco casserole recipe that the entire family will love. Add the toppings of your choice to customize each serving!
Ingredients
1 pound ground beef
½ cup onion, diced
3 Tablespoons taco seasoning
3/4 cup water
4 cups tortilla chips, more or less based on brand
½ cup salsa
2 cups Mexican cheese , shredded and divided
Toppings (optional)
sour cream, lettuce, onion, jalapeños, salsa
Instructions
Preheat oven to 350°F (177°C). Grease a 8 x 11 inch baking dish and set aside.
In a large skillet brown the ground beef and onion over medium-high heat until the meat is no longer pink, drain if needed.
Return the meat back to the skillet and add taco seasoning mix and water, mix well. Simmer until most of the liquid has been absorbed. Remove the skillet from the heat.
In the prepared baking dish, break up half of the tortilla chips and place them in an even layer on the bottom of the dish.
Top the crushed chips with the ground beef and onion mixture. Then add half of the cheese and the entire amount of salsa.
Add another layer of crushed chips and top with the shredded cheese.
Bake for 15-20 minutes or until the cheese is melted and bubbly around the edges.
Serve warm and add the toppings of your choice.
Notes
Recipe provided by Make Your Meals
Nutrition Information:
Yield:
6
Amount Per Serving:
Calories:

715
Total Fat:

44g
Saturated Fat:

14g
Unsaturated Fat:

0g
Cholesterol:

89mg
Sodium:

889mg
Carbohydrates:

54g
Fiber:

5g
Sugar:

3g
Protein:

28g